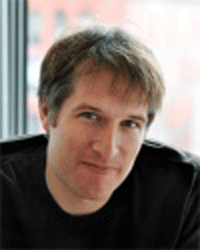 Brian O'Kelley is the CEO and Cofounder of AppNexus. AppNexus is an advertising technology company that specialises in developing scalable ad trading solutions and ad exchange infrastructure. O'Kelley took time to speak to ExchangeWire this week about the AppNexus offering, disintermediation in the display marketplace, and the continued growth of automated media buying.
There has been some confusion about what AppNexus actually does? Is it an ad exchange? Is it a "DSP"? Is it an infrastructure company? Can you provide a proper overview of what AppNexus offers to the market?

BOK: We're pleased that AppNexus has become the trusted technology partner for the most sophisticated online advertising companies. Our client list includes top ad networks, demand-side platforms (DSPs) and trading desks. We build powerful, flexible ad management solutions for these companies that seamlessly integrate with, and help scale, their display advertising businesses. AppNexus' specialty is helping clients capitalize on real-time bidding, which is becoming a game-changer in display advertising. We partner with leading ad exchanges and inventory aggregators, and our clients are among the largest buyers on the exchanges.
Overall, AppNexus offers a complete ad management solution for our clients; integrating both directly-managed media buys and those purchased in the auction-based exchange environments.
How is AppNexus addressing the inefficiencies in the way that display advertising is currently traded?

BOK: Significantly, our platform addresses the critical issue of managing vast amounts of inventory with a single interface. With our tool, clients can analyze, manage, and buy inventory from every supply partner (ad exchanges, yield optimizers, etc.) in one place. What's unique is that AppNexus does a technical integration so that we can bid on every single impression that's available from our supply partners; we don't pre-filter. Next, we work closely with each partner to classify and de-dupe every available publisher and category. Third, we integrate each publisher's quality standards and channel conflict guidelines. Finally, we track aggregate statistics about the inventory including volume, cost, size, and geography so that our clients can understand exactly what's available.
Another huge issue in our industry that we address is inventory quality control. AppNexus has a monitoring system (that we call "Sherlock") that we built to detect malware and viruses. It also tracks the sometimes convoluted redirect path of a creative (from ad server to ad server to ad server) to make sure they are from approved third-party ad servers. We believe our solution stands out in the industry for quality control, which is critical to our clients' success.
Your colleague, and AppNexus co-founder, Mike Nolet penned a post on his blog (mikeonads.com) not long ago outlining why he thought the term DSP was being misused by ad-tech companies in the space because most were not "platforms" in the truest sense. Would you describe AppNexus as a DSP?

BOK: There's a lot of confusion in the industry about the term DSP. Our view is that DSP is a business model, not a type of company. Many of our clients (including ad networks) function as DSPs because they use our technology to offer full-service performance and audience buying for their clients.
We're not a DSP ourselves, we're a technology partner. We don't compete with our clients – many of whom refer to themselves as DSPs or ad networks – because we don't offer
full-service media management to agencies or direct advertisers.
Where would you say AppNexus sits in the current advertising eco-system?

BOK: AppNexus occupies a unique position in the display ad ecosystem. We are the only company that is solely and exclusively focused on being a technology provider to the most sophisticated advertising companies in the sector. Rather than operating a media services business, we provide the "plumbing" that powers ad networks, DSPs, etc. As a technology vendor, we are perfectly aligned with our clients: we are successful if our clients are successful.
Can you give a little detail on your partnership with EBay? How are RTB and the AppNexus platform helping EBay get better ROI on its display spend?

BOK: eBay is not only the world's largest online marketplace, it is also one of the largest and most innovative online marketers. In early 2009, eBay recognized that an increasing volume of "real-time biddable" display inventory was becoming available via leading ad exchanges and inventory aggregators, and the company made a strategic decision to adopt emerging real-time buying technology in an effort to dramatically improve its display advertising results.
AppNexus' APIs and other data integrations allow eBay to continue to use its centralized trafficking system, but manage its entire display advertising business via a single AppNexus-created user interface. Furthermore, eBay simplified its processes by consolidating all auction-based and direct buying in one place.
AppNexus delivered a real-time ad solution designed to meet eBay's business challenges. AppNexus' platform enables eBay to use its own vast amounts of user data, together with third-party data, to make an intelligent decision on the value of an impression. eBay has now seen a significant lift in display ad performance with particularly outstanding results in auction-based impressions.
eBay spends quite a lot of budget on search. Do you think the search-quality results gleaned through RTB buys will encourage the likes of eBay to put more money into display media buys?

BOK: We can't comment on eBay's advertising strategy, but we can say that they reaped very impressive results through RTB using the AppNexus platform.
Do you think other big advertisers, who sit on large amounts of data, are likely to use platforms like AppNexus and bring their media buying in-house? Is this a threat to the survival of the traditional media buying agency?

BOK: We believe some large advertisers will take advantage of innovation around various platforms and tools in the space, and will develop an in-house core competency in auction-based display advertising, but we don't foresee a seismic shift from the current media buying model. In fact, our view is that as complexity and sophistication in the marketplace increases, the value of intermediaries – be they ad networks or agencies – becomes even more important.
Also, it's important to keep in mind that auction-based display media buying is only one part of a marketer's mix. Agencies offer services across a wide range of media-related areas.
Publishers have been very wary of RTB and the perceived "cherry-picking" of ad impressions. What would you say to publishers who are skeptical about RTB?

BOK: RTB doesn't allow publishers to bundle poor quality impressions with high quality; RTB operates under a free market approach. Some impressions are unbelievably valuable. Some segments and inventory are incredibly valuable. As buying and selling impressions becomes more efficient, overall, it's a positive for publishers. Their highest-value impressions will increase in price, as lesser quality impressions decrease.
Do you think the rise of buy-side platforms will sound the death-knell for some ad networks? If an advertiser and agency can use a DSP to aggregate ad inventory from multiple sources, where will the ad network add value to agencies and advertisers?

BOK: AppNexus sees a vibrant future for ad networks and intermediaries, and in fact believe that they are making some of the most forward-looking investments in the entire industry. Many have, and will continue, to excel at critical areas like client services and optimization. We're helping them capitalize on real-time bidding with our robust ad management platform.
How active is AppNexus in the European market? Are there plans to ramp up operations here in the coming months?

BOK: AppNexus is already leading the market in terms of our European presence, including the UK, Germany, the Netherlands and Israel. The opportunities for us to continue to drive the evolution of real-time advertising in the European market are significant. Stay tuned for an announcement on this front in the coming months.
How do you see the exchange marketplace developing over the coming twelve months?

BOK: It's an exciting time in this industry, offering extraordinary opportunities to all constituents. We'll see more companies and technologies sprouting up around the exchanges to help advertisers, agencies and networks buy and sell more efficiently. We'll also see more real-time inventory become available. We see AppNexus at the intersection of all of this – creating powerful, flexible ad management platforms that help our clients unify display and data opportunities in a way that makes sense for their businesses.
* The AppNexus CTO and Cofounder, Mike Nolet, will be speaking at the Ad Trading Summit 2010 on September 23. Book your place today!
ExchangeWire