Hubvisor Enters a New Expansion Phase with a Game-Changing Ad Tech Product Line Used by Half of the Top 30 Publishers in France.
by ExchangeWire PressBox on 19th Sep 2022 in News

Hubvisor announces today the reconfiguration of its solutions around three flagship products: MAESTRO, LENSE and DIRECT PATH. These products have been carefully crafted and are used by half of the top 30 publishers in France, including Le Figaro, Dailymotion, Adevinta/Leboncoin, TF1, and many more.
These three products form a suite of never-seen-before ad tech products and are therefore only available in an all-in-one format.
MAESTRO is the ultimate orchestration system for publishers.
It features dozens of homemade technologies, including a wrapper and countless optimisation modules). Like an orchestra conductor, it is : 
Neutral: Maestro harmonises the competition between all the vendors that a publisher already has.
Simple: Maestro can be activated in a few days, on all types of environments and formats. - Efficient. Maestro brings an average revenue increment of +60% by combining all available optimisation bricks. This is achieved without any additional demand from the publisher's existing partners.
LENSE is a game changing dashboard.
It allows the publisher to consult in real time everything that MAESTRO does and the metrics related to the publisher's digital advertising: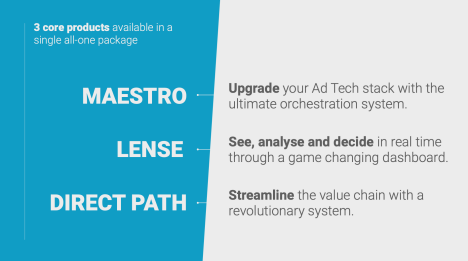 The revenues generated and the dimensions of their source (be it bidders, DSPs, buyers, advertisers, sites, locations or environment) communicated by the publisher's partners are aggregated and rendered via an intuitive interface.

Web performance of the publisher's advertising, including the time response of each partner and SSP.
Analysis of future optimisation opportunities for the publisher.
A complete deployment history to observe and store, in real time, the full granularity of what MAESTRO executes.
A complete historical view of the deployments Hubvisor's team made.
Controls on the MAESTRO wrapper : managing floor prices and stopping bidders on certain inventories has never been easier.
DIRECT PATH is Hubvisor's revolutionary SPO system.
It allows a technical disintermediation of the value chain. It guarantees direct communication between the DSP's purchasing systems and the publisher without the intervention of third party servers. DIRECT PATH allows to : 
Significantly reduce the costs incurred in the value chain.

Significantly reduce latency due to servers.
Significantly reduce the energy consumption of the programmatic value chain. - Guarantee total transparency of information between the buyer and the publisher - Guarantee an optimal identification rate close to 100% (cookie match) in the absence of intermediate servers in the value chain.
Sylvain Travers, founder and CEO of Hubvisor, commented, "This reconfiguration aims to clarify our activities and make them more accessible to international publishers. We have taken great care to develop these breakthrough innovations over the past three years, and we now want to make them accessible to as many people as possible". 
Find out more about MAESTRO, LENSE and DIRECT PATH here.

Hubvisor
Founded in 2017, Hubvisor is a Publisher focused ad tech provider driving yield through fair auction dynamics and increased insight within the monetisation stack. This is done through a state-of-the-art header bidding wrapper and dozens of tech...
Powered by PressBox
Ad TechProduct LaunchPublisher