Case Studies
---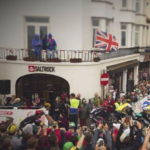 ---
View
A huge challenge for high street retailers is to translate the customer service and cross-selling element of dedicated sales staff into an online environment. Without that knowledge and personalisation, retailers moving into the online space struggle with basket abandonment and low conversion rates. Such was the case for Saltrock, a British surfwear retailer. Saltrock employed the Nosto Personalisation Engine to transfer their in-store experience to their ecommerce site, providing their online customers 'the perfect sales assistant online'.
A very interesting case study, showing not only the importance of providing online customers with the same level of assistance and expertise as they would receive in-store to drive increased average order value and ultimately customer loyalty, but also the effective use of data. As a result of implementing Nosto, Saltrock achieved significant performance increases, including a 78% YOY increase in revenue and a 52% increase in the volume of transactions. Personalisation and the ability to cross-sell online may be a challenge, but the benefits are clear to see.
---
Case Study Content
Saltrock, a British surfwear retailer, were keen to look beyond traditional platforms and digital marketing methods, to be able to improve site traffic and reduce the high percentage of abandoned baskets on their ecommerce website.
Saltrock understood the value of in-store sales assistants, who were able to cross sell through helping customers find the right items for them. This presented an online challenge, as the ability to learn about each customer as an individual had its limitations, which in turn impacted effective conversion rate and average order value.
Saltrock employed the Nosto Personalisation Engine to leverage the power of big data and build a deep understanding of Saltrock's ecommerce store and every visitor interacting with it.
Nosto were able to predict and automatically deliver the most relevant recommendations at any time, anywhere; maximising conversion, average order value and customer retention.
Implementing the Personalisation Engine to their ecommerce website, Saltrock was able to obtain deeper insights from the data points such as customers' browsing, buying behaviour, their likes and dislikes, etc. and deliver unique experiences in return.
Saltrock were able to reverse their revenue decline by the abandonment of baskets and drive a significant YOY uplift in revenue and conversion rates:
– Increase in revenue by 78%
– Increase in conversion rate 29%
– Increase in transactions by 52%
– Increase in Average Order Value by 17%
---
Download case study
---