Case Studies
---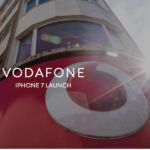 ---
View
A sneaky, yet innovative approach to using data and creativity from Qriously, MEC and Vodafone. A clever campaign promoting the iPhone 7 launch, without actually mentioning the brand name, which would have required adhering to strict creative and targeting guidelines set by Apple. Leveraging Qriously's data capturing prowess, they were able to build a unique audience of prospective iPhone 7 customers and promote the handset by only inferring customers could buy it from Vodafone. A clever use of creative, backed up by data and programmatic – a worthy award winner.
---
Case Study Content
The iPhone 7 launch was the most anticipated event in the Telco calendar last year. The challenge is, Apple restricts every Telco to running media against the same 50 sites with templated creative. MEC & Vodafone wanted to run a larger campaign supporting the iPhone without mentioning it – freeing us of the creative and targeting restrictions, but more importantly in a way that was different from the competition.
Qriously is a data company that intercepts smartphone users while they use their usual apps by inviting them to take a short survey without leaving the app they are in. This is done programmatically, allowing for access to over 1.2 billion devices globally. Answers from surveys were used to create an audience of over 3 million 'intenders' that we could reach with messaging announcing Vodafone had the latest phones. An audience that no other competing telco had access to.
This approach delivered a 900% decrease in CPA YoY, without even mentioning the word iPhone. The outcome of this unique approach to using data led to the most successful iPhone campaign Vodafone has ever run. In fact, this campaign won a Performance Marketing Award for Best Technology & Telecoms Campaign and a Silver award for Creative Use of Data at the Festival of Media Global Awards.
---
Download case study
---