Spotlight New York 2018 by ExchangeWire: Connected TV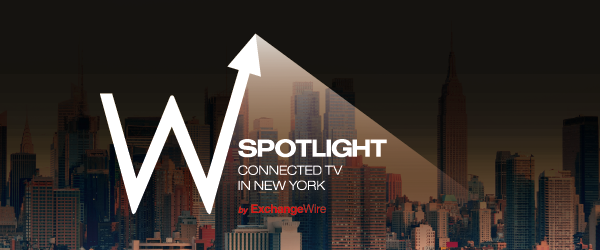 Spotlight New York 2018 by ExchangeWire: Connected TV
6th Mar 2018
Spotlight New York 2018 by ExchangeWire: Connected TV
March 6, 2018
ExchangeWire returns to NYC in March 2018 for our inaugural half-day Spotlight event. You should expect to see deep-dive, drilled down discussion, punctuated with ExchangeWire's industry insights, to provide you with educational content and up to the minute debate and challenge on the issues that really matter.
Spotlight New York will feature:
- Speakers from the most innovative and important companies in the automated and data-driven marketing and advertising industry, both big and small
- ExchangeWire lead debates that will challenge your understanding of the industry, educate and entertain
- Interviews addressing the most important issues and challenges facing the industry today
Topics will include:
- Broadcaster vs advertising/TV buying perspective - budget shift, transition issues
- Measurement and Data - tackling barriers between measurement and tech, education to advertisers as the what they can get and how addressable connected TV can be
Spotlight New York will see an audience of 100 professionals across the global programmatic media industry, including C-level executives from agencies, advertisers, publishers.