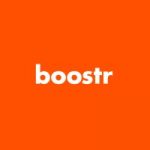 Boostr
Categories:

Inventory Management; Measurement, Attribution & Analytics; Revenue Management Platform; Workflow Management

Website:

Email:

Geography:

Location:

Specialism:
Before Boostr we struggled to get at the information that we needed from an analytical perspective. Boostr really spoke to us because it is built from the ground up thinking of media business. Sellers have instant access to data that they couldn't get before. It's improved efficiency substantially. We are now focused more on high level strategic analytics, as opposed to day to day troubleshooting."
Company description
Boostr is today's fastest growing CRM and order management solution for publishers. The platform is specifically designed to manage advertising revenue and to help media businesses get total control over their omnichannel ad-sales and inventory monetisation. 
Boostr's media-specific CRM and OMS platform is the ultimate solution for publishers 
in today's modern media industry. In one seamless system, it helps Sales to optimise forecasts and drive omnichannel revenue, relieves AdOps of tedious manual and error-prone tasks by automating ad trafficking, and provides Management with intelligent and prescriptive reporting & analytics to increase revenue performance.