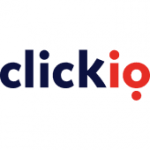 Clickio
Categories:

AI & Machine Learning; Consent Management & Privacy; Data Activation; In-App Specialists; Measurement, Attribution & Analytics

Website:

Email:

Geography:

Location:

Specialism:
Working with Clickio has been an overwhelmingly positive experience. Clickio is constantly providing new updates to its tools and technology that either boost revenue, improve experience or reduce our workload - or all three together!
Company description
Clickio offers an all-in-one technology solution for online publishers – combining an advanced, AI-powered advertising platform with integrated site performance, compliance and analytics tools. Since 2015, Clickio has been at the forefront of innovation in the industry, and was one of the first companies globally to provide a fully automated tool to manage GDPR consent. A Google Certified Publishing Partner, Clickio is recognized for its expertise in helping content creators to reduce their workload, increase user engagement and maximize advertising revenue.