Company details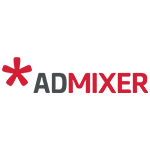 Admixer
Categories:

Ad Exchange, SSP & Header Bidding Tech; Advertiser Ad Server; Audio; Data Management; In-App; Native; OOH & DOOH; Publisher Ad Server; Rich Media; Self-Service DSP; Video

Website:

Email:

Geography:

Location:

Specialism:
Press Box

How COVID-19 Affected the CEE Advertising Industry: Admixer Shares Survey Results
Company description
Admixer is an independent adtech company, providing full-stack programmatic solutions for all market players. Since 2008, the company has been developing an ecosystem of interconnected products to meet the needs of both the buy- and sell-side. The Admixer's line of products for online advertising presents an ad server, a DSP, DMP, SSP, and more.