ExchangeWire European Weekly Round-Up
by Ronan Shields on 21st Feb 2014 in News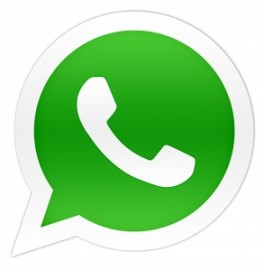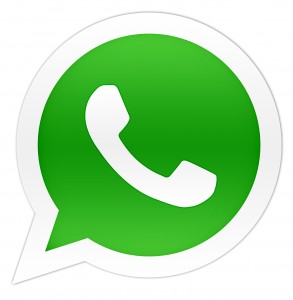 ExchangeWire rounds up some of the biggest stories in the European digital advertising space.
1. Does Facebook's Colossal WhatsApp Valuation Undermine Mobile Advertising As A Model?

For all shades of the digital industry there was only really one story in town this week, and that was Facebook agreeing to purchase – the notoriously 'anti-advertising' – mobile messaging app WhatsApp for a colossal $19bn, prompting the entire world to sigh a collective: 'OMG!'

Conversation around the transaction has been nearly endless, and for those in the advertising industry, it has to prompt the question, is Facebook hedging its bets on how to monetise on mobile?
True, the company recently reported that the majority of its advertising revenues were derived from mobile, but an official blog post on the purchase explains that it will be very much 'business as usual within the WhatsApp fold.
It reads: "Facebook fosters an environment where independent-minded entrepreneurs can build companies, set their own direction and focus on growth while also benefiting from Facebook's expertise, resources and scale. This approach is working well with Instagram, and WhatsApp will operate in this manner."
And when you consider that WhatsApp has very publicly come out against mobile advertising as a means of monetising mobile messaging services – even employing the language of fictional arch-anarchist Tyler Durden – this does indicate that Facebook is at least entertaining the possibility that mobile ads in their current form are not the future of monetising the web.
2. King.com Follows Readies IPO, Reveals Ads Contribute Minimal Revenue
In a similar vein, CandyCrush-maker King.com this week filed for an IPO, although its documents reveal that advertising is worth only 1% of its total revenue, with the majority of its revenues from more premium channels.
The Ireland-based mobile and social apps game-maker this week filed an SEC document showing that despite having over half a billion installs and 128,000,000 active daily users, just 1% of its near-$2bn 2013 revenue was generated by advertising, down from 10% a year earlier.
Whether this indicates that mobile inventory (and campaign budgets) will remain relegated to the, comparatively meagre levels of performance, remains unclear. But let's not forget King.com itself is reputed to be one of the biggest spenders on mobile advertising, and maybe this unique position gives the gaming giant a unique insight into just where the money lies in a 'post-PC' era. A topic discussed here by ExchangeWire.
3. ExchangeWire Call-To-Action For 'Good Internet'

This week ExchangeWire global editor Ciaran O'Kane issued what was termed an 'impassioned plea' by readers taking aim at some of the inert attempts to address issues of click fraud, plus the lurking threats to the agency model status quo.
In his missive, O'Kane observes some of the dynamics of the market, including the "omerta" over clicks fraud and noting how economics of display is effectively a race to the bottom, with media agency buyers effectively marching towards an untimely end, and advising them to reposition themselves in network agency dynamic. Read here, to learn more.
4. eMarketer: More than a fifth of UK consumers use Twitter
Twitter's recent financial filing appeared rosey from its top-line figures but investors were somewhat spooked by its seemingly slow user growth, wiping 10% of its stock value in the immediate aftermath of its filing.
But according to new estimates from research firm eMarketer, Twitter's UK audience shows no sign of abating. Emarketer estimates UK Twitter users will shoot from three-in-10 social network users in 2012, to nearly half by 2018, according to figures released this week. This means that across the total population, more than a fifth of UK consumers will use Twitter this year, along with more than a quarter of internet users.
UK Twitter usage is still growing in the double digits this year, unlike Facebook, where UK growth was at 6.3% last year and 4.8% this year. And while the micro-blogging service, or "interest network" as it refers to itself, still reaches only a minority of social network users, that minority is sizeable.
Twitter undoubtedly will cite these figures in its sales presentations, especially as it rolls out its Tailored Audiences, but with the conflicting reports one has to question the tenure of any social media brand at the top of this notoriously fickle market.
After all, who would have thought that WhatsApp would sell for such a lofty valuation four years ago?
After all, who would have thought that WhatsApp would sell for such a lofty valuation four years ago? When we look at a recent report from mobile analytics firm Flurry examining the typical shelf-life of a mobile app (that's typically three months, see chart below), then we can see just how difficult a task it is to negotiate.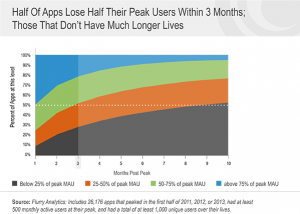 5. Microsoft pledges greater transparency

Late last week, Microsoft pledged that its Advertising Exchange will have a clearer view into the inventory made available to advertisers, having previously "masked" its inventory using a blind URL, according to Esco Strong, Microsoft's director of programmatic advertising.
In a blog post outlining the change he said: "We've studied the impacts that RTB has had on our other sales channels and overall advertising business, and ran tests on key properties in several European markets using unmasked URLs to identify our inventory to RTB buyers.
Naturally, we found that we captured greater revenue for our inventory in the exchange when revealing this additional information to bidders. But we also found that we didn't see any negative long-term impacts to monetization in our other sales channels, and that RTB demand was largely incremental and complementary to direct sales.
TagsDisplay