Latin America 4G Connections Up By 121%; Brazil Reaches 75M Smartphone Users
by Gabriela Stripoli on 6th Mar 2017 in News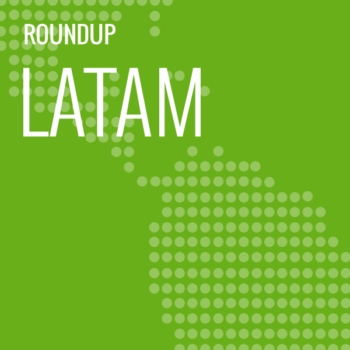 In this week's Latin America Round Up: 4G connections in Latin America grow by 121%, twice as much as the global rate; Brazil reaches 75 million smartphone users, where one out of four minutes spent online is on social media; Blasting News reaches 100 million unique users, Brazil representing 61% of them; and AdStream revenues grow by 123% in Brazil, mainly due to the development of the market outside the main centres such as Rio and São Paulo.
Latin America 4G connections up by 121%
Mobile advertising is clearly one of the trends in the industry this year. Yet, this market development relies on infrastructure development.
Good news is the mobile infrastructure in the region has been improving. During the Mobile World Congress in Barcelona, GSMA revealed their latest data in the region showing an increase by 121% in 4G connections in Latin America. The Latin American growing rates are twice as fast as the global average, summing up 113 million connections — 60 million of them in Brazil.
Still, according to GSMA, the region is expected to reach 307 million 4G connections by 2020, and Brazil should be accountable for 141 million of them. In other words, the Brazilian market should double in the period.
5G connections are expected to start the development in Latin America only by 2020.
Brazil: 81 million desktop users, 75 million smartphone users
comScore revealed latest data in Brazil, where 81 million people browse the internet via desktop and 75.5 million do it through smartphones, which account for 71% of users' time online.
According to the report, 105.7 million people have access to the internet — calling attention to multiplatform web access. They represent the majority of the Brazilian audience, which can vary from 50% when considering the under-18 age group, and as low as 24%, considering the 55+ age group; 19% of millennials do not use desktop at all.
Google sites are still the main audience leader, with 88 million unique visitors, followed by Facebook, with 79 million. Combined, Facebook and YouTube represent half of the videos streamed in Brazil, with Netflix appearing for the first time in the top 10. Other video platforms are Vevo (3.1%) and Globo (2.7%), which has recently released their streaming service, GloboPlay.
Social Media also represents a strong part of the internet time spent in the country: one out of four minutes spent online is on those websites. There are 85.9 million social media users in Brazil – compared to 84.9 million social media users in Chile, Colombia, Argentina, and Mexico combined. Unsurprisingly, Facebook and WhatsApp represent almost a third of the total online time.
Blasting News audience reaches 100 million; Brazil with more than half of the audience
The collaborative news portal Blasting News has surpassed Buzzfeed in audience outreach, according to Google Analytics, now 141 in the Alexa world publishers ranking.
Speaking to Propmark, André Zimmermann, co founder and CEO, Blasting News Brazil, revealed that the country represents 61% of the worldwide audience, which mainly comes from social media (83%). Also, 86% of the audience visit the pages via mobile devices.
The audience numbers are significant — the website is now above Buzzfeed (198) and Medium (413). Zimmerman also emphasised that Blasting News is the biggest publisher in Brazil, above established media companies such as Folha, Veja, and even the BBC. comScore rankings, though, position the company in the second position, behind Globo, one of the biggest media organisations in Latin America.
AdStream grow revenue by 123% in Brazil
The streaming ad management company AdStream revealed their revenue has grown by 123% last year in Brazil, mainly due to the expansion in the country outside the main Rio-São Paulo area. The company has also closed a deal with Globo, Brazil's main media company, which is expected to roll out ad streaming to other units in the countryside throughout 2017.
The company has done local business in the country since 2012, when they had 28 offices worldwide. Now in 42 countries, they offer their solutions to 20,000 media publishers. In Latin America, they have contracts with multinationals, such as Nestle, Unilever, Mondelez, P&G, Reckitt Benckiser, but also local big companies such as BR Foods, JBS Group, Marabraz, and Richard Eletro.
In 2017, the company expects other TV media companies adopting the technology and rolling it out to smaller cities, such as Band, Record TV, Rede TV!, and SBT.