Teads Closes inRead Deal with Estado; Pragma Resells Hathway Solutions in LATAM
by Gabriela Stripoli on 2nd May 2017 in News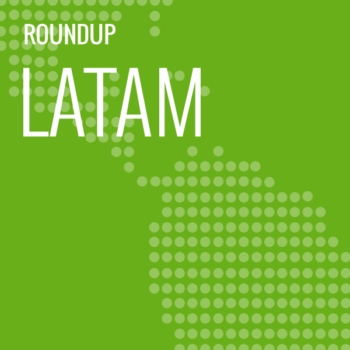 In this week's LATAM Roundup: Teads closes deal for inRead video ads with Brazilian publisher Grupo Estado, and claims an increase by 45% in their inventory in 2017; Pragma closes deal to resell Hathway solutions in Latin America, focusing on mobile marketing and brand development; ABC Group expands their internal startup program to Latin America, Miami, and Spain; and IAB Brazil support cross-channel marketing and publish playbook about offline data audience segmentation.
Teads closes deal with Grupo Estado
The Brazilian publisher group Estado closed a deal with Teads for native video advertising, which is valid from the second quarter onwards, in several content portals of the group: Estadão Online, Paladar, E+, and Jornal do Carro. The ads will be in inRead format in between editorial content, for which the ad tech expects to increase the monetisation of the publisher's spaces.
Both companies took the opportunity to highlight the green advertising in Brazil, non-invasive video ad formats and their attempts to decrease fraud numbers and increase viewability, with no reselling. "After closing deals with Editora Abril and Lance [both Brazilian publishers] in the beginning of the year, and including Estado's contract, we grew our inventory by 45%", said Fabricio Proti, executive director, Teads Brazil. He also mentioned that the company is looking for more exclusive deals with local publishers.
"This deal allow us to improve the advertising offers in our inventory, and also increase the quality of the online ads, consequently improving the user experience when browsing our content", said Paulo Arruda, Advertising Director, Grupo Estado.
Pragma resells Hathway solutions in Latam
Digital agency Pragma Communication announced a exclusive partnership with mobile marketing and branded content American company Hathway, and will now offer their services in Latin America in an exclusive deal.
"Hathway is located in the Sillicon Valley, a hub of technology and where the main digital findings are born. With our partnership, we can bring to the local market exclusive services which have not reached the region yet, changing social media planning and digital solutions developments, such as mobile apps", said Miguel Villalobos, founder, Pragma.
The American company was founded in 2009 by Jesse Dundon and Kevin Rice. They have around 50 team members in the United States and Japan, and big consumer brands in their portfolio such as P&G and L'Oreal. Dundon was since then elected by Forbes as one of the top 30 best Marketing and Advertisers young leaders.
In an official statement, the executive highlighted Pragma's approach to be a consulting service for entire digital environments. "Pragma has the technology business analysis as the core of the digital communication strategy", they said, justifying the partnership.
ABC Group expands their startup program
The ad agency ABC Group launched their startup program this year expanding submissions across Latin America, Miami, and Spain, in a partnership with DBB Latina. All agencies of the group with operations in those countries can subscribe their business plans, competing for funding for their business idea.
CarGuru is one example of startups that received angel funding after being selected in the programme last year. The service uses a digital platform for on-demand car wash services in Brazil.
IAB Brazil launch offline data to promote cross-channel campaigns
In another initiative to provide material for the local digital market about cross-channel campaigns, IAB Brazil published an online guide about 'Onboarding Offline Data'. The playbook is targeted to marketing professionals in ad agencies who work to ensure audience segmentation, focused on the local market.