Positivo Builds Native Ads in Smartphones; Brazilian Prime Time for Digital Ads
by Gabriela Stripoli on 30th May 2017 in News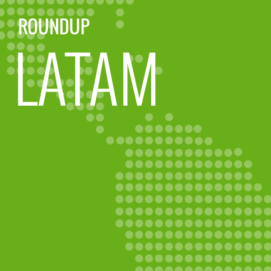 In this week's Latam RoundUp: Positivo Technologies signed a deal with Hands and will include their own native ad platform built in their devices, focused on Brazilian middle-class targeting; RTB House reveals the Brazilian prime time for digital ads: Tuesdays and Thursdays; and, finally, the top-ranked Facebook Fan Pages in Brazil in terms of user engagement, all with a common point – a high amount of videos published in a short period of time.
Hands & Positivo sign deal for Native Ad Platform
Positivo Tecnologia, a Brazilian digital branch derived from a devices manufactured, announced a partnership with Hands and their mobile data-management platform. The deal allows Positivo Tecnologia to offer more assertive digital ad campaigns in their mobile devices, which now will cluster the audience using geolocation, browsing history, and wifi hotspots.
"We've implemented a native platform to segment the audience and deliver advertisement in our products which is expected to improve and optimise media in all our devices", said Flavio Elizalde, digital business director, Positivo.
Positivo's main target is the Brazilian middle class; therefore all devices have pre-installed digital media services focused on this target. They say they reach around 10 million consumers, and deliver news and entertainment content to this public via smartphones, notebooks, and tablets.
"Our platform puts Positivo as a competitive player in advertising, since geolocating, app usage, and user behaviour help to create clusters with context for campaigns and audience evaluation", said João Carvalho, CEO, Hands.
Tuesdays: the Brazilian digital ad prime time
A recent analysis by RTB House revealed the Brazilian prime time for digital ads: Tuesdays, when the click numbers are higher than the average by 62%. However, banners have their peak on Thursdays, with higher rates by 117%, compared to the worst day, Sundays.
The time slot in which users tend to buy the most is from 2pm to 4pm, concentrating 19% of daily conversions, and from 8pm to 10pm, also with 19% of conversions.
"People are constantly online, on their computers, smartphones, or tablets, at home or at work. Therefore, they do not wait until the weekend for online purchases, as it used to be", commented Rodrigo Lobato, country manager, RTB House Brazil. He expects that the data will help brands to react in their campaigns — the company has analysed more than 1,000 RTB campaigns in 40 markets in Europe, Latin America, Asia-Pacific, Middle East, and Africa.
Globally, Tuesdays and Thursdays also are the peak days, and concentrate 37% of clicks and 43% of conversations.
Top engagement Brazilian Facebook Pages
The Brazilian content platform Snack revealed a ranking with the Brazilian fan pages on Facebook in April using Tubular Labs. The results showed a variety of topics: the top three are formed by Bolsa de Mulher, focused on female content, followed by the sports page Esporte Interativo and the recipes video channel TasteMade Brazil. They had 273 million, 196 million, and 180 million views, respectively.
Interestingly, traditional TV broadcasters are on the list, Multishow, a pay-per-view TV broadcaster, on sixty place; and the open tv channel RedeTV!, which appears seventh.
Nelson Botega, founder, Snack, commented that these pages have one thing in common: a great amount of videos published in a short amount of time. Some of them have 300 videos published every month, which can indicate that the always-on video is a good way of building an audience on Facebook. Differently than YouTube, which tends to drive attention to content creators, Facebook seems to be a greater chance for big media groups.
TagsDisplay