LATAM Is the Fastest Growing E-commerce Market; DynAdmic Launches Academy in Brazil
by Gabriela Stripoli on 30th Oct 2017 in News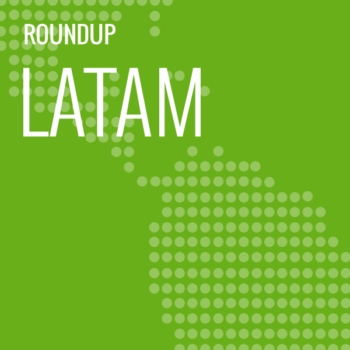 In this week's LATAM Roundup: The e-commerce market is expected to grow by 11% in the next five years, and Latin America is leading on speed, according to Worldpay's latest report, reaching USD$118bn (£89.8bn) in 2021; DynAdmic launched its DynAdmic Academy to disseminate content about programmatic video and its strategies in Sao Paulo, Brazil; and Teads expands its Latin American team with Eugeni Garcia-Perate, who recently joined as the regional CPG director
LATAM is the fastest growing e-commerce market; Argentina in the spotlight
The e-commerce market is expected to grow by 11% in the next five years, and Latin America is leading on speed, according to Worldpay's latest report. The sector in the region is expected to increase its revenues from the current USD$59bn (£44.9bn) to US$118bn (£89.8bn) in 2021, faster than any other region. Two Latin American countries, Colombia and Argentina, alongside Nigeria are the ones which are expected to have the fastest growth in the e-commerce sector. These countries' commerce revenues should increase by 31%, 30%, and 24%, respectively.
Mobile commerce, on the other hand, should increase its revenues by 38% in 2017 and by 47% by 2021, boosted by an increase in smartphones and faster connections. Latin America is also upfront in the global sector, with m-commerce expected to grow by 64% in Colombia and 45% in this period. This puts Argentina in the first position in the ranking of countries with the fastest growth, and Colombia in the fifth position.
Despite the negative economic situation, Argentina has a good forecast for digital opportunities. Internet access reaches 80% of its population, and the country has the highest ratio of mobile users in Latin America. The report predicts that the country will reach Brazil in e-commerce numbers by 2024.
According to the report, high connectivity helps to support a "revolution" in Argentinian e-commerce. The country established integration with the global markets after Macri was elected president in 2015, and it's currently benefiting from better purchasing power of a middle class, in advantage compared to its neighbours.
DynAdmic promotes programmatic in education events in Brazil
DynAdmic launched its DynAdmic Academy to disseminate content about programmatic video and its strategies in Sao Paulo, Brazil. The first event happened last week, with presentations and workshops about how to use data, DMPs, Native Ads, brand safety, quality inventories, private marketplaces, and audience segmentation.
Marcio Figueira, country manager, DynAdmic Brazil, said that even though programmatic media is already in many companies' digital strategies, many players still lack the understanding of different approaches and also skilled professionals leading projects, improving the results. "DyAdmic Academy wants to fill in this market gap, promoting and perfecting techniques", Figueira said.
Teads expands Latin American team
Eugenio Garcia-Perate has joined Teads' Latin American team, as the regional CPG director. Garcia-Perate is an experienced marketer, with more than 30 years of experience in digital media, advertising, and communications. He will be responsible for expanding Teads' relationships with the consumer market in Latin America.
Teads is investing in their strategy to verticalise operations, following different sectors, aiming to promote more understanding of challenges that brands have in different areas and, therefore, be their partner in advertising.
"With this vertical process, we are putting the client in the centre of the strategy, building and learning with them how to respond with assertive solutions that contribute for brand awareness without losing focus on the campaign performance", said Garcia-Perate.