TuneIn Closes Exclusive Deal with Audio.ad in LATAM; IAB Brazil Presents New President for 2018
by Gabriela Stripoli on 6th Nov 2017 in News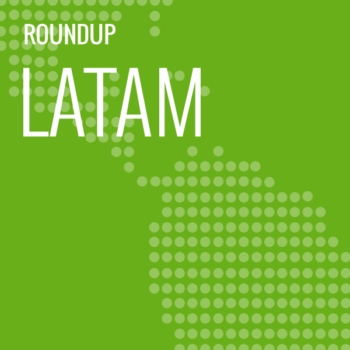 In this week's LATAM Roundup: TuneIn chooses Audio.ad to boost their revenues in Latin America and Puerto Rico, with an exclusive representation deal for audio and banner inventory; IAB Brazil introduces its team for 2018, led by Ana Moisés, LinkedIn; and J. Walter Thompson acquires major stake in Brazilian digital agency Enext, following the strategy to grow the participation of digital advertising in WPP revenues.
TuneIn closes deal with Audio.ad in Latin America
The radio app TuneIn closed a deal with Audio.ad, a Cisnero Interactive company, for exclusive representation in Latin America and Puerto Rico. Audio.ad will offer TuneIn audio and visual inventory in the region, with possibilities for segmentation such as localisation, kind of device, demographic groups, and audience profiles.
The available formats are audio with banners, interstitial for content promotion, first-impression acquisition, and traditional mobile banners. "TuneIn has a growing audience in LATAM. For over 10 years we have focused our efforts on the US and EU and developed a strategy that works for the platform. Now, with that understanding, we are excited to enter the LATAM market", said Billy Hartman, vice president, head of global partnerships and strategy, TuneIn.
"TuneIn is completing the premium publisher offer on Audio.ad, which allows us to have local content in each of the countries with a great capacity of segmentation by themes such as sports, news, music, etc", said Carlos Córdoba, managing director, Audio.ad.
IAB Brazil introduces its new president, Ana Moisés
IAB Brazil presented AnaMoisés, director of marketing solutions, LinkedIn LATAM, as its new president for the 2018 cycle. Ana Moises has more than 15 years of experience in internet and media, having built her career in Yahoo and Microsoft.
In the official statement, Ana Moisés highlighted how IAB has evolved through the latest years, emphasising the work on brand safety and ad fraud. She also revealed the focus areas under her leadership: "Next year, I intend to add to the agenda sustainability in digital advertising, leading the conversations on this topic."
In her team, which start their work in January next year, there are Paula Puppi, CEO, Blinks, as head of Ad Agencies; and Raffael Mastrocola, general manager LATAM, The Community Miami, will be IAB Brazil's VP of finance. Fabricio Protti, managing director, Teads, is going to be VP of publishers. The counselling board will be led by Cristiano Nobrega, CEO, Tali, and current president at IAB Brazil.
J. Walter Thompson acquires major stake in Enext Brazil
WPP has been investing in fast-growing sectors of the economy in Brazil, such as e-commerce and digital advertising. As part of this strategy, the group announced that J. Walter Thompson, a WPP agency, has acquired major stake in Enext, a Brazilian digital agency specialised in marketing solutions, e-commerce, and cloud services. In 2016, the company's revenues reached R$10.4m (£239m), with big brands in its portfolio: Ambev, Arezzo, Mondelez International, Multiplus, and Novartis, for example. The value and percentage of the deal were not revealed.
Enext was founded in 2008, is headquartered in São Paulo, and has a team of 120 people. The agency works mainly developing digital platforms and managing digital campaigns for clients, from activation to transaction optimisation and digital monitoring.
Last year, WPP digital revenues reached 39% of the group's income, reaching USD$7.9bn (£6.04bn). The companies established a goal between 40-45% for the next five years, which was already reached in June, when digital represented 41% of WPP group. In Latin America, WPP companies (including associated agencies and organisations) sum up USD$1.6bn (£1.2bn) in revenues, and 23,000 employees.