LATAM Digital Ad Market to Reach USD$41bn in 2021; Globo Group Closes DMP Deal with Salesforce
by Gabriela Stripoli on 13th Nov 2017 in News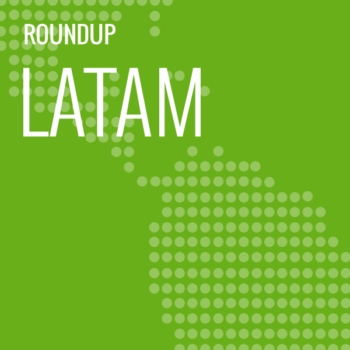 In this week's LATAM Roundup: Digital advertising is expected to reach USD$41bn (£31bn) in 2021, according to eMarketer's Global Media Intelligence Report, with Brazil, Argentina, and Mexico being the top three markets; Globo Publishing Group closes deal with Salesforce DMP to target campaigns using first-party and third-party data; and recent research shows Google AdSense with more than half of market share among Brazilian blogs.
Digital advertising in Latin America to reach USD$41bn in 2021
In its seventh edition, eMarketer's Global Media Intelligence Report researched the media combustion in 36 countries around the world, and forecasted that Latin American digital advertising should reach USD$41bn (£31bn) in 2021.
In 2017, digital media ad spend in Latin America is expected to reach USD$34bn (£25bn). The biggest market is Brazil (USD$14bn, or £10bn), followed by Argentina (USD$5.8bn, or £4.39bn), and Mexico (USD$4.6bn, or £3.48bn). Colombia, Chile, and Peru come next, with USD$1.04bn (£788.4m), USD$1.03bn (£780.8m), and USD$720m (£545m), respectively.
The report forecasts that in 2021 the market share will remain the same among the countries. The region represents 9.6% of smartphone users in the world, which is also expected to remain the same in the next five years.
Globo Group closes deal with Salesforce DMP, focus on segmentation
Globo Publishing Group, Infoglobo, and Valor Economico newspaper have closed a deal with Salesforce DMP to segment advertising in their digital platform, according to audience analysis and user profile. The solution was tested by the publishers last October, using consumer-related clusters anchored in first-party and third-party data. The result was a click-through rate increase by 500%, compared to ad campaigns using only third-party data.
In an official statement, online business manager of Globo Group, Karin Ribeiro, highlighted that knowing their users deeply has been a great ally to improve campaign performances on different titles. "It is an important way to generate more revenues using a DMP", Ribeiro said.
Google AdSense has more than half of Brazilian blog market share
A recent study by Big Data Corp made last September highlighted that 82.7% of Brazilian blogs use advertising to create revenues, and more than half of them (54.06%) are delivered by Google AdSense. Other ad networks, granularly, serve 28.6% of the advertising market.
The study was made through Big Data Corp network, which monitors 700 million websites worldwide, out of which 20 million are Brazilian pages. Less than 1% of them have at least half a million monthly sessions – therefore, the Brazilian network can be considered small websites. Almost 42% of the entire network, though, use analytics tools to get insights about their audience.
According to the report, the blog ecosystem in Brazil has been growing in the digital market due to its potential to be explored by user-targeted campaigns. Most of the Brazilian blogs also use some sort of social media to distribute their content, especially Facebook. The most used blogging platform is Blogger.com.