Brazilian Black Friday Below Expectations; In Loco Launches Programmatic Platform for OOH Media
by Gabriela Stripoli on 4th Dec 2017 in News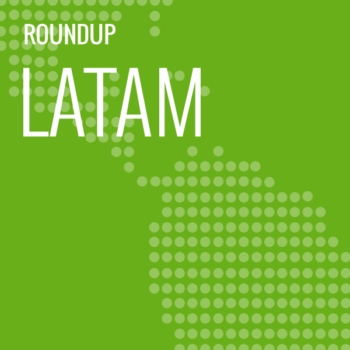 This week's LATAM Roundup brings the disappointing numbers of the Brazilian Black Friday, which even though had an increase on sales, ended below market expectations; In Loco Media launches programmatic platform for OOH media trading; DynAdmic finishes 2017 with double-digit growth; and, finally, Azul discloses some numbers of a recent ad campaign with Sociomantic in Brazil.
Brazilian e-commerce has a positive Black Friday, but below expectations
This year's Black Friday official numbers were R$2.1bn (£478m) in Brazilian e-commerce revenue, an increase by 10.3% compared to last year's performance. Ebit's metric calculated the sales on Thursday and Friday, not taking into the account the weekend sales.
Even though the number is positive, it is still below Ebit's forecast of R$2.18bn (£637m) for the date. The number of unique sales grew by 14%, but the average ticket fell by 3.1% in the period.
The positive highlight goes to mobile, again: mobile purchases increased by 81.8% compared to 2016's commerce sales; and overall mobile grew by 41.5% on a year-on-year comparison. According to Ebit, the good performance can be attributed to the increase of 3G and 4G networks across Brazil.
In Loco Media launches programmatic platform for OOH media trading
In Loco Media and Serasa Experian launched a new feature in Real World Audience (RWA), a platform based on geolocation and demographic data for OOH purchases. Advertisers and ad agencies can now use RWA to programmatically buy the inventory of 100 Clear Channel spaces in Rio de Janeiro, Brazil.
"Connecting consumer behaviour data, so that agencies and advertisers can plan and execute campaigns, allows expansion of the same campaign with just a few clicks, on several channels", said Caio Casado, data intelligence manager, In Loco, when asked to define RWA for the market.
The buyer can set the audience, the cluster and day and time for its campaign. RWA also allows offline data aggregation to boost campaigns through DSPs and DMPs to reach the entire In Loco's inventory, which currently has 600 partner apps and 55 million unique users.
"This partnership is another step in our strategy to integrate media and platforms. I don't see any other way to achieve this objective, other than promoting how different media completes one another and presenting to the market resources to renew advertising partnerships", said Lizandra Freitas, CEO, Clear Channel.
DynAdmic ends 2017 with a double-digit increase in Brazil
While as yet not disclosing numbers, Marcio Figueira, country manager, DynAdmic Brazil, is positive about the company's performance: a double-digit increase in its revenue when compared to 2016's performance. Figueira spoke to Karen Ferraz, ExchangeWire Brazil, about DynAdmic's results in 2017 and the forecast for the new year.
According to him, the scenario for the ad tech market in Brazil in 2018 is optimistic due to two main events: the FIFA World Cup and the country's presidential elections. Therefore, for DynAdmic the mood is the same. He mentioned what he considers positive in the local scenario: brand safety, with advertisers more aware and concerned about where their campaigns will be exposed.
DynAdmic also celebrates the performance of their mobile video campaigns. According to Lara Krumholz, general manager, DynAdmic LATAM, the visualisation average of mobile campaigns in LATAM ran by DynAdmic was 56%. A recent report by Moat reveals that DynAdmic campaigns surpassed the Brazilian average of video campaign's completion rate of by 216% in the second quarter of the year, compared to the previous quarter. The ad tech company also surpassed every other market metrics, particularly viewability (by 15%) and in-view played rate (14%).
"Syncing online and offline has been shown very effective in all campaigns we run", said Figueira, who also emphasised that the cross-platform trend will lead 2018 operations.
"Well, in adtech, one of the highlighted formats was, for sure, All Viewable Ads - the one which follows the user navigation, placing the video on the bottom side of the screen -, because clients are looking for much higher viewability rates this year, above 60%", said Krumholz.
Brazilian airline Azul grows its website traffic by 358% with Sociomantic solution
A recent deal with Sociomantic brought the first results to the Brazilian airline Azul. The companies shared the results of a campaign ran between 13-26 April, 2017, the goal of which was to increase website traffic and their loyalty scheme, TudoAzul.
Using Sociomantic's real-time bidding, Azul had an increase by 358% on clicks and 262% on ad impressions. The airline also grew post-campaign sales by 18%, decreasing the cost per click by 77%. According to the companies, they analysed user profiles to define who was the audience set who were most likely to convert, and where these people could be found online. Based on this data, Azul displayed banner campaigns monitoring and optimising the performance in real time.
*Edited on Dec 10 to add information on DynAdmic's year in LATAM & RWA new feature release.
SaveSaveSaveSave