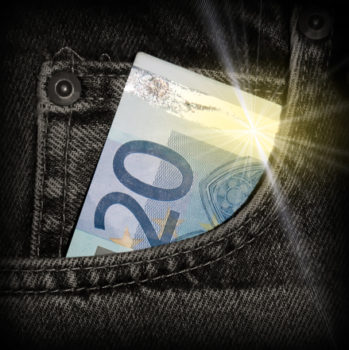 Marketers remain undeterred by financial and economic concerns, including Brexit and government spending cuts, illustrated by continued growth in marketing budgets, according the IPA Bellwether Report Q1 2016, released last Thursday (14 April). 
Report Highlights 
– Marketing budget growth sustained for fourteenth successive quarter
– Confidence regarding financial prospects deteriorates
– Internet and events spend rises but sales promotions and direct marketing cut
– Bellwether predicts ad spend growth of 3.3% for 2016
The report, which has been conducted on a quarterly basis since Q1 2000, revealed a net balance of +3.0% of companies reporting an increase to their budgets during Q1 2016, up from +0.5% in Q4 2015, although down on the levels seen throughout much of the preceding two-and-a-half years. (The net balance is calculated by subtracting the percentage reporting a downward revision from the percentage reporting an upward revision).
While budgets were revised upwards, confidence regarding financial prospects deteriorated. Sentiment about industry financial prospects dropped to the lowest level since the start of 2013, from +7% in Q4 2015 to -6.5% in Q1 2016. Optimism regarding companies' own financial prospects also slumped from +20.4% in Q4 2015 to +13.6% this quarter, marking the lowest level since late 2012.
In spite of a less optimistic financial outlook, marketing executives are still upbeat about their own budgets for the coming accounting year, with +23.3% forecasting higher spend in 2016/17.
As a result of these developments, Bellwether predicts adspend growth of 3.3% for 2016, a downward revision to the 3.9% in projected in Q4 2015.
Online Marketing
Internet marketing once again saw the strongest upward revision to budgets of all Bellwether categories, recording a five-quarter high of +9.8% (from +6.9% in Q4 2015) and marking 27 quarters of continuous expansion. (Within internet, search/SEO also showed continued growth, at +2.8%, although this was down from +5.8% in Q4 2015). Events also saw a marked increase to budgets of +6.3% and main media recorded modest growth of (+1.7%). Reduced spending was, however, seen in sales promotion (-8.4%), direct marketing (-4.9%), 'other' marketing activities (-4%), PR (-4%), and market research (-3.1%).
ExchangeWire spoke exclusively to some of the online advertising industry's top thought leaders about what the latest report means.
Ricky Liversidge, CMO,
Sizmek
, highlights the rise of 'marketing automation', he said: "The marketing industry is clearly impacted by the current global economic climate. It's unsurprising to see an increase in internet ad spend, given it offers a high degree of measurability and targeting, and, consequently, return on investment. But this trend is masked under a cloud of economic uncertainty. The reduction in sales promotion and direct marketing reinforces the decline of single-shot marketing to more effective practices that better capture the 'always on' consumer, such as cross-device digital marketing."
Ben Cooper, MD, Europe,
HookLogic
, spoke about the nuances of ecommerce: "Part of the growth we are seeing is around performance marketing in ecommerce. Retailers have significantly improved the advertising inventory on their sites, empowering brands to spend their marketing dollars more effectively with trackable, measurable results that attribute sales down to the SKU.
"As CEOs come to expect more and more quantifiable results from their marketing teams, outcome-based performance marketing such as this will become a priority."
Paul Smith, senior economist at Markit and author of the Bellwether Report, concluded that marketing executives are in a period of flux, he said: "On the one hand, economic and financial prospects have taken somewhat of a nosedive – probably not helped by uncertainty around EU membership – and that's led to those holding company purse strings to adopt ongoing prudence and caution when committing funds to areas such as marketing.
"While this inevitably has led to downward pressure on budgets, steady sales flows are encouraging new product development and enabling marketing executives to eke out some modest growth in funds."
Marketers will need to be more data-savvy in the future, cautions Will Bishop, UK country manager, ADventori. Bishop said: "We must take note of the broader concerns conveyed in the report. If budgets do begin to tighten, all marketing – digital included – will need to work a lot harder to justify it's means.
"The debate around ROI is set to intensify. Much has already been said around the disconnect between the highly targeted capabilities of digital buying and the often generic creative displayed. Marketers need to take full advantage of the data streams on offer to deliver more relevant ads as the market moves towards a more personalised approach. As ad-blockers gain popularity, and the emphasis on viewable impressions increases, it is no longer good enough for a potential customer to view an irrelevant ad. Digital adverts should instead deliver messages that are tailored to the right person, at the right time, in the right environment, increasing performance."
An optimistic Bill Muller, CMO,
Visual IQ
, said: "Some readers may interpret flat marketing budgets as an indication of decreased confidence amongst marketers, or even financial woes, but this is an overly pessimistic view to take.
"The truth is, the increased adoption of advanced measurement amongst marketers has empowered brands to assign their budgets more effectively, meaning there isn't always a need to hike budgets to hit business goals.
"For brands with large marketing budgets, the ensuing result can translate as millions of pounds saved in media spend efficiencies. A forward-thinking brand will then pour these savings back into effective, high-performing marketing tactics. So, from the outside, a brand's spend may appear stagnant, when it is actually enjoying one of its most successful periods."
Stephanie Carr, VP EMEA, Marin Software, was keen to point out the role mobile has had in shaping today's budgets. Carr said: "Research shows mobile is responsible for the ongoing growth of internet budgets, which have gone up for over six consecutive years. As people use mobile devices more than ever, CMOs are starting to increase digital marketing budgets in line with the popularity of the channel. The majority (61%) of digital marketers still feel more budget should be shifted to digital; and only 35% believe their organisation has got the online/offline balance right.
"Investing in digital is sensible, but at the same time it's important to remember that marketing disciplines cannot be considered in silos – 7-in-10 (68%) digital marketing managers say more needs to be done to integrate marketing teams.
"In today's media landscape, with so many channels and devices, it's essential that marketers adopt a cross-channel strategy that reflects consumers' increasingly complex path-to-conversion."
Richard Robinson, MD of EMEA at Turn, said: "Despite uncertainty around the possibility of a Brexit, it's nonetheless an exciting time for the industry. In particular, the continued growth of programmatic and data-driven insights are opening up new possibilities for marketers, connecting consumers with brands through more relevant and personalised messages, generating more creative campaigns that foster loyal brand relationships."
Commenting on the latest report, Paul Bainsfair, director general of the IPA, said: "Following the referendum in June, the summer Bellwether should hopefully provide better clarity on where we are headed. On balance, some growth seems the most likely outcome especially with the European football championships and Olympics set to provide a shot in the arm to budgets in the immediate months ahead."
The Olympics, European football championship and other sports events taking place this year are opportunities for marketers to engage with consumers in real-time. Antoine de Kermel, MD EMEA, TVTY, said: "Sport provides marketers the opportunity to engage with consumers in the moments that matter most to them. For instance, during this year's Super Bowl, we saw a 1000x increase in spend, with brands vying to engage with consumers during the important in-game moments."
"There are an array of moments for marketers to choose from this summer with the Euros, Olympics, and Tour of Britain ahead. This, combined with research showing that over two-thirds of digital marketers will increase their moment-marketing spend this year, we expect big positive changes to both budgets and attitudes by next quarter's report, especially in the internet category."
Justin Taylor, UK MD, Teads, said: "While Brexit fears may be impacting overall marketing budgets, confidence in online advertising is actually growing. In fact, UK advertisers spent more on digital advertising than ever before in 2015, according to the IAB, driven by emerging channels such as mobile and video. Spend also increased on programmatic to 60% in 2015, up from 47%, which will only continue to grow as it becomes easier to target audiences via premium publications programmatically.
"While advertisers' confidence in online seems unaffected by the rise of ad blockers at the moment, the meteoric rise of this technology can't be ignored. As an industry, we must get better at engaging, not interrupting, consumers if we don't want to drive them to block ads altogether. This means championing native placement formats that are non-intrusive, to offer relevant experiences no matter on which device the ad is viewed. Essentially, we must think about what is most acceptable to the end consumer."
Over the last two years, we have seen the emergence of 'customer relationship marketing', powered by marketing automation tools. With software stalwarts, such as Oracle and Salesforce, getting involved in this trend alongside newer companies, such as Weborama, we're predicting that there will be many a battle fought to win the budgets of the biggest spenders. Conor Shaw, MD of Marketo, EMEA says: "Growth across the industry is a product of marketing's evolution to become the steward of the customer relationship across all digital channels, from search to direct messaging apps.
"Concurrently, Marketo's recent study in conjunction with The Economist Intelligence Unit, found that 90% of European CMOs and senior marketers expect to own the end-to-end customer journey by 2020. This positive forecast suggests that regardless of any economic uncertainty, brands are resolutely aware of the need to deliver meaningful communications at scale. The challenge for marketing now is to be aware of the fact that digital isn't just another string in the marketing bow, but a fundamental part of facilitating this business strategy, and something they should never lose ownership of."
Antti Pasila, CCO and founder at Kiosked, offers practical advice for overcoming today's barriers, he said: "Along with new opportunities come challenges: the report identifies a number of issues that need to be addressed before the growth can truly benefit all stakeholders. The online ad industry is rife with fraud and waste; the lack of transparency has inhibited many advertisers and publishers from developing solid relationships. One way to build trust is to strive towards a programmatic advertising environment that benefits everyone involved. It all begins with user-friendly experiences that are contextually relevant to the consumer; hence, being more effective from the advertiser standpoint, and ultimately, deliver more value to publishers. By tackling this, 2016 will be seen as a watershed year for changing attitudes towards online ad spend."