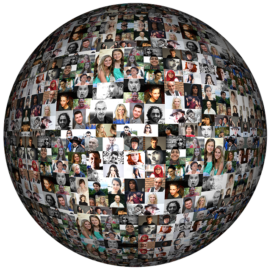 Instagram is one of the fastest growing social media platforms, with more than 500 million active users. And, according to recent research by eMarketer, the number of brands choosing to include the platform in their 2017 advertising plans will surpass Twitter. But, despite the high number of brands using Instagram, and other photo-sharing sites, explains Ed Preedy (pictured below), managing director of Europe, GumGum, there are still so many of them getting it wrong when it comes to effectively using these platforms to increase brand awareness.
To investigate this, GumGum conducted research to get a better handle on the digital motivations of 18-29 year-olds on these platforms. With billions of images being shared online every day, it is hardly surprising that our research found 42% of this millennial age group visit Instagram at least five times a day.
And, while millennials might check in consciously looking for stimulation, the desire to feel connected to others (whether conscious or unconscious) is a very strong attraction. If they can't be with friends and family, the periscope of social media allows them to share experiences with them. This is borne out by the fact that nearly half only browse content posted by others – much more than the 27% who regularly post images themselves.
We also looked into how users respond to brand-related messaging on image-focused platforms, which highlights the misguided approach many marketers are taking with these platforms. A staggering 91% have never bought anything via a link from Instagram, whilst 60% actively skip ads on social media.
What this proves is, when it comes to photo-sharing sites, it is about brand building rather than sales uplift. Sites like Instagram offer great potential for marketers who can tap into 'browsing hunger'. Users of the platforms are keen for visual inspiration, a gift to any brand that can offer inspiring images that don't rely on explanatory text. Almost half of our sample said they only "somewhat" pay attention to the words that accompany pictures.
The research validates our view that the internet is becoming predominantly visual; and images are now the go-to medium of communication for the time-short, information-hungry, and digitally-savvy millennial consumer. So, if brands want to benefit from the huge opportunity that these visual social media platforms offer, they have to recognise that marketing is also becoming an image-first discipline too.
This presents a paradox for marketers who want to scale up their campaigns using programmatic. The usual belief is that you can either opt for data-driven, efficient marketing, or go for something more creatively customised to the context in which the ad appears.
The rise of image recognition software in digital marketing is starting to challenge this perception, allowing a combination of both – an image-based ad slot booked programmatically that also takes into account the nature of the user-generated or editorial image it appears next to. It's an area we at GumGum have been innovating in for approaching a decade now. We exist where programmatic meets native: an interesting place with huge potential for innovation as the 'visual web' continues to unfold.
The appeal of images online is obvious – they are accessible, quick, and versatile, exactly what millennials look for on Instagram. Whether on social media, or the internet in general, this trend will only increase as we head into 2017, and beyond. It's time brands wake up to a new type of marketing mantra that fits our social media inspired, image-first world – don't sell, inspire!
TagsDisplay