EU Allows Ad-Blocker Tracking; Flashtalking Accredited by MRC
by Sonja Kroll on 13th Jan 2017 in News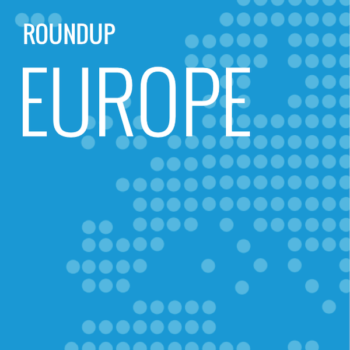 ExchangeWire round up some of the biggest stories in the European digital advertising space. In this week's edition: Adblocker tracking approved by EU; Flashtalking receives accreditation; Forensiq partners with Affise; VideoAmp unveils mobile DSP; adsquare and TabMo cooperate; Gameloft and AerServ partner; Tapad opens Norway office; and Facebook expands instant articles.
EU approves of ad blocker tracking
Good news for publishers! The EU is driving an equal opportunity policy for ad-block trackers: thanks to new online regulations, the EU last year promised more control to users over their data. However, the EU failed to extend the same control to publishers who might want to track readers who were using ad blocking software. Now, in a new reform of the law, the EU is clarifying that anti-ad blocking software is not illegal and that publishers may track ad blocking software used on by their readers on their websites.
Essentially, the EU grants both users the right to use ad block software, as well as publishers the right to check whether their readers' devices actually receive the content, citing the need to fund 'free content' by advertising.
Publishers, such as Bild.de, should feel vindicated by the EU reform initiative: the German tabloid tracks their web readers and only displays their content to them if the users agree to disable the ad blocker.
Flashtalking receives MRC accreditation
Flashtalking have just been accredited by the Media Rating Council. The Desktop Display and Rich Media Served Ad Impressions and Desktop Display Viewability metrics, thus, receive the thumbs up from the industry association.
"As a trusted partner to major brands and their agencies, our commitment to verification, quality, and transparency is primary", says John Nardone, CEO, Flashtalking. "Our end-to-end solution would not be complete without the integral verification component. So, we are pleased to be accredited by the MRC in these areas so foundational to our solution and services."
The MRC accreditation is based on the MRC's Minimum Standards for Media Rating Research and the industry-accepted guidelines for digital ad campaign measurement and viewability. For accreditation, Flashtalking were put through an independent CPA auditing process which included checks on their solution's data fidelity, and on the effectiveness of their structures and processes for identifying general invalid traffic – as well as comprehensiveness of the documentation, methodology, and IT infrastructure security.
Forensiq help Affise tackle fraudulent traffic
A new integration between Forensiq and performance marketing solution Affise is to improve the quality of mobile inventory. Affise will analyse traffic in real time and detect fraudulent publishers as early as the first few conversions. Forensiq are supplying the tools to detect bots and fraud.
Affise-founder Dmitrii Zotov explains Affise's proactive initiative: "Partnering with Forensiq provides our customers with deeper insights and transparency into fraudulent pockets of supply. The ease with which our clients are now able to eliminate these sources gives us confidence and they are now spending less time checking quality and analysing traffic, whilst providing their partners and clients with the results they need."
"With more than a third of mobile programmatic traffic at risk of fraud, it is crucial that companies equip themselves and their advertisers to actively mitigate these risks", adds Mark Wrighton, VP EMEA, Forensiq. "We have been working with Affise to integrate Forensiq into their UI to score conversions and enable their partners to successfully protect themselves from paying for fraudulent conversions."
VideoAmp unveils Ignite, partners with comscore
VideoAmp's new platform for programmatic planning is called ATV Ignite. The self-service, SaaS platform optimises existing TV plans as well as combines TV targeting with first- and third-party digital data.
VideoAmp's ATV Ignite allows advertisers to plan their TV campaigns plans against TV currencies, and digital, and first-party audiences segments, matching audiences across devices and measuring channel/programmer audience concentration. The launch partners include, comScore, Neustar, LiveRamp, and NinthDecimal.
Bringing TV to digital has been difficult so far, VideoAmp says, as cross-screen targeting was hampered by audience data from multiple sources. However, VideoAmp now integrates their proprietary user graph with comScore's TV Essentials clustered TV viewership file to create the foundation for this indexing product.
"We are working with VideoAmp across several use cases, which are hitting a market need that we have seen across our customer base. The power of comScore TV data will be available to plan and execute automated buys in TV and beyond", said Chris Wilson, EVP National Television, comScore. "Furthermore, the rapid acceleration of advanced consumer targeting data being used in TV buying needs to be measured by a cross-platform currency that has scale, and our work with VideoAmp covers that."
ATV Ignite also allows advertisers to activate first-party data via partners like LiveRamp and Neustar for use in TV planning and buying.
adsquare and TabMo join forces
Mobile video advertising company TabMo and data exchange adsquare have entered into a new European partnership. The cooperation is an attempt at making mobile advertising campaigns more effective by targeting the right audience in the right context with the right message via a one-stop shop for data-driven mobile advertising.
Thus, аdsquare's technology is integrated with TabMo's mobile DSP Hawk. Tom Laband, CEO and co-founder, аdsquare comments: "We are delighted to join forces with the creative minds at TabMo to deliver targeted ads enriched with data, allowing our customers to reach highly targeted audiences in real-time. Together, we are committed to helping programmatic buyers and advertisers in delivering more meaningful advertising and powerful ad engagement."
Chris Childs, Managing Director UK, TabMo, adds: "Full integration with adsquare makes it quick and easy for our customers to build bespoke, robust and scaleable audience segments that make their mobile advertising as effective as possible. Like TabMo, adsquare has developed its technology solely for mobile, so it is a strong fit and a valuable addition to our team of data partners."
Gameloft partners with AerServ for in-app advertising
Gameloft Advertising Solutions have selected AerServ as a mobile monetisation partner. Gameloft Advertising Solutions will benefit from AerServ's expertise and the significant features of the AerServ monetisation platform as both teams will be working to optimise yield across all ad units, and bring unique advertisers to the Gameloft rewarded video placements.
"Rewarded video placements are incredibly successful for mobile games, and not just due to their earnings. Studies have shown high engagement due to the rewarded video integration, and they present a wonderful alternative to other advertising mediums", Andrew Gerhart, COO, AerServ tells ExchangeWire. "Gameloft has done a great job of blending different types of advertising, both old and new, and we're excited about helping them to maximise their monetisation potential.  In 2016, we saw more non-gaming publishers integrate rewarded video and I think this will continue in 2017."
AerServ ads have been integrated via API into Gameloft games for rewarded video, and mobile display ad units.
Tapad expands into Nordics
Tapad are taking their cross-device marketing technology to the Nordic markets. Starting in mid-January 2017, the New York-based company is opening an office in Oslo, Norway.
"Given the caliber of technical talent and our extensive network in the region, Oslo was the logical choice at this stage of our growth", says Dag Liodden, Tapad CTO and co-founder. "This enables us to continue building out our innovative team on a global scale in a region that is close to our hearts and minds."
Tapad Oslo will be home to a globally focused engineering team, as well as function as the operational headquarters for the region. The initial hiring and build-up of Tapad Norway will be overseen by Jeff Olchovy, a senior Tapad developer and one of their earliest employees. More than 20 open positions are to be filled.
Tapad's branching into the Nordic market itself should not come as a surprise: in 2016, the company was acquired by the Norwegian Telenor Group.
Facebook experiments with multiple Instant Articles
A move to make publishers happy: Facebook have announced to expand their instant articles. Reacting to publisher feedback, the social network is testing a new way for publishers to combine multiple instant articles in one post.
After the long controversy over fake news, the instant article expansion is an attempt at calming the waters. Among the first publishers to test the new set up are BILD, BuzzFeed, El Pais, Fox News, Hindustan Times, India Times, Refinery29, The Sun, USA TODAY, and The Washington Post.
Multiple instant articles means that users are able to swipe from an instant article to a number of others. User of the latest iOS and Android Facebook-apps will be eligible to see these posts in News Feed and on a publisher's Page in the coming weeks.