Preparing for Cannes Lions 2017: Advice from the Veteran Visitors
by Lindsay Rowntree on 16th Jun 2017 in News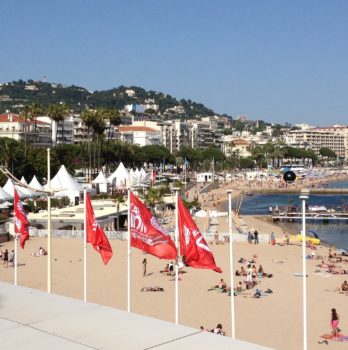 Temperatures are soaring and tech specialists from across the globe are descending on the French Riviera; it's Cannes Lions time again. To avoid wilting in the heat and make the most of this colossal networking opportunity, all visitors – especially first-timers – would do well to take some advice from some seasoned Cannes veterans.
Set yourself up for the day...
With meetings, networking, and what will seem like endless traipsing from one location to another (and back again), you'll need to make sure you start each day with a hearty meal. Most hotels in the Croisette offer amazing buffet breakfasts with tables inside and out. These prove popular, and you will likely bump into acquaintances you've met at the event. Plus, it means you start your day on the main boulevard ready to attend meetings at the Cabanas or take in sessions at the Palais. 
... and when your day is done
So, you've been busy networking since the crack of dawn; you're hungry, thirsty, and searching for that second wind, but not sure where to go. If you've already experienced the whirlwind of the yacht parties, then be sure to head over to the old town and take in the delights of the Irish pub, French restaurants, or stunning cocktail bars where the Cannes nightlife truly comes to life.
Chris Dobson, CEO, The Exchange Lab
Venture outside of the main event
Despite the abundance of entertainment on offer within the confines of La Croisette, some of the best parties and events actually take place in rented mansions and villas in the stunning countryside surrounding Cannes. In our experience, these tend to be more intimate functions where you can really get to know other delegates and stand a greater chance of developing lasting business partnerships in a relaxed environment – and without a hard sell.
It's worth remembering that, although the majority of trends, topics, and conversations at Cannes will relate to the B2C sector, these insights can often be leveraged within your own B2B initiatives. In fact, it's a great place to conduct your own market research, as you will likely meet some of the most senior, influential, and knowledgeable industry leaders during the course of the week. Therefore, keep in mind the three most important industry topics relevant to your business and ask the same questions to each person you meet. You will soon find you are able to discover real trends and glean significant insights to help inform your own business strategy.
Max Pepe, Marketing & Innovation Director, Mozoo
Make sure you're fully charged
Success at Cannes takes energy and lots of it. Make sure both you and your devices are fully charged and prepared to meet the demands of the day. Create refresh time for yourself, and be sure to carry a battery pack with you for your mobile.
First impressions matter, and you're going to be making many, so be sure to look and feel your best. Blow-dries, good hair product, hats, sunscreen, and crisp linen win the race. Always keep an eye on your wellbeing — meetings will run a lot smoother if you stay cool, keep hydrated, and feel good. With more stringent security this year, make sure you also pack your ID and credentials to minimise waiting times.
Embody '64. No, this does not represent the number of yachts you should visit, emails you should send to follow up on that 'very' special, game-changing conversation you had, or glasses of rosé you should consume per day. It represents the years that The Cannes Lion Festival has brought us all together. It's only once a year that the whole industry comes together in this way, so let's make the most of it.
Teri Gallo, SVP, Global Corporate Business Development, OpenX
Content is king at Cannes
Cannes Lions has become renowned for creating and delivering premium content, which provides invaluable insights into the hottest industry topics of the moment – from how machine learning is revolutionising the advertising industry, to the full potential of virtual reality technology. Whether you're attending the main festival – and listening to some of the most influential keynote speakers across the industry – or taking advantage of external networking opportunities, there is so much to absorb. Don't miss out on the free events, which are posted during the run-up to the festival.
During the day, when you are rushed off your feet hosting, or attending, meetings and navigating your way from venue to venue, make sure you have a plentiful supply of fruit, water, and healthy snacks to get you through the day.
Exercise mindfulness in all of your activities, i.e. make sure you are mentally, as well as physically, present during meetings or when making new acquaintances. This involves switching off your phone, engaging in the 'here and now' and, above all, embracing and appreciating your surroundings, especially the stunning views of the Croisette.
Emma Williams, VP, Global Marketing, MediaMath
Combine bright insights with fun in the sun
Offering a unique opportunity to mix with industry A-listers in a beautiful beach setting, the key to making most of a visit to Cannes Lions is in finding the time to enjoy both.
Start by making a wish list of the insights you want to take away from the event and which speakers you can't afford to miss. Planning is key, even down to investigating the best meeting points or wi-fi hotspots. An array of parties and other events offer endless opportunities to network; so be sure to sign up for invitations and email alerts to get yourself on the guest list before the festival begins.
However, trying to cram too much into a daily schedule has been the downfall of many Cannes-goers. Incorporate time into your preparations to enjoy the hospitality and sheer spectacle Cannes has to offer. And don't forget, you can always retreat to the beach to recharge your batteries.
Thomas Bremond, Managing Director International, FreeWheel
Be prepared – from straw hats to hotel passes!
Pack your straw hat and suncream, the sizzling French summer is set to start this week while the festival is in full swing. Along with your summer essentials, don't forget to stock up on plenty of business cards and ensure you have access to the hotels for the duration of the festival – after all, networking is the name of the game.
This year the rules have changed, making access to events and yachts a little tricky – so make sure you have registered ahead of time to avoid any disruption or missed opportunities.
Most importantly, get inspired! This year Cannes Lions Innovations will be showcasing a lot of startups. Whether it's the R/GA Start Up Academy, the new Discovery Zone, or the Innovation Lion, Cannes Lions is great for getting you excited for the future of marketing.
Estelle Reale, Marketing Director EMEA, Sublime Skinz
Don't be afraid to 'braindate'
The key to making your trip to Cannes worthwhile is to embrace the networking opportunities available, whether planned or not. Take the time to braindate on the Connections Beach – just create a quick profile first and you'll be matched and introduced to a relevant industry expert, based on your business agenda – it could prove invaluable.
Cannes Lions is one of the most open and friendly events in the world so, while some preparation is always essential, it's also important to set aside time to explore. Don't stick with a group of people you already know; instead, venture out of your comfort zone and visit the local restaurants, yachts, and hotels to see who you bump into. You could make new business contacts you would never have met otherwise, gain a new perspective on the industry, and build lasting connections.
Charlie Johnson, VP, UK and Northern Ireland, Digital Element
Achieving the perfect balance  
When it comes to Cannes, preparation is key, not only to organise your diary, but also ahead of meeting other professionals you may be looking to form industry relationships with. Do this by researching the latest topics and key industry trends ahead of the event, as well as making a mental note of relevant contacts who are due to attend.
But remember that Cannes is all about creativity. By all means have an initial plan in place for while you're there – and attend the relevant presentations, seminars, and meetings to help inform your business agenda – but don't forget to build-in flexibility for spontaneous activities, lunch dates, and social networking. Sector trends and business relationships always start with smart people speaking together and sharing a similar direction or viewpoint. The possibilities could be endless! By really immersing yourself and enjoying your surroundings, with current and future partners, you'll gain far more from the overall experience that is Cannes Lions.
Giovanni Strocchi, CEO, ADmantX
So, Cannes Lions 2017 will be all about making new connections (including testing out the new Braindates beach), stepping out of your comfort zone to explore different avenues with new contacts, as well as absorbing the local culture and drinking enough rosé to enjoy yourself without writing off your mornings. Enjoy!