OOH: Fastest Growing Media Platform in Brazil This Year; Adsmovil Joins IAB to Promote Ads.txt in LATAM
by Gabriela Stripoli on 23rd Oct 2017 in News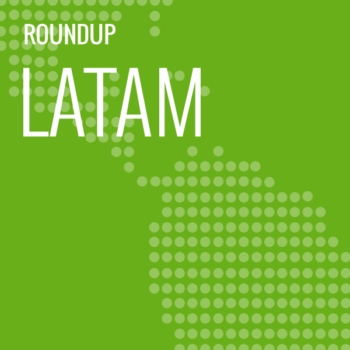 In this week's LATAM round up: OOH represented 2.8% of ad spend in Brazil in the first six months of the year and is the fastest growing media platform in the country, according to Kantar Ibope Media; Adsmovil joins IAB to support ads.txt initiative for local publishers, in order to achieve better transparency in the market; and the successful partnership between Teads and Immersion, which used haptic tech for the media broadcaster Sky in a mobile video campaign. 
OOH is the fastest growing media platform in Brazil
Brazilian advertisers are increasing their investment in media out of home (OOH): in the first half of 2017, OOH represented 2.8% of ad spend, according to Kantar Ibope Media. OOH is also the fastest growing media platform in the country, considering Kantar Ibope Media's base which covers 200 cities.
The main brands investing in OOH are from education, fast food, and public services sectors, representing 20% of all revenue. In terms of geographic distribution, the Southeast region – economically, the most important Brazilian region, where Sao Paulo and Rio de Janeiro are – accounted for 78% of the market.
Yet, the media has to improve its metrics accuracy to measure the effectiveness of campaigns. Therefore, three OOH companies in Brazil (Clear Channel, Otima, and JCDecaux) are joining efforts to release a project that will provide solutions and metrics for advertisers and agencies in the campaigns. Called 'Mapa OOH', the companies expect to launch the first actions in November following Esomar's international standards for their metrics, with deals with Ipsos UK, MGE, Route, Ipsos Brasil, Logit, and Telefonica to collect data.
IAB & Adsmovil promote ads.txt in LATAM
In Latin America, Adsmovil is the first company to join IAB in promoting ads.txt in the region. The initiative aims to fight the black market of digital inventory and support transparency in the ad industry, and establishes authorised partners to sell publishers' inventories via real-time bidding. The txt file is uploaded directly on the web server.
The company is supporting the adoption of ads.txt via workshops, documents, and content, which are being distributed to local players willing to implement it. One of the companies that already adopted it is Publimetro, which has included Adsmovil in their authorised partners.
"It's very important that all publishers are aware that if they don't implement ads.txt they might be blocked by the buyer side. Therefore, we see it as fundamental for us to support this initiative, which will ensure transparency in our revenue", said Sebastián Arancibia, regional digital advertising development manager, Publimetro.
Esteban Renaud, head of programmatic, Cadreon México, emphasises that the high-quality inventory with safe practices for brands should be prioritised by the entire market: "Our buyers can do their matching in the time of the bidding, between the ads.txt from the publisher and the programmatic platform, ensuring the transparency in the process."
Teads & Immersion use haptic tech in mobile video campaign for Sky in Brazil
Teads has patterned with Immersion for the media broadcaster Sky's campaign targeting the Rock in Rio festival in Brazil. The companies applied their video and sensorial technology, respectively, in their mobile video ad campaign, 'En Route to Rock', with haptic technology.
The haptic technology uses sounds and beats in videos via vibration in mobile devices, increasing the level of impact to the user. "The mobile device vibrations creates a unique tactic experience to the user, a great example of the potential of video ads in cellular phones that keeps expanding to new levels, such as 360º formats, and other possibilities", said Bertrand Cocallemen, head of Teads Studio Latam.
The video campaign was created by Ampfy agency, and tells a story of four independent singers who travel from Sao Paulo to the Rock in Rio festival. The branded content has six episodes, following a strategy to engage mobile users in a longer term: 10 days, reaching 2.7 million views and increasing the retention time spent in Sky-brand content.
"We were sure that the Sky campaign for Rock in Rio would improve engagement, being a kind of premium content. But it exceeded our expectations with real results", commented André Chueri, president, Ampfy.
This text was edited on Wednesday, 10.13pm (BST), to correct IAB & Adsmovil global partnership. A previous version of this piece incorrectly presented the partnership as tied to IAB Brazil only.