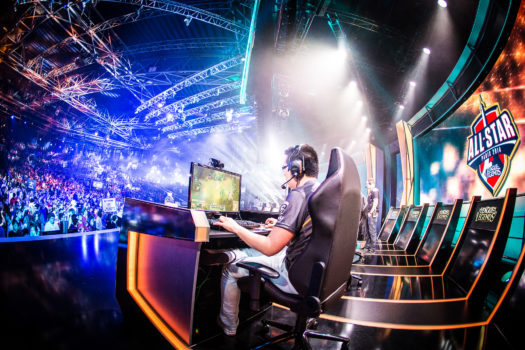 Which event had more people watching live in the stadium in 2017? The Superbowl? The FA Cup Final? Or the Intel Extreme Masters? Well, you might have guessed it (though you may never have heard of it) – it's the Intel Extreme Masters! In fact, with over 173,000 fans in attendance, this event, which includes competitions in League of Legends, Starcraft II, and Counter-Strike, had more spectators come through its gates than the other two events combined (as well as a further 34 million unique viewers online). This month's Now & Next explores how the popularity of eSports can offer advertisers a new route to gamers' hearts, as well as examining the potential for programmatic within the area.
Sport without the exercise
If you ignore the fact that its participants are dubbed 'athletes', eSports doesn't fit the mould for a traditional sport. Most of its games aren't sport-based, such as FIFA or Madden, but multiplayer online battle games like League of Legends. Despite the debate over whether eSports is actually a sport, one thing which is irrefutable is its popularity:
- eSports has a stronger social following than the NFL, NHL, and MLB. This social growth has been strongest in Europe, where eSports has received a 40% increase in social mentions year-on-year. This is matched across South America (40%) and North America (39%)
- Revenue for the global eSports market, currently at USD$696m (£532m), is expected to soar to USD$1.5bn (£1.2bn) by 2020
- China is the biggest eSports market, with 220 million players
- A Google search for 'lol' doesn't return results of 'laugh out loud', but League of Legends
Going beyond demographic stereotypes
With the number of online gamers and spectators on the up, advertisers are taking note, and having a closer look at what sort of audiences eSports can reach.
The main benefit eSports offers advertisers is perhaps its ability to reach millennial and Gen Z audiences (in 2016, 61% of eSports viewers in the US were aged between 13 and 24 years-old), groups who have become enigmatic through their use of ad-blocking technology and lack of time spent on traditional channels, such as linear TV. However, advertisers looking to make the most of this opportunity should also realise that the audience eSports offers is far from one-dimensional.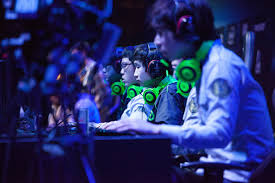 Two-fifths (39%) of viewers are aged 25 and over, with the average fan's household salary at USD$76,000 (£58,000). Rather than the stereotypical image of a gamer, lazing around gaming in their basement, eSports fans are often working professionals with significant purchasing power. Advertisers must also consider the gender divide. A 2015 report finds that while eSports fans skew 56% male, women aged 18 and over represent a bigger proportion of fans than boys aged 18 and under. If advertisers can get to grips with the audience on offer, they have the chance to unlock a vast audience who are looking to try new tech and engage with new brands.
Advertising is a changing game
The advertising model for eSports is changing too. To date, we have seen the majority of ad spend in this medium be channeled through sponsorship, which is expected to reach USD$266m (£203m) in 2017. Sponsorship of eSports teams or players, as well as the largest events in the space, can offer brands great exposure to a young audience, in an environment where ads cannot be blocked.
However, as advertisers get more frustrated with the inability to attribute sponsorship to sales, they will begin to look for platforms that have programmatically enabled ad space. As well as an ability to evaluate metrics such as viewability and CTR, display ads also represent a significantly cheaper investment than sponsorship, and enable brands to extend reach beyond the stadium. As we said at the start, last year's Intel Extreme Masters had 34 million unique viewers online – a 32% rise from the previous year.
Fans can choose to stream events in 26 languages, across 14 platforms, including leaders Twitch and Yahoo. This competition is what keeps advertising costs relatively low, while the sheer reach is what convinced Amazon to part with USD$970m (£736.9m) to buy Twitch in 2014.
Leaders in the market, such as Major League Gaming, have seen enough potential here to be convinced. In 2015, they changed their strategy from direct sales, to programmatic-led. The site started selling programmatically in order to fill the gaps left by direct sales, before realising the ability programmatic gives them to maximise revenue. Since the move, MLG began working with OpenX, and have seen fill rates of more than 90% on video inventory, with video accounting for 60% of inventory, and display 40%.
Another move that signals the potential of programmatic in eSports is PlayWire Media's (who specialise in targeting gaming and entertainment enthusiasts online) partnership with Overwolf (a software platform for competitive gamers). The move sees PlayWire handle all of Overwolf's ad inventory, even enabling advertisers to connect with audiences behind ad blockers. Both of these deals show the route that advertising in eSports will take over the next few years.
A global appeal
eSports is going to play a huge role in the future of sport. The traditional sports industry cannot assume that kids growing up idolising eSports champions will eventually come flocking back to physical sports. It has a global appeal in a way which can only be rivalled by football (or soccer, depending on where you're reading this), and is already competing with traditional sports on the global platform, as shown by its inclusion in the 2022 Asian Games, which could pave the way for full Olympic status.
As with most tech trends, it is China driving eSport's growth, with around 220 million players, revenue of USD$7.3bn (£5.55bn) and 11.1 billion eSport video streams delivered in 2016 alone. What's more, with Tencent's plans to create a USD$15bn (£11.5bn) eSports industry in China by 2022, this growth shows no sign of abating.
Audience obstacles could jeopardise programmatic future
Despite the unprecedented rise of eSports, there are two clear challenges it must overcome if it is to become a programmatic power house:
1) Advertiser fears of audience fragmentation: Just because eSports platforms know what sort of games people like to play and watch, they cannot pigeonhole gamers' interests based on this data. eSports fans are more diverse than the games they enjoy.
This fear is holding back gaming platforms from investing too heavily in programmatic inventory, as a poorly targeted ad could lose them some of their precious millennial audience to a competitor. Instead, they are splitting revenue streams between advertising, e-commerce, and rights sales, to diversify the revenue stream and mitigate risk.
These tactics highlight that there is still work to do. IHS estimates that USD$1bn (£760m) will be spent on eSports advertising by 2021 – a pittance compared to the USD$113bn (£86bn) eMarketer predicts will be spent on digital advertising by the end of the decade.
2) Reach: Despite headline tournaments such as the Intel Extreme Masters garnering huge audiences (both in the arena and online), smaller events don't have the reach of their competition. While 100 million viewers would tune in to watch the Super Bowl in the US, only seven million would watch a smaller eSports final.
Nonetheless, eSports is succeeding in reaching young fans, something which traditional sports have not managed to do, and the fact that they are over-indexing on millennial audiences should be highlighted to advertisers. Once advertisers realise this, and the supply of programmatic inventory from eSports platforms matches advertiser demand, eSports will take a larger share of programmatic spend.