Retail Research: Desktop Leads Mobile for Research & Purchase of Christmas Goods
by Hugh Williams on 28th Nov 2017 in News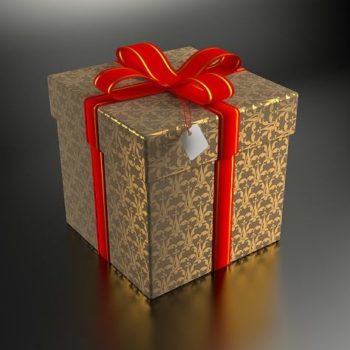 More than three-quarters (76%) of consumers have made a purchase on Amazon during their Christmas shopping, with 48% making it their first port of call when searching for items. These are among the findings from RetailTechNews' latest whitepaper, which also shows that desktop is still the most trusted digital means to research and purchase goods during the festive period.
Google (41%) and Amazon (48%) form the go-to sites for consumers starting their Christmas shopping. eBay (8%) and other sources (3%) account for the rest of the festive search market.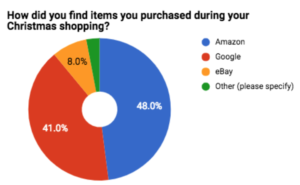 Amazon is where a lot of shoppers complete their business as well. More than three-quarters of respondents (76%) have bought goods from Amazon during their Christmas shopping. This is far greater than the nearest competition – Argos (42%) and eBay (40%). Other than that, customers are split between where they do their shopping, with some of the more popular choices including Next and Marks & Spencer.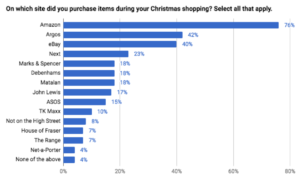 Price & range are deciding factors
Price (74%) and range of products (58%) are the main criteria for selecting the site from which shoppers purchase. Delivery speeds and brand loyalty, as well as a better site experience, were deemed less important.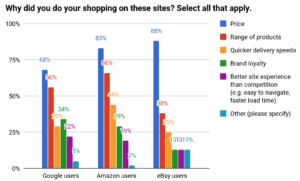 Whether they start their search on eBay, Amazon, or Google, consumers ultimately ended up purchasing from the three top online retailers shown above (Amazon, eBay, and Argos). However, they ended up on these sites for different reasons. In general, those who started their search for items via eBay were the most price-conscious (88%) – this compares to Google users (68%). Given the bargain natures of both eBay and Amazon, it is not surprising to see that their customers are on the lookout for a deal.
Meanwhile, those who conduct their search via Amazon, while also looking for a bargain, are not willing to compromise on selection. This group is more concerned with the range of products available (66%), than eBay (38%) or Google users (56%).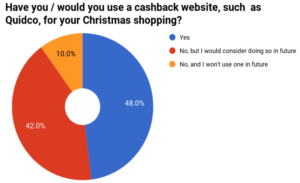 Our desire for a bargain doesn't just stop at these sites, either. Cashback sites are already forming a big part of our path to purchase for Christmas shopping. Almost half (48%) of respondents have used sites such as Quidco, with a further 42% planning to do in the future. Cashback sites give users a percentage of money earned back, when they purchase goods on the site's affiliate links. With price by far and away the biggest factor forming where we spend our money on Christmas shopping, expect to see use of these pages increase in the next few years.
Research is done away from the shops
Desktop (67%) is more popular than visiting a shop (58%), when researching items for festive shopping. However, in-store research is still a more popular medium than researching on mobile web (44%), tablet (44%), or mobile app (39%).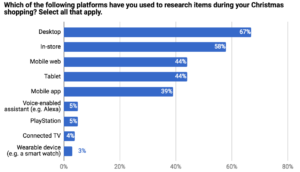 Given the propensity of customers to want to avoid the over-crowded Christmas shopping experience, it is surprising that they would rather visit a shop to research than look up the same item on a mobile device. This may point to the fact that retailers still have work to be done to optimise their sites for tablet and mobile, as well as make them more capable to manage the increased amount of traffic that they see in the festive period. Less traditional research methods, such as voice-enabled assistants and wearable devices, are yet to catch on.
In-store still leads the way for purchases
When it comes to purchase, instore remains the big winner – almost 9-in-10 (89%) of respondents have purchased this way. This is perhaps due to the fact that, with all the packages in transit over the festive period, consumers would prefer to pick up the item themselves, rather than risk late delivery.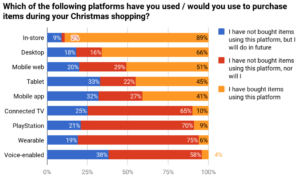 Desktop is still the most popular online format (66%), while mobile web is beating in-app purchases and purchases on tablet. The less traditional formats, such as connected TV/PS, are again struggling to catch up. However, it is worth noting that with the development of more sophisticated voice-enabled assistants, 38% of consumers feel they will use these devices to help their Christmas shopping in the future.
Low adoption of non-traditional payment methods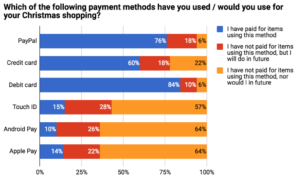 Shoppers are also not willing to use non-traditional methods of payment. Only 15% have paid for items using touch ID, 10% using Android Pay, and 14% using Apple Pay. There seems to be a level of distrust surrounding credit cards – only 60% have paid with one online, while 22% have not, and will not consider doing so in future. The lower-risk offered by debit card and the security of PayPal make them far more popular options.This content was originally published in RetailTechNews.
ecommerceHolidaysIn-storePaymentWebsite