Gen Z Significantly Prefers User-Generated Content, Older Millennials Lean Toward Streaming, InMobi Insights Survey Shows
by ExchangeWire PressBox on 13th Jul 2023 in News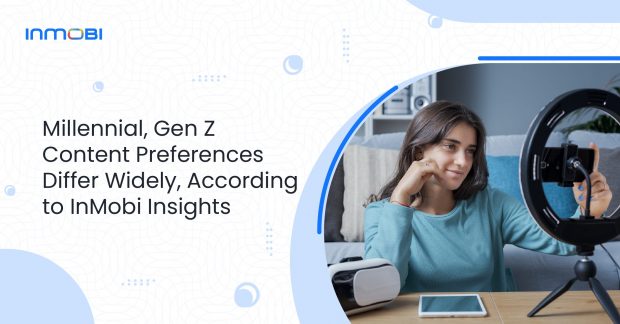 InMobi, a leading provider of content, monetisation, and marketing technologies that help businesses fuel growth, released insights from its 2023 survey about streaming subscription behaviour and found that younger consumers' content preferences show a significant shift in the types of content they gravitate toward. The survey shows that while Millennials (ages 35-44) prefer streaming, Gen Z (ages 18-24) significantly leans toward user-generated content (UGC) over other content types. Younger Millennials (ages 25-34) engage in all content consumption equally.
InMobi's survey, which includes responses from more than 1,000 US consumers, demonstrates that expectations of engaging content will likely continue to shift as these generations continue to age. The findings include:
Gen Z enjoys UGC significantly more than other content types. 61% of Gen Z prefer UGC over other content formats. UGC is followed by Music/Podcasts, then Gaming, with TV coming in fourth.

Younger Millennials do not have a clear content preference. Gaming, UGC, and TV ranked closely. UGC tops the list followed by TV.

Older Millennials enjoy TV the most. TV was the most popular content choice with a 19% gain above the second choice, UGC. 67% of older Millennials chose TV as their top form of digital entertainment.
"The clear generational divide shows how the content vehicle of the time creates lasting habits and familiarity. To win over Gen Z as they come into purchasing power and boardroom and political influence, UGC will be the critical lever across the content ecosystem. You can see this with the NFL's Sunday Ticket deal with YouTube that starts this year as they move away from a long-standing partnership with Dish TV to court Gen Z fans to the sport," says Justin Sparks, director of vertical strategy, North America at InMobi.
InMobi Insights, Powered by Pulse conducts survey-based research to validate and uncover trends for brand and agency clients. For more information on InMobi Pulse, visit: https://www.inmobi.com/pulse.

InMobi
InMobi is a leading provider of marketing and monetisation technologies. With deep expertise and unique reach in mobile, it is a trusted and transparent technology partner for marketers, content creators and businesses of all kinds....
Powered by PressBox