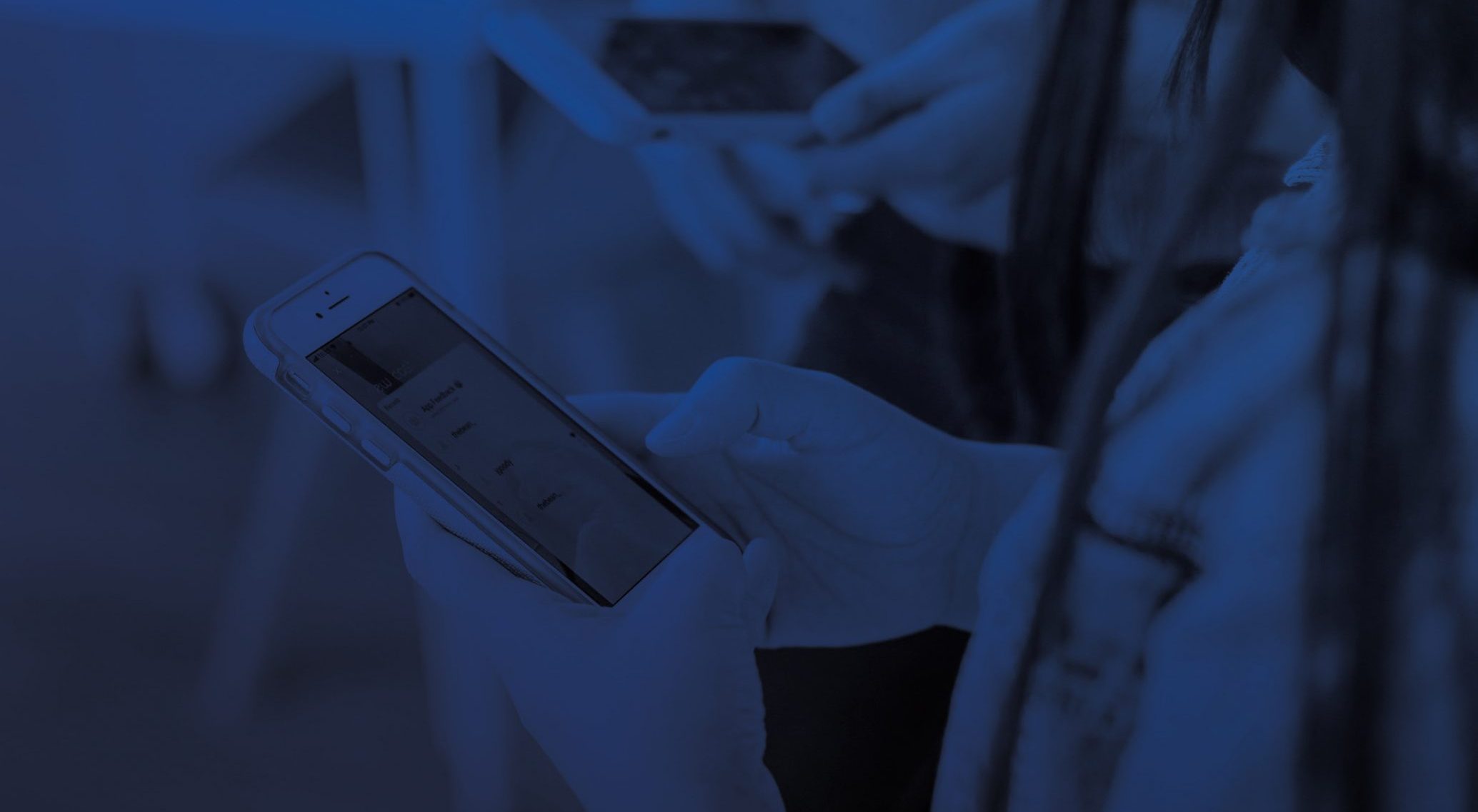 The Evolution of Gaming: Why Modern Marketers Need to Embrace Gaming as a Channel 
by Grace Dillon on 30th May 2022 in Deep Dive
In the last few years, consumers globally have looked to mobile gaming to provide fun and entertainment, often while stuck at home. However, the adoption of mobile gaming into their everyday routine has grown to become the norm for many consumers, and this habit will not be broken anytime soon. In 2021, mobile games generated a revenue of USD $93.2bn (£71bn) globally, accounting for 52% of the international games market. Likewise, the audiences for games and gaming content have continued to grow: there are more than three billion gamers in the world (a 5.3% increase from 2020) and over 55% of them live in APAC (Newzoo, 2021).
AdColony has produced this Deep Dive in partnership with ExchangeWire. AdColony is the leading in-app marketplace for brands, with over 1.5 billion users globally. Known for our exclusive Instant-Play™ HD video technology, display and rich media formats, our global performance advertising business, programmatic marketplace, and our extensive ad SDK footprint in the top apps worldwide, we are passionate about helping brands connect with consumers at scale on the most important screen in their lives.
Gaming's rise and dominance represents a transformative shift in consumer attention. Consumers spent over one trillion hours playing games and an additional 25 billion hours watching gaming streams globally every year — that's more than the time spent on social media and watching TV (GWI, 2021). These figures are great news for marketers, presenting an open invitation to the boundless opportunities in the mobile gaming world.
What caused this surge? When Covid-19 caused lockdowns in early 2020, people around the world started gaming for entertainment. Consumers who never played previously began relying heavily on gaming as a new connection outlet in the virtual space. Gaming became a popular social channel during an unprecedented time of solitude, and continues to foster online communication and engagement at unimaginable levels.
In 2020, we saw brands and consumers come together — many for the first time — in mobile gaming due to the pandemic. In 2021, we saw brands and agencies move towards executing mobile gaming campaigns at scale. Now, brand marketers want to know: "What's our gaming strategy for 2022 and beyond?"
What was once seen as an exclusive pastime is now everyone's game. Mobile gaming has grown significantly from the launch of Fruit Ninja and Candy Crush a decade ago, and the common "gamer" stereotype of a 14-year- old playing alone in the basement of his home is no longer accurate.
WHO ARE GAMERS IN THE MODERN WORLD?
The evolution and accessibility of gaming mean that almost everyone you meet could be a gamer. At AdColony, a Digital Turbine Company, we've identified five categories of gamers, each with a unique set of preferences and behaviours:
Super Swipers (659 million mothers, aged 25-44)
Super Swipers are 25-44 year old mothers who play games for fun while entertaining their kids, and/or to de-stress after a long day. This is why they prefer casual mobile games — 92% of mothers who identify as gamers play on their mobile phones, whereas 43% play on desktop, and only 26% on consoles.
Super Swipers also pay attention to reward mechanics, so they are often willing to let an ad play for an extra life or other in-game benefit.
We all know mums are busy people who are often the key decision makers when it comes to household items, and can be more receptive to fast-moving consumer goods (FMCG) and food and beverage messaging. They also show a higher level of interest in self-care products like beauty, cosmetics, and fashion. The best part about this group of players as consumers is that they are a committed group, and are 10% more likely to spend money on brands that talk to them.
Hyper Casuals (333 million males and females, aged 18-34)
Hyper Casual gamers are identified as highly-ambitious males and females with spare cash in their pockets who are always ready to enjoy and entertain themselves at a moment's notice. They play mobile games, and enjoy music and movies equally as much.
Hyper Casuals can afford a bit of luxury — 81% are more interested in beauty and cosmetics and 68% in fashion and clothing than the average consumer, and dining out at restaurants features heavily in their social lives.
Most importantly, Hyper Casuals are motivated by social approval. They're sensitive to the messages their shopping choices convey, so brands need to live up to their expectations and lifestyle. Give them access to information that promotes exclusivity, and chances are you'll win their hearts.

Player Ones (353 million males and females, aged 18-34)
This group represents the serious gamers, who are 72% more interested in gadgets and technology than the average consumer. They're proud to call themselves gamers, and love competition. They're team players and league leaders.
Player Ones are 13% more loyal to the brands they like, not just the games they play. Rewarded in-stream videos and click-to-play opportunities can be a winner to get your brand to stand out, but offering them skippable ads makes sense as they're busy people who are looking for their next win.
Lifestyle Gamers (849 million working males and females, aged 25-44)
These are the people who work hard, but play harder. They are ambitious, driven professionals who earn big bucks building world-class careers, and often make up for the long hours spent at work with luxurious lifestyles. They play games because it makes them feel great and only do it during the spare time between other activities that keep them busy. This is why 91% of them play games on mobile.
As consumers, lifestyle gamers are 18% more likely than the average consumer to buy brands that enhance their self-image. They are also 11% more likely to buy from brands they've seen on advertisements, and they don't bother looking for discount coupons because time is too precious to be spent making little savings. That doesn't mean they're not responsive to a quick impulse sale when delivered smartly though!
High Rollers (389 million high-net-worth males and females)
For High Rollers, quality is everything. Finance and investments top their priority list, and they are 41% more likely to seek out products and services in these areas. As gamers, they stay in-the-know by playing the latest and most trending games, preferring online battle arenas like first-person shooters and racing to take out their frustrations.
While they play games on their mobile phones, they can also be found playing from their PC, since they're already on these devices most of the time. Interestingly, they are 28% more likely to sit back and stream a video for some downtime. High Rollers seek exclusive content, and are 21% more likely than the average consumer to buy advertised brands, because information is key to most decisions they make. Just like their investment portfolios, High Rollers tend to be brand-loyal and have no qualms paying more for products that are right for them.

UNDERSTANDING WHERE YOUR AUDIENCES ARE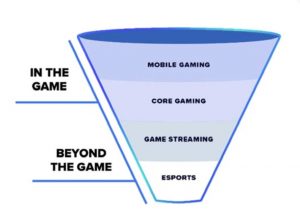 Understanding how ads fit into the gaming universe is just as important as recognising the different gaming personas. This infographic illustrates the gaming funnel and where marketers can reach their audiences.
Although distinct, the four categories are all connected. 'In the game' includes mobile gaming and "core" gaming (PCs and consoles). The ads that are responded
to most favourably by consumers playing in these categories are mobile rewarded video, which are full- page video ads that appear in mobile games which a user initiates in order to gain a reward (e.g. an extra life). Next, in-play ads which appear during gameplay, are a newer category of ads that have high potential. These can include billboards on the side of a car racing game, for example, or digital pitch-side ads for tennis or football games. They show up with minimal interruption to the gaming experience. Both rewarded video and in-play ads can be served programmatically.
'Beyond the game' refers to gaming as a spectator sport. If a player has difficulty getting past a certain level in a game, for example, they may watch a video of someone else completing it in order to help them progress. Or they may just enjoy watching others play games. In fact, some people also choose to watch pro-gamers play games in an esports arena, where there are many analogues to traditional sports arena buying. Esports enables brands to engage with viewers through sponsorships, something which Adidas, KitKat, Mercedes, and DHL, amongst others, have already taken advantage of. And the insertion of pre-roll and mid-roll ads into live streams of these competitions provides another opportunity for brands to reach consumers globally.

WHY BRANDS SHOULD TAKE GAMING SERIOUSLY
With consumers spending 40 times more money on gaming compared to TV, marketers clearly recognise the benefits of mobile advertising (GWI, 2021). These benefits include a rare opportunity to capture the undivided attention of your viewers: 69% of mobile gamers rarely second-screen while playing mobile games; all their attention is focused on the game (making the phone the primary screen!), so when a full-page ad appears, it also gets players' full attention, with high engagement rates. Rewarded ads are also great at driving engagement — 86% of mobile gamers don't mind watching a mobile ad in return for in-game rewards.
Mobile ads are also brand-safe, which means that they will never be placed next to inappropriate content. They are ad-fraud protected and verifiable, which means that they'll be seen by a real person and in a safe environment. Research conducted by AdColony has found that gaming apps rank higher than social media platforms in providing a brand-safe environment for advertisers, with 60% of the respondents stating they see offensive content on Facebook, compared to 31% on YouTube and only 18% on mobile games.
Finally, mobile ads are programmatic, meaning that the right demographic can always be targeted with relevant content. The innovative nature and flexibility of mobile ads lets marketers get creative in the way they want to reach out to consumers. With more than three billion gamers globally, brands are finding more potential customers in the mobile gaming environment than anywhere else.
The future of in-game advertising
Gaming has transcended all cultural touch points including music, movies, sport, and learning, and acts as a space for people to hang out and play together in a shared experience. It has become the destination for online users, providing a new approach for marketers to engage with their consumers; a space where brands can launch new products, and garner strong user attention across different age groups, genders, and degrees of affluence.
The ultimate convergence of these experiences has been dubbed "The Metaverse", and is often put alongside full- body virtual reality experiences and the replacement, rather than enhancement, of reality. Those who have noticed the ubiquity of connectivity today might argue that mobile has quietly changed the Internet from what it was into the true Metaverse, while other companies fight to claim their own parts of the Internet as a whole.
The union of gaming, social engagement, and connectivity presents a new future for brands and consumers to engage in virtual environments, and one that marketers just cannot afford to ignore. Here are some changes to look out for in the coming year and beyond:

Trend #1: The model will change from advertising to value exchange
Under Web2, advertising is the driving force — every Web2 platform, such as Google and Meta, trends to ads, and even some non-Web2 platforms (think Amazon or Apple) do this too. This is because Web2 is a centralising platform-based technology and the core method of monetisation is aggregating a lot of attention onto their platforms and monetising via ads. However, with the rise of Web3, the Metaverse, and the Play Economy, the advertising we are all used to is about to change.
What will advertising look like in the near future? First, it will be respectful. Because programmable money makes value transfer so easy, Web2 advertising no longer dominates as the economic model for content. The advertising that survives offers a clear value exchange, or is non-interruptive and seamlessly built into the environment. For example, rewarded video ads provide a value exchange for players, without feeling like they're being interrupted or 'advertised to'. By letting the consumer choose when and how they view an ad, they come away with more positive feelings about the brand.
Next, it will be targeted. As our physical and digital worlds become much more intertwined, location-specific AR (augmented reality) will play a huge part in the end user experience. For instance, different augmented reality content within a multistory building can be tied to an end-user's vertical location — unlocking realistic views, perspectives, and experiences, and even allowing users to purchase and collect items with location-based validation.
Finally, it will be immersive. Ad experiences will need to be interactive, experiential, and user-defined. We have seen early movers offer immersive experiences to their users, such as an Ariana Grande concert in Roblox, the Gucci Garden experience visits, and the virtual rendition of the Washington Heights neighbourhood as part of Warner Bros' promotion of 'In The Heights.' Ads that feel natural and fit into the same experience as the consumer, rather than disrupting it, will be the winning point for advertisers moving forward.
Trend #2: The rise of in-play ads
In 2022, in-play advertisements will continue to evolve and grow as competition in the space heats up and best practices emerge. In-play ads are where rewarded video was 10 years ago, but are learning fast. Also known as VDOOH (virtual digital out-of-home), in-play ads take the form of billboards and posters strategically placed within the gaming environment, simulating out-of-home ads in the physical world. With consumers spending more time on their screens than ever before, marketers have to focus on building the best possible mobile ad experience and offer formats that mobile users actually want to engage with.
In-play ads are non-intrusive, as they are seamlessly embedded into the gameplay. This creates an engaging user experience, leading to higher interaction, with in-play ads often seeing 25% higher purchase consideration than standard ones (AdColony, 2021). For instance, fintech company Klarna worked with AdColony to launch its "K-Rated" campaign in the form of billboards and posters within mobile gaming environments. Through the ability to create compelling and non-intrusive branding experiences such as this, brands can be seen as premium and innovative to audiences who are often cautious of sharing their gaming worlds with advertisers.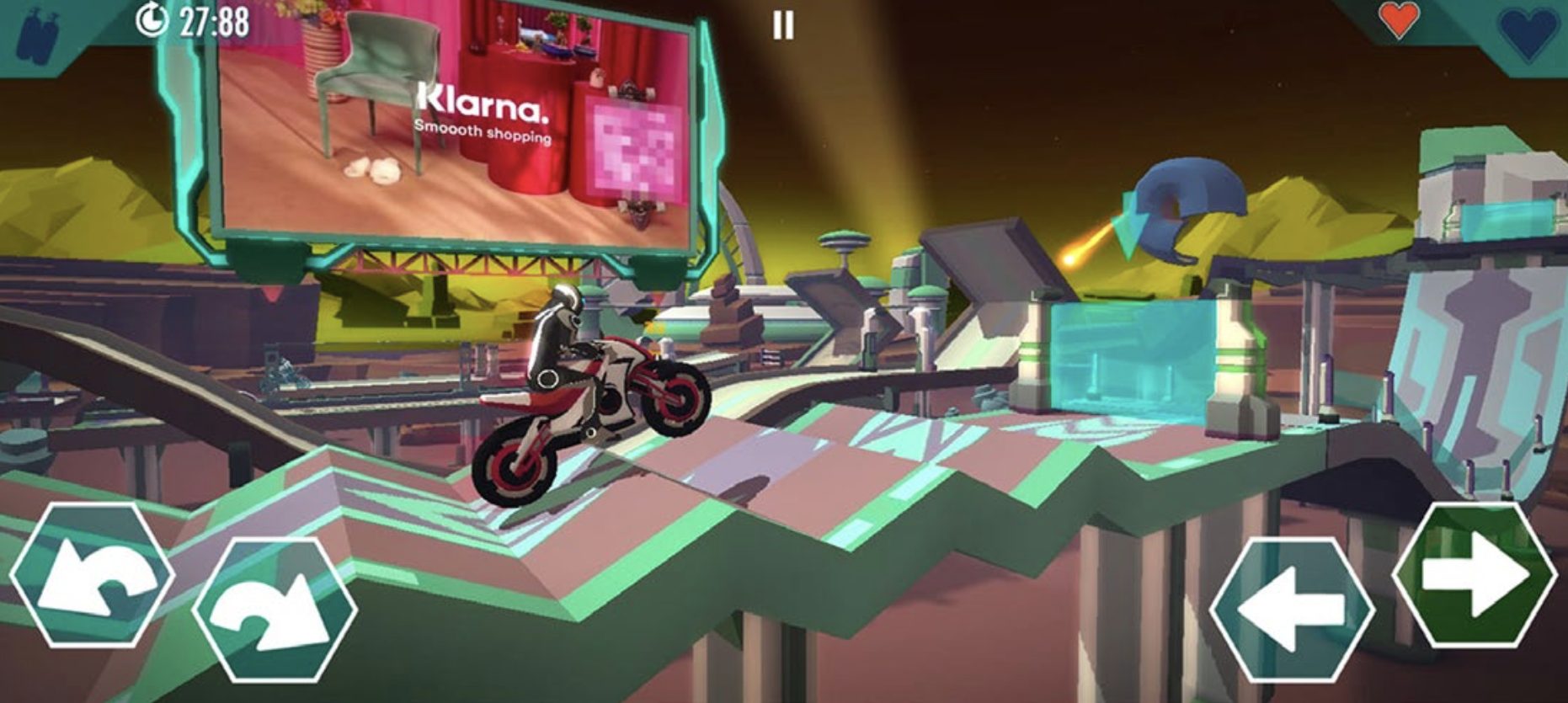 Trend #3: Mobile is now the first screen
As mobile continues to grow, it's fundamentally changing the way we consume media, interact with others (including brands), and ultimately how we live our lives. First screen is now the second screen. For years, the concept of "second screening" meant people looked at their phones while they watched TV — the big screen was the first screen, and mobile is changing that.
Mobile phones are now our first stop for a number of key activities — and this trend is taking place worldwide. According to data.ai's State of Mobile 2022 report, consumers migrated more of their entertainment and game consumption to mobile. In 2021, over 230 apps and games surpassed USD $100m (£76.2m) in annual consumer spend, with 13 of them surpassing USD $1bn (£762m). Additionally,USD $16bn (£12.1bn) in gaming consumer spending was added in 2021, bringing the total to USD $116bn (£88.3bn).
Consumers feel attachment and personal connections with their phones and phone experiences, and mobile is increasingly becoming the primary source of entertainment, consumption, engagement, shopping, and (in many cases) real work for consumers globally!

WINNING THE MOBILE GAMING SPACE IN 2022 AND BEYOND
In 2021, we saw brands and agencies starting to execute campaigns that leveraged the massive reach of the mobile gaming audience. It started with mostly early adopters, like direct to consumer (DTCs) and digital-native brands but now, brands from other verticals, like FMCG and automotive have grasped this. Mobile gaming is the new social media for brand marketers in terms of scale of opportunity.
To help marketers catch up with new habits, audiences and channels as gaming consumption soars, AdColony launched 'Game Academy' — Asia's first gaming masterclass for marketers. Game Academy is a free interactive learning platform that gives advertisers valuable knowledge and professional competencies around marketing solutions in gaming. You can check out Season 1 now at https://www.gameacademy.gg/
Case study — UIP Sonic the Hedgehog Movie
UIP, Paramount Pictures' holding company in the Philippines, was looking for a way to heighten awareness and drive box office sales for Sonic the Hedgehog — the 2020 action-adventure comedy based on the beloved Sega video game franchise.
However, when Paramount released the movie trailer in 2019, the company faced a tsunami of negative buzz. Sonic fans all over the world were outraged with the CGI version of the famous speedy hedgehog because he looked distressingly creepy. Paramount took fans' reactions to heart and redid the animation for the entire film, delaying the release and making the "new" Sonic look faithful to the design fans were accustomed to.
In order to counter the backlash surrounding the "old" Sonic and improve fans' impression of the new one, UIP partnered with AdColony to position Sonic as the fun and exciting character fans remember. The best way to do that was where it all started: the world of gaming.
About the Campaign
Due to the online backlash brought on by the initial CGI version of Sonic, UIP knew that, in order to encourage people to watch Sonic the Hedgehog in the cinemas, it had to go beyond standard trailer video promotions to raise awareness of Sonic's new and improved look on digital media. The company faced the daunting task of transforming Sonic fans' attitudes from disappointment to excitement around the upcoming film.
With Sonic being a familiar character in the gaming world, UIP sought to create a mobile ad experience that would not only showcase Sonic's new look but also elicit nostalgia among its target audience of gamers. The ad started with an exciting 15-second movie preview, followed by a simple yet addictive mobile game where users were encouraged to "tap to catch" the hyper-fast Sonic.
Leveraging the massive reach of mobile gaming, the ad was served across the top gaming apps. UIP recognized that mobile gaming audiences not only relate to Sonic the Hedgehog's target audience, but are also more likely to spend their free time on games, and in turn, watching advertisements to earn in-game rewards like coins, or Sonic's trademark golden rings.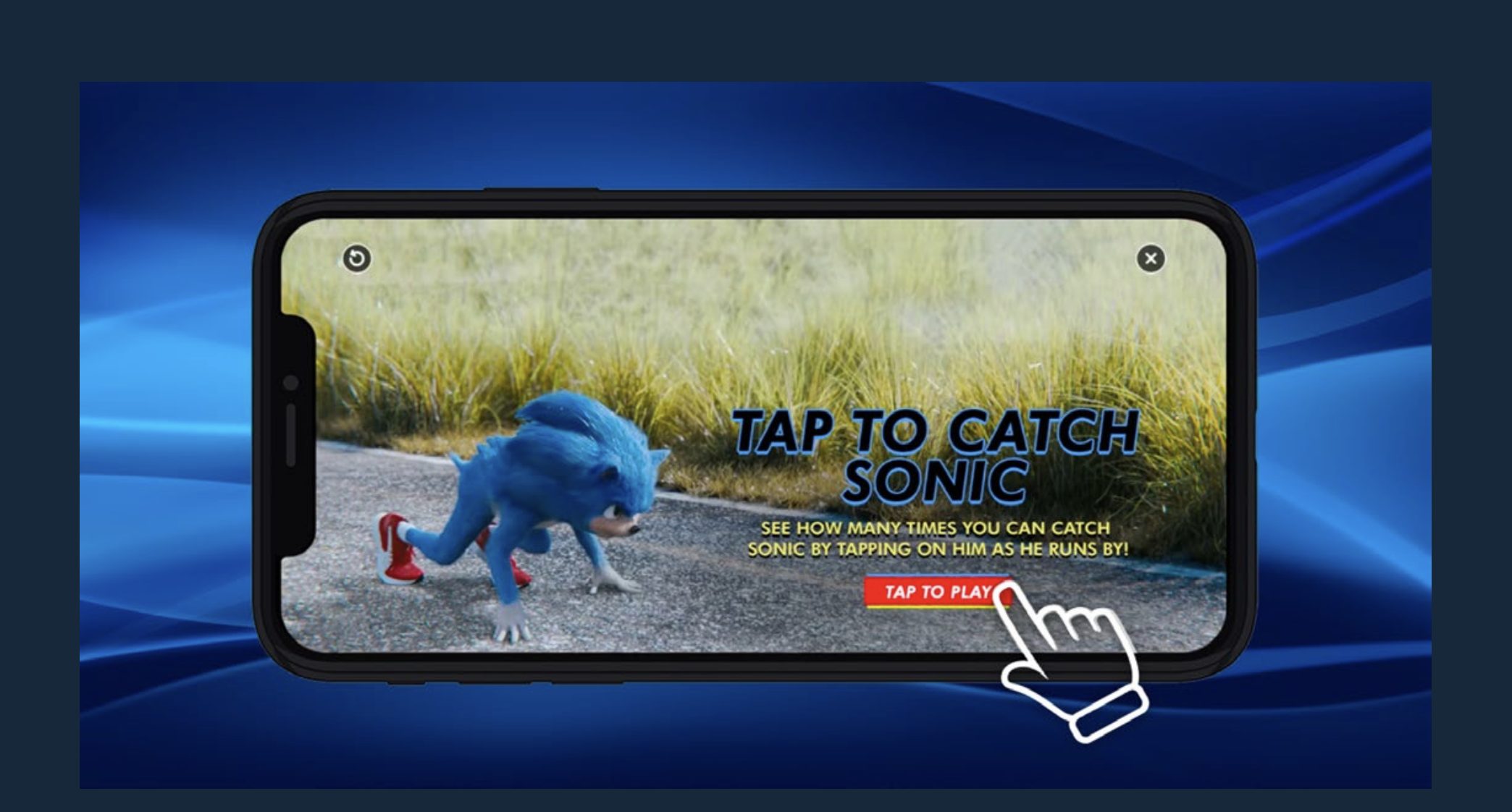 The highly interactive mobile ad garnered a completion rate of almost 84% — a stellar performance compared to the industry benchmark of 60%. Its average CTR was 5.26%, way above the industry average of 2%–3%. Engagement rate was also a phenomenal 11% — ten times what UIP had achieved from previous campaigns.
Most importantly, thanks to this additional mobile ad campaign, Sonic the Hedgehog topped box office sales in the Philippines that weekend, generating a total of ₱25m (£368,923.29), an impressive feat considering that it premiered the month leading up to the countrywide lockdown.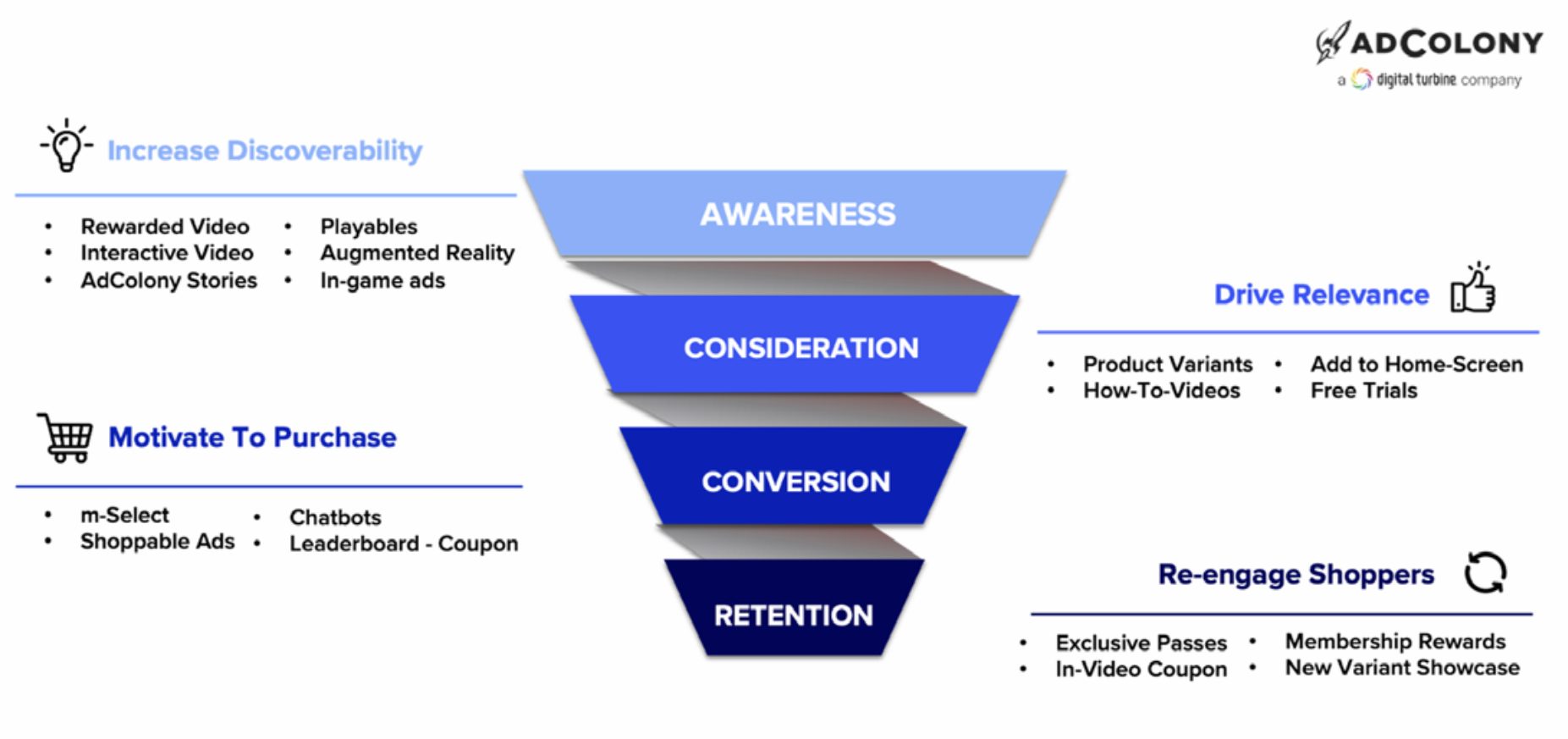 For so many consumers, gaming is already closely intertwined with the concept of a social pastime. The pandemic further confirms this truth, with physical meetings becoming a challenge. Whether it's casual gaming or life in the metaverse, people are bringing their emotions, memories, and lives into another dimension.
For marketers and advertisers, this means that turning a blind eye to the gaming community is no longer an option. Don't think about whether or not your customers are gamers; instead, look for where they are in the world of gaming. If brands truly want to succeed, they need to not only leverage this space, but to push the potential of what the metaverse offers — a wide range of experiences where users can socialise, relax, and transact.
Although not everyone identifies as a gamer, everyone is a gamer, and as marketers, we want to help you win.
AdColony is the leading in-app marketplace for brands, with over 1.5 billion users globally. Known for our exclusive Instant-PlayTM HD video technology, display and rich media formats, our global performance advertising business, programmatic marketplace, and our extensive ad SDK footprint in the top apps worldwide, we are passionate about helping brands connect with consumers at scale on the most important screen in their lives.