Fragmentation Vs Consolidation in the Programmatic Technology Ecosystem; in Association with BidSwitch
by Hugh Williams on 14th Aug 2016 in Reports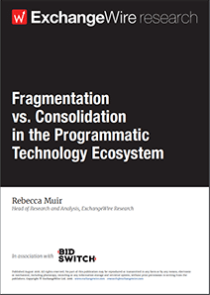 Over the last five years, the programmatic technology industry has experienced hyper-fragmentation; there are more than 250 platforms that are connected to BidSwitch and this number is growing rapidly.
The purpose of this research was to discover whether media professionals think fragmentation is having a positive effect on the industry or whether they would welcome consolidation.
Key questions asked:
- Do you think there are too many programmatic advertising technology companies today?
- What effect do you think the number of partners you have today is having on your business?
- If you could, would you decrease the number of vendors you partner with?
- What effect do you think vendor consolidation would have on your business?
- How long does it take to establish a partnership and how many people are typically involved?
- What factors do you consider when evaluating potential vendor partners?
- Do you predict further fragmentation or consolidation in the next three years?