Save the Date: ATS London Returns September 10 2013
by Rachel Smith on 26th Apr 2013 in News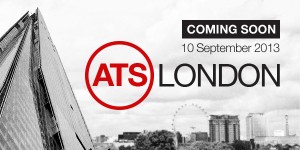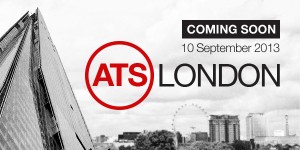 Save the date, ATS London 2013 is returning Tuesday September 10.
ATS London 2013 signals evolution. We believe that the past three years have transformed the industry, from an advertising technology perspective. We also believe that the next phase of growth will come from the broader enterprise ecosystem, and we intend to take you along on that journey.
At its heart, ATS London has always embodied the theme 'data-driven'. In 2013, we intend to widen the focus of the event, while staying true to the core values of ATS.
It will remain inspirational. It will remain educational. It will also remain the de facto forum for the smartest minds in our industry, providing unrivalled networking opportunities for the largest cross-section of the global ad trading community.
To ensure the event is fresh and relevant, ATS London 2013 will take a detour from the typical sponsored programme format. This year's event will be unconventional — featuring entirely unsponsored content. We want to pay homage to the enormously valuable contribution of previous years' speakers, sponsors and supporters who have helped us curate great events and build the ATS brand. So, we have created a blank canvas for the content forming this year's event, which we want the industry to help shape.
We have appointed a small advisory board, comprised of the industry's finest, who will guide ExchangeWire in the right direction. We want to present opportunities for the newest startups, solving some of the most difficult industry challenges, to take to the stage and expose their message.
As ATS London grew over the last three years, the content became broad in an attempt to be sure that we were bringing everyone into the conversation. This presents a key challenge: How do you educate and inspire 500+ unique people for an entire day? That is why this year ATS London will be delving even deeper into specific topics, while presenting extremely high-level, exec-driven thought pieces from the broader enterprise space.
How do we accomplish both? ATS London 2013 will introduce the TechTrack — a dedicated discussion forum for Ad Tech engineers, CTOs and data specialists within the industry. (More details to follow on this soon.)
Expect more content focussing on emerging and existing themes, including: marketing analytics, measurement, open data, wearable computing, multi-connectedness, open source technology and many more subjects that will be new to our core ATS London audience.
We need to evolve the industry together, and we look forward to hosting you again in September.
Early bird discounts are available for one month and only 100 tickets will be sold at this hugely discounted price. Click here for more details.