Europe's Appetite For Investment Is Clear, But Just Where Do They Want To Exit?
by Ronan Shields on 31st Jul 2014 in News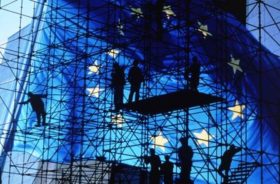 The European ad tech scene has never been in ruder health, with the trade press littered with news of funding rounds for start-ups here, yet the 'European Google' remains elusive and ad tech firms born and raised in Europe are starting to look elsewhere for an exit in the hope of a higher valuation. ExchangeWire examines the efforts to counter this trend.
A recent report by Dow Jones VentureSource shows how European start-ups have never had it better raising over €2.1bn from venture capital investors in the second quarter of 2014 alone, a figure that many are comparing to the lofty years of 2000 (before the 'dot com bust').
Digital media companies, and ad tech firms in particular, have been no stranger to this investment-boom, with investment funds from all over the planet pouring into the continent's start-up scene.
A recent high-profile example has been the $7m funding round of Glow Digital Media (a Facebook and Twitter preferred development partner whose clients include King.com, Arcadia and AmEx) from European VC firms Notion Capital, and White Star Capital (existing investors Project A Ventures and Avonmore Developments also participated in the round).
The UK-based company will use the funds to add to its existing array of offices – currently in the UK US and APAC – an the deal also means that ad tech veteran and White Star Capital managing partner Christian Hernandez (formerly of both Facebook and Google) join Glow's company board.
Damain Routley, Glow CEO, said: "The team at Notion founded and scaled MessageLabs and exited for $700m, and Christian Hernandez at White Star, helped incubate Google's international mobile efforts and scaled out Facebook's business across EMEA – I couldn't think of two better placed partners to have round the table."
The appetite for such European investments have been buoyed by encouragement from government-backing (the UK's Tech City is widely regarded as a leading example of this) plus success stories such as Zoopla (which listed on the London Stock Exchange and was valued at just under £1bn earlier this month).
Indeed the European start-up scene was recently boosted by the news of Google Ventures opening an office in London, with an initial $100m war chest, as yet, no investments have been made. But Bill Maris, Google Ventures, managing partner, claims the fund will look to invest both in London, and further afield in the continent.
Plus the mood within ad tech appears to look across the Atlantic Ocean for eventual exit, for instance Skype's sale to Microsoft for $8bn, and with ad tech this is especially the case, we need only look at Pairs-based Criteo's decision to make its initial public offering (IPO) on the Nasdaq last year, plus UK-based King.com's decision to do likewise in 2014.
The motives of course are not all philanthropic, as often noted, these investments are often seen as a method for US corporates to move cash around, and avoid colossal tax payments. Earlier this year, ExchangeWire CEO Ciaran O'Kane penned a polemic piece entitled: 'The things that should happen in ad tech in 2014… But probably won't', where he touted Nordics-based AdForm as a potential acquisition target for US-based Adobe.
So from the above happenings, it appears that while a lot of capital is ebbing and flowing in the tech scene here, but ultimately a lot of it is ebbing away from the continent.
White Star's Hernandez, says: "What you need for a start-up scene are a lot of entrepreneurs, funding and tutorship, and there's lots of that in Europe now, with a lot more ambition (compared to earlier years). Plus there's a lot more angels [investors], which makes it all financially viable.
"But the reason we're starting to see [European] companies list in the US on exchanges like the Nasdaq, is that there's more liquidity there…. and Europe is a bit behind the US at present."
Many companies are also launching in Europe, but ultimately having to go to the US, to take their businesses to the next level, but their identities remain distinctly European. ECommerce firm Stripe, originally founded in Ireland, is one such example, according to Hernandez.
Dominic Joseph, co-founder and CEO of UK-based search retargeting company Captify, says:
"With regards to EU M&As, recent deals such as Dunhumby's acquisition of Sociomantic demonstrates the European potential in Ad Tech.
"Some EU tech companies list in the US as the process can be quicker than in Europe, but others do so perhaps principally because some may perceive that there is a better investor appetite and valuation for internet / tech stocks in the US.
"This could be due to the fact that many internet businesses have already listed there, resulting in more companies to benchmark against and subsequently there may be better informed tech analysts and investors.  It is also possible to see a US IPO as way to further penetrate and aggressively expand into the US market. "
Loic Soubeyrand, co-founder and CEO of France-based Teads (which recently agreed to merge with Ebuzzing, with a view to listing in the US next year) has a similar view of the markets here, in comparison to the US.
He says: "Nasdaq is better for us because analysts know this kind of market very well, and we can have more cash with good valuations to deploy our futures innovations and reinforce our leadership."
For Soubeyrand, it's quite simple, despite his desire to list in either Paris or London, the opportunities and scale posed by exchanges in the US are much more lucrative.
"Nasdaq is better if you want to become a global leader. London is good, but more focused on e-commerce businesses," he adds.
However, efforts are being made to make the LSE a much more attractive place for start-ups to list. For instance, the London's Tech City is a government-backed scheme aimed at making the UK capital a hub for high-growth firms through initiatives such as lobbying policy makers. One such example is the outfit's Future 50 programme which provides growth stage companies bespoke access to expertise within the UK Government and across the private sector, including investors.
Similarly, the LSE has also launched its ELITE programme that helps start-ups prepare and structure for their next stage of growth by facilitating meetings between themselves and investors, helping them focus on development goals, as well as helping them to assess specific funding options, pone such digital marketing company to participate in this scheme is Unruly Media.
Added to this has been the removal of stamp duty for transactions on high-growth companies on its Alternative Investment Market (AIM)
A statement on the LSE website reads: "For an end investor, removal of the tax reduces the cost of investing in the security, providing an incentive to a wider set of investors to back high growth SMEs in the UK."
Bryce Keane, co-founder of Albion Drive and 3 Beards (a London-based organisation aimed at assisting early stage start-ups), says the that efforts are underway to help redress the balance between making Europe (and the UK in particular) a more desirable place to list, compared to the US, but acknowledges there is still some work to be done.
He says: "The issue is two-fold, first of all, there is a proximity issue, plus the there is the historic appetite for tech in the US [which has historically outstripped Europe].
"But the market is beginning to shift, and places like London are a much more receptive environment . There is no overnight solution, but you only have to look at companies like [Israel-based] Matomy Media which IPO'd earlier this year in London, and was able to get a good valuation, plus there's also companies like Zoopla and JustEat [which did likewise]."
Keane also says that investors themselves are also beginning to warm to the idea of listing on the LSE, as opposed to preferring the US markets by default, although he does note that each individual case is judged on its own merit.
"You only have to look at top 4 European VC firms such as DFJ Esprit that are very pro-London, and pro-Europe, but you need to see more success stories like Zoopla before it [London] catches up [with the US]," he adds," he adds.
For TEADS' Soubeyrand, better communication of the various incentives to list in Europe need to be better communicated. "If there was better communication between the LSE and start-ups then more companies would list there. There's enough cash from investors here in Europe, it's just the exit that's the question."
With a wealth of Europe-based ad tech companies advancing at a rapid rate (see Switch Concepts, Infectious Media, Captify and BannerConnect), the issue of which side of the Atlantic to exit is increasingly a pressing issue, and the battle to keep such firms homegrown is on.