Rubicon vs Guardian; PulsePoint Partners with BPA
by Sonja Kroll on 19th May 2017 in News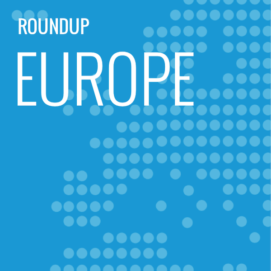 ExchangeWire round up some of the biggest stories in the European digital advertising space. In this week's edition: Rubicon vs Guardian – round 2; PulsePoint and BPA partner; Private Mobile Marketplace by Mobfox; GroupM start Motion Content Group; Adyoulike and Condé Nast France partner; Rocket Fuel introduce anti-malvertising platform; and VertaMedia and Fraudlogix partner.
Rubicon hit back at Guardian
The conflict between Rubicon Project and the Guardian over lack of transparency regarding fees and revenues from advertising goes to round 2. After the newspaper alleged that Rubicon kept secret commissions, and raised claims that they owed a six-figure sum, now the ad tech outfit is hitting back.
Rubicon have not only been rejecting the Guardian's claims, denying that they charged undisclosed fees, but have made a counterclaim. The company says that the Guardian breached contract by allowing other ad tech providers sell some of their inventory.
In papers filed with the authorities, Rubicon Project admit to charging "certain purchasers a buyer's fee" additional to the fees charged to the Guardian. However, Rubicon claim that they were transparent to their client and, thus, entitled to charge such fees.
So far, the Guardian have not responded to Rubicon's counterclaims and it remains unclear when the trial over the various claims can be expected. Whatever the outcome, the skirmish between the two companies remains interesting for players on either side of the ad buying process to observe, as transparency continues to be one the major issues in the industry.
Pulsepoint exclusively partner with BPA
Another private marketplace – this time for BPA members: thanks to an exclusive partnership between PulsePoint and BPA Worldwide, a global not-for-profit provider of business media auditing services, the B2B Media Exchange for BPA's members will provide access to audited business-to-business audiences and an automated way to reach them.
Since B2B publishers typically lack the scale to qualify for collaboration with technology partners, the BPA membership is coming together as a collective, creating wider reach. Utilising PulsePoint's programmatic technology and yield management expertise, BPA members are, thus, getting the opportunity to maximise revenue while giving marketers the trust, transparency, and accountability they require for their ad spend.
"We are excited to partner with PulsePoint to serve our membership with advertising automation solutions", comments Glenn Hansen, president and CEO, BPA. "Making ads matter is what moves our business forward", adds Sloan Gaon, CEO, PulsePoint. "In partnering with BPA Worldwide, PulsePoint are continuing to drive value for our partners by solving the larger advertising challenges in play. We are providing business-to-business publishers with the monetisation and analytics tools they need to succeed in a complex, digital-first publisher environment."
PulsePoint provide real-time contextualisation technology to analyse publishers at the page-level to ensure ads appear next to relevant and brand-safe content. This is highly important to BPA's audited business-to-business membership, which includes Healthcare, Banking/Financial, Information Technology and Telecommunications, as well as other vertical offerings.
Mobfox Launche private marketplace for mobile audience
MobFox have just announced a data-driven private marketplace which will allow advertisers to acquire traffic from tailored audience packages in order to best target their campaigns.
"We are excited to launch our new PMP offering, which will enable our developers to offer their audiences' profiles programmatically to buyers, at scale", says Gil Klein, EVP, Matomy. "Whether it's a preferred deal or a private marketplace engagement, our demand partners will be able to bid for the audience segments and users with which they are looking to engage."
Combining first-party data from supply partners, and data from MobFox's data partnerships, the new private marketplace is to deliver accurate segmentation with better control for publishers, as well as user segmentation for their buyers.
"The market is transitioning from traditional RTB buying to data-driven media buying. We're taking media buying to the next level by providing our partners with the ability to acquire audiences in customised deals across all formats, including video", explains Kumaran Sambandam, VP, MobFox Exchange. "Following our recent partnership with Factual, providing our media buyers with better segmentation at scale is the next step in becoming a leading data-driven mobile company. This creates a win-win situation for publishers and advertisers by providing more relevant ads. The data-enriched marketplace will enable an improved experience for users."
Motion Content Group for GroupM
With a new global content investment and rights management company, GroupM want to meet the ever-growing market demand for new economic models for premium content across the entertainment and media marketplace. Dubbed 'Motion Content Group', the new entity is to invest and partner with producers and distributors to fund, develop, produce, and distribute premium content. The initiative is also an attempt at consolidating and diversifying GroupM's content investments and operations
"With new content companies such as Netflix and Amazon growing rapidly, the competition for premium content is heating up across the globe. WPP are investing in Motion Content Group to strengthen our content creation and distribution capabilities, to help meet evolving viewer needs, and to help advertisers continue to reach consumers in high-quality content environments", says Martin Sorrell, CEO, WPP.
Motion is to invest their own funds into content deals and partnerships, thereby creating a separate but complementary offering to the branded content created by GroupM's agencies.
The new group will be headed up by Richard Foster, currently head of GroupM Entertainment, based both in London and Los Angeles. "Our objective is to help create and support editorially and commercially vibrant premium content for the benefit of our content partners and advertisers", says Richard Foster, CEO, Motion Content Group. "We will achieve this by continuing to invest into the content industry and lead the development of new models, commercial content structures, and partnerships with media networks, platforms, talent, producers, and distributors."
Motion incorporates GroupM Entertainment's team and resources, and the full slate of programmes it has partnered to develop and produce.
Condé Nast France & Adyoulike create programmatic marketplace for native
French publisher Condé Nast and native experts Adyoulike are teaming up for the creation of a programmatic marketplace specifically targeting native advertising. With the new private native marketplace, Condé Nast and Adyoulike want to facilitate real time planning and optimising of native campaigns for trading desks, while also allowing them to implement their data. To this end, Condé Nast will rely on the Adyoulike's SSP.
"This form of advertising is extremely relevant and innovative for our industry sectors, especially in fashion/beauty and luxury", says Tony Nguyen, head of programmatic at Condé Nast. "It enables us to amplify the ways brands can communicate by giving them a dedicated platform where consumers are receptive to their adverts. These are the main drivers that have led us to create a new dimension to native advertising through our partnership with Adyoulike."
Speaking to ExchangeWire, Yohan Elmaalem, COO and co-founder, Adyoulike, comments: "Condé Nast was one of the first publishers to really see the potential of native advertising and truly embrace it. Our partnership with Condé Nast France to create a programmatic marketplace dedicated to native is thanks to working closely together for over three years. Overall, this will mean Adyoulike expertise and technology will be helping Condé Nast France to further grow their sales channel on native advertising."
The new private native marketplace stems from an already existing three-year partnership between Adyoulike and Condé Nast.
Anti-malvertising platform by Rocket Fuel
Rocket Fuel want to fight malvertising in the advertising ecosystem with a new detection and prevention system that relies on both automation as well as human input. Built on the basis of the Google Cloud Vision API, Rocket Fuel's solution is aimed at identifying and rejecting certain ad types that are prohibited, in order to protect consumers and to ensure client campaigns are free of malicious ads.
"Malvertising, and those who perpetuate it, have been a huge problem for the digital advertising industry for years", comments Randy Wootton, CEO of Rocket Fuel. "Rocket Fuel are committed to the fight against malicious ads and by continuing to leverage outside technologies like Google Cloud Vision API, we can take even greater strides in protecting brands, agencies, and consumers."
Rocket Fuel's system also utilises artificial intelligence, big data, blacklists, and multiple anti-malware tactics to detect fraudulent ads. Prohibited products and clickbait texts are detected via Text Inspection, which also applies to automatically translated copy. Besides automated screening, suspicious ads are also passed on for editorial review.
VertaMedia partners with Fraudlogix
VertaMedia have ad-fraud in their sights. The video monetisation platform is partnering with ad fraud-detection and verification company Fraudlogix to monitor their impressions for ad fraud, brand safety, domain masking, and viewability.
Part of VertaMedia's efforts at filtering out low-quality and fake impressions from their platform, the partnership hopes to ensure high-quality video ad traffic for buyers. To that end, Fraudlogix will help VertaMedia identify fraudulent impressions, sources of low viewability, dubious ad placements in unsafe environments, and uncover false domain declarations in ad bids. Connected via API, VertaMedia are integrating Fraudlogix' insights into their systems to constantly optimise their traffic quality.
Alex Bornyakov, founder, VertaMedia, comments: "Our partnership demonstrates our continued pledge to eradicate fraud from the digital advertising supply chain; and we have recently been awarded the Trustworthy Accountability Group (TAG) Certified Against Fraud Seal in recognition of this."
"It's clear that VertaMedia are focused on quality and providing only the best placements for its buyers", said Fraudlogix CEO Hagai Shechter. "We're happy to help them fight ad fraud and our supply-side-focused solutions allow our clients to monitor all traffic and identify and block the sources of low-quality impressions."
TagsEMEAProgrammatic