Impact Radius & LiveRamp Partner; Outbrain Expands Mobile App Offering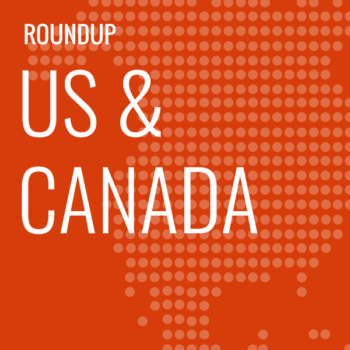 ExchangeWire rounds up some of the biggest stories in the US/Canadian digital advertising space. In this week's edition: Impact Radius and LiveRamp partner; Outbrain expands mobile offering; Tremor Video partners with OmniVirt; TargetSpot partners with AppNexus; AppsFlyer introduces agency transparency solution; AdLedger, a Blockchain consortium, launches.
Impact Radius and LiveRamp Partner
Impact Radius, headquartered in Santa Barbara, CA, and LiveRamp, an Acxiom company located in San Francisco, CA, have partnered to enable marketers to activate audience segments across channels to deliver relevant messages by sharing user engagement data between platforms in a privacy-compliant manner. The partnership will allow Impact Radius' clients the ability to have a unified view of the offline impact of their online marketing efforts, and be able to retarget their performance traffic while delivering effective content.
Tijs van Santen, CRO, Impact Radius, tells ExchangeWire: "For omni-channel brands, understanding the complex cross-device, cross-channel consumer journey is critical in order to optimise media spend and drive profitable growth. The combination of LiveRamp and Impact Radius enables digital marketers to significantly improve the performance of their campaigns by creating a seamless and more personalised shopping experience."
Jeff Smith, LiveRamp chief marketing officer, adds: "Impact Radius has zeroed-in on providing an essential element of effective digital marketing. This partnership will play an important role in helping marketers measure the impact of campaigns designed to engage high-value audiences with compelling content, and develop a unified customer view across digital channels, including affiliate."
Outbrain expands mobile app offering
Outbrain, a New York-based content discovery and marketing platform, has expanded its mobile app offering by launching engagement tracking and app measurement to the Outbrain 'Amplify' dashboard. To give marketers a full view of their app download analytics (e.g. cost per installation, cost per acquisition), they have partnered with mobile attribution companies TUNE, Adjust, AppsFlyer and Kochava. These partnerships will give marketers the ability to measure and attribute mobile app downloads and performance and give insights for campaign optimisation and future marketing spend.
"We know that getting new users to discover and download apps can be a challenge. That's why Outbrain is now able to recommend iOS and Android mobile apps to Outbrain's global users directly via the app store, or through content sequencing", Amit Elisha, vice president of products at Outbrain tells ExchangeWire. "We've been testing mobile app measurement campaigns with select early partners and seen great results, providing a viable and complementary alternative to Facebook and Twitter, who have to date dominated in this space."
Tremor Video partners with OmniVirt for 360º Video Ad Units
Tremor Video, a New York-based software provider for video advertising, has partnered with OmniVirt, a virtual reality advertising platform for 360° video ads, based in San Francisco, CA, to offer short-form 360º video ad units to marketers. As the virtual reality format continues to grow, 360º video gives viewers an immersive experience without the need for a VR headset, allowing advertisers the ability to further engage consumers and continue to vie for viewer attention.
Tremor Video offers marketers long-form interactive 360º ads and short-form 360º pre-roll, powered by OmniVirt, that include: premium in-stream video supply, unrestricted video length, all-screen scale on mobile and desktop, ability to toggle between gyroscope and swipe modes on mobile, and compatibility with VR headsets and cardboard viewers.
"We are always looking to push the boundaries of what brands and publishers are capable of doing with digital video. For the first time, advertisers are able to develop and distribute high-impact, custom creative brand narratives at scale. To date, most 360º video ad campaigns have had limited distribution, due to technological hurdles, but we have developed exciting new technology that enables brand campaigns to achieve scale by accessing Tremor Video's large number of premium publishers", said Lauren Wiener, president, buyer platform, Tremor Video.
TargetSpot partners with AppNexus to expand programmatic audio offering
TargetSpot, a digital audio ad platform based in New York, and AppNexus, a software platform company that enables and optimises programmatic online advertising, have integrated to enable AppNexus' advertising partners to programmatically buy a robust source of targeted digital audio supply from TargetSpot.
"Digital audio use continues to rise; and a surge in connectivity through cars and devices will propel this to new heights. It's important to us at TargetSpot to make it simple for our clients to purchase digital audio campaigns on our platform in any way they want. There is a growing appetite for premium programmatic audio inventory, and we believe it will only grow exponentially in the coming years", Carolyn Hudson, sales development director, TargetSpot, tells ExchangeWire.
"Our buyers have a growing appetite for premium audio inventory. AppNexus' partnership with Targetspot will allow those who are already interested in audio to increase the scale and reach of existing campaigns; for the others, it's an opportunity to further diversify the channels through which they reach their programmatic audiences", said Eric Hoffert, SVP, video technology, AppNexus.
TargetSpot has preferred partnerships with top streaming audio brands, including CBS RADIO's Radio.com and this expansion of TargetSpot's programmatic offering follows its partnership with the Rubicon Project earlier this year.
AppsFlyer introduces agency transparency solution
AppsFlyer, a mobile app tracking and attribution analytics platform, has launched Agency Transparency, a solution that gives brands direct visibility into all aspects of their campaigns. Agency Transparency, accessed from the AppsFlyer dashboard, will display key campaign metrics, like media costs, impressions, clicks, and installs, right in their client dashboards. This solution addresses the transparency problem in the industry and the increasing scrutiny agencies face to understand if their marketing budgets are yielding meaningful ROI.
"As the leading, unbiased mobile measurement platform for marketers around the world, both our agency and brand clients look to our data as their source of truth", said Oren Kaniel, CEO of AppsFlyer. "Agency Transparency is one of several solutions, like our Active Fraud Suite, which we developed to both strengthen the mobile marketing ecosystem and reduce friction between marketers, publishers, and agencies. There has been an increasing amount of industry pressure on agencies to take measurable steps to improve relationships with advertisers, providing transparent insight into their media buying activities and performance. Working closely with agencies and marketers, we heard their needs and responded. Oftentimes, agencies and marketers want to improve their transparency, but lack the tools to do so. AppsFlyer is uniquely positioned to serve both brands and their agency partners with an unbiased measurement tool that quickly, easily, and seamlessly provides clear visibility into key components of their campaign activities."
AdLedger, a blockchain consortium, launches to focus on ad tech
A blockchain consortium, AdLedger, comprised of advertising and publishing executives, has been formed in New York to explore the use of blockchain technology and bring increased transparency and data security to the ad tech supply chain.
The founding members include IBM, MadHive, Integral Ad Science, and TEGNA, and others, with the goal to harness the potential of real-time, blockchain-based, peer-to-peer networks to lower costs for publishers, while increasing transparency and ROI for advertisers. The network will validate placements and transactions to ensure brand safety through greater transparency, enable data-portability using multi-signature wallets and cryptographic keys for unduplicated campaign execution and measurement. The network will also aim to remove layers of inefficiency in technology stacks to address the issue of the disappearing ad dollar, introduce cross-network identity management and attribution reporting, and establish a protocol around a decentralised peer-to-peer data-sharing solution.
Stacy Huggins, Co-founder and CMO of MadHive comments: "The blockchain economy requires the participation of many. And, if trust became a consequence of the technology rather than something you had to pay for over and over again, what opportunities does that open up? Blockchain isn't the cure for everything, but it can bring a new level of transparency to the supply chain and streamline payments and reconciliation once a network effect is achieved. AdLedger will be a fantastic way to further explore what blockchain can do for ad tech and to ensure that advertisers and publishers claim a seat at the table during important discussions around data portability, data provenance, GDPR protections, transparency, reconciliation and payments."
Jim Wilson, president of Premion, TEGNA's local OTT advertising business comments: "Our industry has an opportunity to work together to embrace transparency across the advertising supply chain. We see tremendous potential for the use of blockchain to advance this goal, while creating market efficiencies and solving other issues including frequency capping, attribution, and data quality." AdLedger's mission is to bring together advertising industry players to collaborate on creating technology and protocol to the end of improving transparency and streamlining the supply chain.