Sizmek Introduces Frequency Capping; Partnership for Eyeota & YouGov
by Sonja Kroll on 14th Jul 2017 in News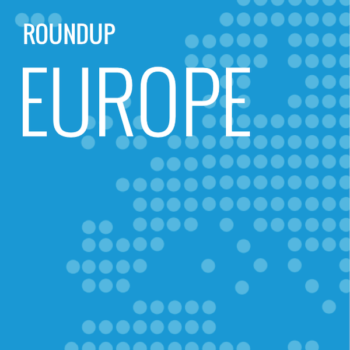 ExchangeWire rounds up some of the biggest stories in the European digital advertising space. In this week's edition: Frequency Capping at Sizmek; Eyeota-YouGov partnership; Zvelo and S4M collaborate; 1XL promises more audience transparency; EnvisionX promotes blockchain tech; Glispa launches Avocarrot platform; VisualIQ integrates Lotame audience data; and Screen6 establishes London office.
Sizmek introduces server-level Cross-DSP Frequency Capping
With advertisers tending to rely on multiple DSPs, ad servers and DMPs for their campaigns, badly targeted ads that expose individual users to the same ads again and again, wasted ad spend is often the result. In a bid to enable agencies and advertisers to achieve ideal ad exposure for each user across media plans, Sizmek is now launching cross-DSP frequency capping.
"The main problem our industry, and advertisers in particular, face today is that current tools only offer partial solutions to optimising media campaigns", says Mark Grether, executive chairman at Sizmek. "DMPs mostly integrate with DSPs one at a time, missing the connection between pre-bid inventory filtering and post-bid engagement, as well as lacking access to campaign performance data. Also, Meta DSPs, as part of their core DNA, are not connected with the entire ecosystem. Cross-DSP frequency capping evolves how the market addresses this challenge, and helps advertisers maximise their return on ad spend, while enhancing customer experience"
Sizmek's frequency capping solution aims to work as a central hub for pre- and post-bid data aggregation, allowing ad buyers using Sizmek to manage frequency capping across their entire media plan, based on creative engagement data found only at the server-level, including ad clicks, ad views and impressions.
Eyeota partners with YouGov
Eyeota is teaming up with YouGov. The aim of the partnership: the compiling of an extensive database that bundles consumer opinions and data on consumer behaviour from major markets such as the US, the UK, and Germany. Together, the audience data provider and the analytics specialist are aiming to make rich audience data available "to help marketers and advertisers understand customers and their behaviours on a deeper level, enabling them to deliver better online experiences", Ted Marzilli, CEO YouGov Data Products, says.
YouGov receives its opinion data from five million people worldwide taking part in panels. The data is collated in YouGov Profiles via surveys, passive tracking of panelists across mobile, tablet, laptop, and desktop, as well as ratings from YouGov.com, its online engagement platform for panelists. "These types of details give marketers and advertisers a window into how consumers behave and think, from brand preferences to general interests, to help them pinpoint exactly how they should be targeted", explains Kevin Tan, CEO and co-founder, Eyeota.
The new insights are available via Eyeota's Data Marketplace and covers topics such as consumer lifestyles, general interests, brand use and perception, demographics, media, technology, finance and retail, etc. The data segments are available through various distribution platforms.
Zvelo provides ad fraud solution for S4M
Mobile-native ad tech company S4M is using zvelo's new Invalid Traffic (IVT) dataset to combat ad fraud on their programmatic platform. The IVT dataset is a part of zvelo's ad-fraud solution. Continuously updated IPs recognised as sources of nonhuman and bot traffic (NHT) are identified, thus allowing clients to perform pre-bid blocking of NHT-based impressions, in order to avoid accruing suspicious and fraudulent ad traffic.
"Since the additional fraud traffic filtration from data centre IPs with zvelo, we observe an increase to the current levels of suspicious traffic identified in our campaigns worldwide – about a 4.3% increase in suspicious traffic for clicks and 4.28% for impressions", Christophe Collet, CEO, S4M, tells Exchangewire. "The insights and capabilities yielded by zvelo's IVT dataset have proven invaluable to S4M, both in our day-to-day efforts to identify ad fraud in our campaigns and to uphold our commitment to our clients. Our technology is dedicated to staying ahead of fraud, as it becomes increasingly sophisticated."
The IVT also provides additional filters to S4M, effectively identifying and eliminating ad traffic created by malicious bots and other nonhuman sources. The fully deployed IVT dataset also sorts nonhuman sources from its ad impressions and clicks and identifies publishers delivering high percentages of bot traffic.
Audience transparency initiative launched by 1XL
Publisher cooperative 1XL wants to provide more audience transparency and teams up with marketing research and technology company AudienceProject for a new initiative – 30 publisher-strong 1XL will receive access to AudienceProject's core measurement and targeting tools in order makes sure their inventory reaches the right audiences. Additionally, the partnership with AudienceProject will provide 1XL's agencies and ad buyers with insights into regional media audiences at scale.
Thanks to exclusive access to AudienceProject's data ecosystem and measurement insights, 1XL receive real-time validation of key audience metrics such as reach, uniques, demographic profiles, affinities etc, giving clients transparency into the ad-buying and displaying process. AudienceProject takes a collaborative approach to audience data, i.e. sociodemographic data is shared with all publishers who are part of the ecosystem.
Scott Gill, managing director of 1XL, explains the idea behind the collaboration:  "Our partnership with AudienceProject will play an important role in enhancing the targeting capabilities of our direct sell and better empower our PMPs. We strive to deliver 100% transparency and to achieve this, it is not enough to mark your own homework. We're continually enforcing key principles of safety and visibility in online advertising through the likes of our recent Advertising Charter; and this partnership is yet another wake-up call to advertisers and agencies that they should be moving spend to blue chip publisher environments, where they are guaranteed a transparent and endorsed system of inventory quality. AudienceProject allows better targeting of ads, by constantly giving us more data on more users, as well as greater transparency on the agency side that we are actually reaching the demographic audiences we say we are reaching. Through our partnership, we are delivering a transparent data offering as all our segments come with a 'declaration of content'. From there, we can verify the audience, who was actually in the segment and got exposed to the advertising, against live panels of real people. There is a huge need for documenting audiences on campaign level, which is why we're delighted to be working with AudienceProject."
"Measurement is not something that should happen two weeks after the campaign has ended. It needs to happen in real time, so you can optimise while the campaign is still running and consider different approaches if necessary", adds Jacob Lachmann, CEO, Audience Project. "The likes of Facebook and Google have set the bar high, due to their reach and data capabilities. With our partnership, 1XL will be able to close the technical gap and use its local presence as a publisher to give a superior product to its clients."
EnvisionX incorporates blockchain technology in programmatic solution
Ad tech provider EnvisionX is introducing a blockchain element in its ad tech offering: BitCasts is a platform solution based on blockchain technology.
Zheng Zhang, CEO and founder of EnvisionX calls it the "radicalisation of the digital advertising space", and stresses both the cryptocurrency capabilities of blockchain, as well as security enhancement in terms of ad fraud. Says Zhang: "There are a few pioneers in advertising who have built a basic cryptocurrency-based ad network. However, by combining our existing advanced programmatic ecosystem with blockchain technology, Bitcasts is set to really bring online advertising to the next stage and help us to continue working for the greater good of the industry as a whole."
Speaking to ExchangeWire, Zhang counters the criticism often levelled at blockchain technology, i.e. doubts about the scalability and real-time capabilities: "Looking at the future of blockchain within programmatic, it looks as though the application of the technology will probably be in validating and verifying transactions on the ad-chain for media spend transparency and for the detection of fraudulent impressions, as well as speeding up publisher payout. I do not think the statement that 'the main challenge of applying blockchain in programmatic advertising is to make it real time' is quite on the mark. Real time certainly can be achieved through blockchain technology, by investing much more in servers for instance. But why do we have to focus on real time?"
Instead, Zhang argues, the industry ought to face the fact that: "Fraudulent impressions will remain fraudulent, no matter if it's determined in real-time, or not. An advertiser can dispute possible fraudulent activity in less than a day, and this turnaround time already serves the purpose of fraudulent prevention using a decentralised system. It has also significantly sped up the determination of the non-fraudulent impressions. The same applies to validating media spend and processing the publisher payout. Blockchain should bring an answer to those problems first, instead of trying to solve the challenge of applying the technology in real time."
According to EnvisionX, BitCasts will address major worldwide buyer problems, such as currency by adding cryptocurrency capabilities with blockchain. Thus, buyers can buy media in local currency, yet avoid exchange-rate complications. The technology may counteract fraud, since publishers get precise insights into buyer transaction, enabling real transparency along the chain.
Apart from BitCasts, EnvisionX is also enhancing their AdTrades and AdCasts solutions with blockchain technology.
New native platform by Glispa
One year after acquiring Avocarrot, Glispa is finally unveiling their full-service monetisation platform, slated to serve all types of mobile in-app advertising, both programmatic and performance-based. Including added functionality from Ampiri, Glispa's mediation platform as well as its audience platform GAP, the new platform aims to provide full transparency, control, and monetisation management.
According to Glispa, the new solution allows app developers to manage their monetisation efforts by mediating between brand and performance sources – which makes choosing between CPM and CPI models unnecessary. The new SSP is set up to be connected with more than 50 DSPs for RTB brand demand, and has access to all leading ad networks for CPI campaigns.
With the new platform, comes an enhanced user experience, Glispa promises, on the basis of individually tailored native ads for apps, while at the same time allowing advanced settings for high-level granular segmentation.
"With this launch, we now have the leading native monetisation platform for app developers", says Itamar Benedy, CRO at Glispa. "The combination of programmatic brand budgets with CPI performance budgets in a fully transparent environment is a true game changer. When connecting that to our global reach and presence, this will allow app developers and owners to aim much higher."
Visual IQ integrates Lotame audience data
A new strategic between marketing intelligence provider Visual IQ and DMP Lotame is aimed at providing clients new insights in marketing and advertising performance via audience data. Thanks to the partnership, demographic, intent, interest, and B2B audience insights are combined with multi-touch attribution measurement to allow advertisers marketing and advertising performance analyses by audience segment.
To this end, Visual IQ is integrating Lotame's audience attributes into its marketing intelligence platform. In addition to the audience data that's now native to the platform, clients can also integrate their own first-party audience segments, such as high-value customers, loyalty shoppers, and more, from Visual IQ's other DMP partners.
"The average consumer is exposed to hundreds, if not thousands, of marketing messages every day. To break through the clutter, marketers must constantly work to deliver messages that are meaningful and relevant, regardless of channel or device. This can only happen when audience and measurement intersect within a single platform", says Manu Mathew, co-founder and CEO, Visual IQ. "We are thrilled to incorporate Lotame's robust audience data into our platform and arm our clients with the intelligence they need to reach specific audiences with the optimal message."
"For more than a decade, we have been helping marketers harness the power of audience data to fuel relevant and personalised experiences", adds Ryan Rolf, vice president of data solutions, Lotame. "By partnering with Visual IQ, the marriage of our two solutions will enable marketers to better understand their customers and prospects, the combination of channels and tactics that best influence them, and, ultimately, make smarter decisions that impact the bottom line."
The integration is currently being facilitated.
Screen6 expand to United Kingdom
Cross-device ID manager Screen6 are expanding their international footprint with a new office in London to better serve their UK- and European-based clients. "With a growing global client base that is increasingly interested in marketing across devices in a privacy-compliant fashion, expanding in the UK is a natural extension of our team and our unique market approach", explains David de Jong, CEO, Screen6. "The new office represents our commitment to strengthening our business in international markets and expanding our client base in the years ahead."
Joining the London office is Anthony Ward, who is taking up a new position as senior sales engineer, to focus on expanding the European market and onboarding new partners. Ward joins Screen6 from a prior position as senior sales engineer at BidSwitch (Iponweb), where he managed technical integration and architected solutions for a global client base.