Brand Safety in the UK; Location Sciences Launches
by Sonja Kroll on 15th Sep 2017 in News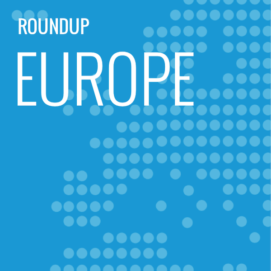 ExchangeWire rounds up some of the biggest stories in the European digital advertising space. In this week's edition: Brand safety in the UK; Location Sciences launches; Inneractive releases VAMP; MadHive launches blockchain solve for GDPR; Guardian and OpenX collaborate; Ve receives funding; Connected TV in UK; and VR platform for native by Advrty.
Brand safety risk on the decline in UK
Measurement and analytics company Integral Ad Science releases the findings of its biannual Media Quality Report. Looking at H1 2017, the report finds that UK desktop brand safety risk linked with content classified as 'violent' continues to fall, decreasing from 7.8% in H2 2016 to 6.8% in H1 2017.
In detail, out of all impressions identified as posing a risk, those classified as serving adjacent to violent content fell by 22.9% from H2 2016. The decline in brand safety risks in the UK goes against the general trend: worldwide, brand safety risk has increased by 20.2% from H2 2016, within global desktop video, to 10.7% in H1 2017. In the US, the figures are even higher: across the Atlantic, violence accounts for 30%, or more, of all risky impressions flagged across desktop and video. 
Overall, the report finds that brand risk for global mobile web impressions is at 8.5%, with higher risk in adult and violent content categories.
Nick Morley, EMEA MD, Integral Ad Science, tells ExchangeWire that brand safety risk is now being proactively approached by the advertising industry: "It's encouraging to see continued reduction in UK desktop brand safety risk in our latest Media Quality Report, highlighting that industry-wide proactive measures have been paramount when approaching brand safety concerns. But it is imperative that the global ad industry does not become complacent and continually seeks to create a trusted, safe environment – considering not just brand risk, but viewability and ad fraud too.
"Our biannual MQR plays an important role in providing the industry with an holistic view of the media landscape. Ultimately, every impression should have the opportunity to be effective, and by highlighting brand safety risk as well as ad fraud and viewability rates across channels, marketers can make informed decisions to ensure campaign performance."
For the report, data from nearly 300 billion global impressions from ad campaigns between 1st January and 30th June 2017 were analysed.
Surge in brand safety certifications
The decline in brand safety risks may also be reflected in the current surge in brand safety certifications. The UK industry body JICWEBS says that August 2017 has seen the highest number of certificates ever awarded for Brand Safety.
Eleven companies were awarded: Teads, Media iQ, YuMe, Amnet, PulsePoint, Fifty Media, Encore, Avocet, Sovrn, IOTEC, and Clearstream. The aforementioned companies have been given the JICWEBS stamp of approval in terms of complying with Good Practice principles for ad environments.
 In the area of ad fraud, Quantcast and Iotec have receive JICWEBS certification in recognition of their attempts to reduce the risk of ad fraud.
Richard Foan, chair, JICWEBS comments: "This recent surge in independently audited certifications for brand safety and antifraud shows that the increased levels of trust and transparency that buyers demand are being injected into the digital ad trading supply chain. It also gives buyers a wider array of partners to choose from when considering who is more likely to protect their investment in digital."
Location Sciences does what it says on the tin
With £3.1m funding by its parent company Proxama under its belt, Location Sciences is ready to launch. The mobile location data and intelligence business supplies location data to businesses, helping them connect with customers. The new company is headed up by Mark Slade as managing director, who is focusing on scaling the business' data and audience products.
"The successful £3.1 million funding round demonstrates our commitment to the market and ability to improve these insights via machine learning and consumer reach, which will optimise value for our customers", says Slade. "Through our continuously scaling location audience supply, Location Sciences is setting new standards in data quality and an unrivalled approach to location intelligence. Unlike standard 'snapshot' data, our location information can provide more consistent insight into brand's customers to better target them for future campaigns."
Location Sciences uses their machine learning technology to provide location information and insights for out-of-home media owners, brands, and agencies. The data is based on a combination of GPS-based location data as well as data from Bluetooth beacons. According to Location Sciences, the data has scaled to over three million UK consumers generating billions of precise data points.
Video advertising monetisation platform by Inneractive
Fyber-daughter Inneractive has launched its video advertising monetisation platform dubbed 'VAMP', helping publishers plan ad campaigns with customised audience segments. The new platform combines three main capabilities – Audience Vault, Revenue Desk, and Video Suite.
Roni Anavi-Fass, VP product, Inneractive, explains the concept: "VAMP helps solve three pain-points: lack of transparency and control in programmatic, the complexity in the trading of programmatic mobile video, and publishers struggling to remain competitive over mobile ad dollars, especially against Facebook and Google, which currently take 75 cents on the dollar."
The Audience Vault helps publishers analyse and segment their own user-base. These audience segments can be sold programmatically at varying price points. The Revenue Desk dashboard allows publishers an overview over their inventory, creating granular, customisable reports. A/B testing capabilities enable publishers to experiment with different ad units, placements, and prices. Finally, the Video Suite supports a wide variety of mobile ad units and formats for video and static display units.
The new platform has been developed as a tool for publishers to compete against the dominance of the internet giants, Offer Yehudai, co-founder, Inneractive, tells ExchangeWire: "VAMP is all about giving publishers more control and an ability to better compete with the walled gardens that are grabbing the vast majority of ad dollars. We want to give mobile publishers the tools to understand and package their audience, to better monetise mobile video, and to make data-driven decisions. We are super excited about VAMP and the Audience Vault and are certain it will make programmatic trading more efficient and make inventory pricing more accurate."
Inneractive developed the platform in cooperation with video ad server Innovid, ensuring compliance with VPAID campaigns that will be served through the platform. The proprietary video player features built-in viewability measurement with Moat and DoubleVerify, without requiring any additional integration.
MadHive to release GDPR data management through open-source platform
Currently in alpha testing ahead of the forthcoming GDPR rollout next year, MadHive is planning for the release of its blockchain solve for GDPR data management through an open-source platform. Prior to the official release, the Open-GDPR platform will be tested and approved by the AdLedger Blockchain Consortium.
On the basis of blockchain as an audit trail, the new platform facilitates managing the new privacy rights under the new GDPR regulations. MadHive's Open GDPR solve allows data management to be tracked and verified by issuing cryptographic keys and writing digital signatures (hashes) to a blockchain.
This applies particularly in scenarios where users exercise the right to be forgotten. Third parties with access to PII for the use of creating data-targeting segments can be tracked by recording the fact that the third party was given a cryptographic key to unlock the data. When users want their identity traces to be removed, the company can revoke key access to the subject's data. Subsequently, third parties are alerted to remove user data, as well, while the blockchain records and documents that the company complied with the request and has revoked third party access to the data as well as removed the user data from their own database. Companies will be protected against fines by querying a blockchain to prove their compliance, if audited.
The GDPR compliance will be tested by a dedicated working group within AdLedger. The open platform is due for release early next year.
The Guardian teams up with OpenX
News provider the Guardian is cooperating with OpenX, using the OpenX Ad Exchange to monetise their inventory across desktop and mobile platforms globally. Furthermore, OpenX also supplies programmatic direct solutions for the Guardian, including PMPs which allow buyers access to the Guardian's inventory.
Jason Fairchild, co-founder and CRO, OpenX comments: "We have had extensive conversations with the Guardian to understand their programmatic aspirations and concerns and we share their deep commitment to quality. We pride ourselves on our transparency and open lines of communication with both the publishers and the advertisers we work with and we have full confidence this partnership will yield significant outcomes."
Daniel Spears, programmatic director at Guardian News & Media said: "We're happy to be working with OpenX as part of our overall programmatic strategy to help the best range of media buyers gain access to our premium inventory. We are confident that OpenX will deliver incremental value to both the Guardian and our media partners."
£15m investment for Ve
Thanks to £15m investment, ad tech provider Ve is hoping to strengthen its worldwide business. The London-headquartered company will use the new capital to invest in developing its tech solutions, hoping to consolidate its position across 18 territories. Backed by existing investors, Ve is also looking to expand their team.
"This funding represents a significant milestone in Ve's journey and allows the business to enhance, develop, and deliver more consumer-first technologies that inspire our client's customers throughout their online journey", says Morten Tonnesen, CEO, Ve. "Ultimately, the funding allows us, as a global business, to continuously deliver on behalf of our clients and support those faced with stiff competition in a digital age."
Ve is also investing the funds into accelerating its operations in the US, and driving its expansion into new markets, including China and India, as well as accelerating the launch of new brand and product offerings.
UK the most advanced connected TV advertising market
New research by SpotX shows that the UK is the largest and most advanced market in Europe with an established connected TV advertising ecosystem. In 2016, users viewed £115m worth of advertising on a TV connected to the open internet via streaming devices, smart TVs, games consoles, and set-top boxes.
Leon Siotis, MD UK and Southern Europe, SpotX, puts the number into context: "The UK is Europe's largest ad market, both in terms of TV ad spend and internet advertising spend. We see increasing demand from advertisers seeking advertising on a larger screen environment served and measured using digital techniques, with some agencies creating new business units to focus on the opportunity. Media owners and broadcasters, such as ITV, STV, and TVPlayer, are generating additional revenue streams this way, addressing agency requirements to target viewers of premium programmes at scale. We have seen significant growth across Europe and expect this to grow rapidly over the next few years, as more agencies and advertisers benefit from advertising on connected TVs, as part of the growing OTT landscape."
Siotis' prediction is supported by the trend identified by broadcasters and industry experts interviewed for the research. According to them, 75% of UK households will connect their TVs to the internet by 2020. Currently, 91% of households have fixed broadband connections. Connected television advertising in the UK is expected to grow to £220m in 2020.
According to the report, connected TV is steadily on the rise as awareness and adoption of it is high. Siotis adds: "There is widespread agreement that connected TV is a new class of TV inventory, combining the established value of large-screen engagement with the application of advanced advertising capabilities to measure and target audiences. We have witnessed growth around the world for our clients, but the market statistics have not been available until now. We expect the new connected-TV ecosystem to grow fast, harnessing innovation, creativity, and digital techniques to deliver results for viewers, broadcasters, and media buyers."
New advertising platform for virtual reality
Swedish Ad tech company Advrty has released their proprietary VR platform for native advertising into beta. The company helps advertisers create immersive ads that seamlessly integrate into the three-dimensional worlds of VR games and applications. The new VR platform is to help advertisers and brands to access consumers in context-driven environments.
Interesting for advertisers: the platform facilitates measurability within this new media. Thanks to Advrty's algorithm, advertisers can measure where the users are looking. Consequently, advertisers only pay for actual views or interactions – creating monetisation opportunities through an alternative revenue stream.
Niklas Bakos, CEO and co-founder, Advrty, comments: "Powerful advertising shouldn't have to be intrusive. In VR, the playroom is big enough, so let the consumers find the ad and decide their level of commitment towards it."