£11.4bn Ad Spend for UK in 2017; New Partnerships for Bitposter
by Sonja Kroll on 22nd Sep 2017 in News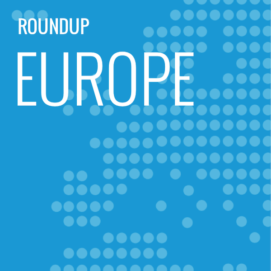 ExchangeWire rounds up some of the biggest stories in the European digital advertising space. In this week's edition: UK ad spend forecast 2017; Bitposter inks new partnerships; Device ID fraud costs USD$1bn (£730m) in damages; Funding for Funnel; PRISA uses Switch SSP; and comScore provides global viewability measurement.
£11.4bn forecast for UK Digital Ad spend 2017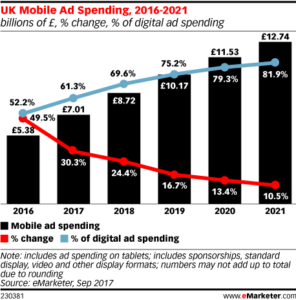 eMarketer's forecast for UK digital ad spend will total £11.44bn in 2017. That figure is an improvement by 11% from last year's ad spend total. As in previous years, mobile is the main driver of digital ad investment. Mobile ad spend is set to rise by 27.4% this year, taking a 36.6% share of total UK digital ad spend. Within mobile, video will see the greatest growth, increasing by 47.7%, while traditional media ad spend in the UK flatlines.
"There have been signs of tough times ahead for the UK ad industry", says Bill Fisher, senior analyst, eMarketer. "Despite uncertainty around Brexit and struggles among some of the big agencies, digital continues to attract ad spending, with Google and Facebook the biggest beneficiaries."
Unsurprisingly, Facebook and Google remain the dominant forces in the ad market, with Facebook predicted to generate £1.87bn in digital ad revenues in the UK this year alone.
The social network's revenues are set to rise to £2.57bn by 2019, equalling an 18.3% share of the UK's digital ad market. For Google, eMarketer expects digital ad revenue of £4.43bn, equalling 38.8% of the total UK digital ad spend this year. By 2019, Google's ad revenues could increase to £5.10bn.
Fisher comments: "That they're attracting such spend is perhaps a symptom of the wider market concerns, with brands looking to get the biggest reach for their buck – something that Google and Facebook clearly offer."
Thus, the two internet giants are slated to remain the biggest players in the UK digital advertising market. Combined, the two companies are forecast to attract more than half (54%) of all UK digital ad revenues this year, totaling £6.30bn.
Bitposter adds new OOH media owners to their list
OOH platform Bitposter is launching into three new partnerships with media owners. Inventory from Elonex, MMedia Group, and Superspace will be added to Bitposter's regional offerings, providing buyers with access to screens in airports, music festivals, exhibition centres, sports stadia, transport hubs, roadside sites, service stations, high footfall regional retail locations, and mobile media.
Speaking to ExchangeWire, Craig Mytton, CRO, Bitposter, explains the significance of the signups: "There are a significant number of media owners within the OOH market who are investing heavily in digital and offering new and innovative solutions for buyers. We're very pleased to bring Elonex, MMedia Group, and Superspace into the Bitposter marketplace. Their decision to join shows that we are achieving our goals of making it easier for anyone to buy OOH advertising and to facilitate direct relationships between media owners and buyers. For media owners, in particular, the big attraction is the complete control over how they sell their digital and print OOH inventory via our platform."
With 30 media owners on the platform, Bitposter is hoping to expand further in the future: "We are experiencing very high levels of interest amongst OOH media owners, as well as advertisers, in our marketplace and expect to be onboarding many more over the coming weeks and months."
Over USD$1bn damage due to device ID fraud
The global market for mobile advertising is booming with a total volume of USD$99.3bn (£73.3bn), according to a ZenithOptimedia forecast. No wonder that the growth market is attracting fraudsters, such as device farms, which are fraudulently tapping thousands of mobile devices to record fake clicks, downloads, and interactions.
One of the methods used is device ID fraud, a type of mobile fraud that is currently plaguing the industry and causing billions of dollars worth of damage. By resetting device IDs, mobile advertisers worldwide have suffered a loss of between USD$1.1-USD$1.3bn (£800m-£1bn). According to AppsFlyer, a platform for the attribution of mobile advertising and marketing analytics, the share of this particular fraud activity, and download fraud in general, is twice as high than expected, with one-in-ten ad-initiated app downloads fraudulent.
The study finds that 16 of the top 100 ad networks are negatively affected by device ID fraud, due to 20% of app downloads delivered by them caused by the resetting of device IDs. AppsFlyer's insights are a byproduct of beta-testing their own antifraud solution Protect360.
Funnel gets USD$10m (£7.35m) funding
Stockholm-headquartered SaaS-provider Funnel has raised USD$10m in a series A funding round. The investment is backed by London venture capital organisation Balderton Capital, as well as existing investors Industrifonden and Zobito.
Funnel provides a data platform via a customisable dashboard, automating marketing reporting from multiple sources – a service that the Swedish company wants to expand. With the new capital, Funnel wants to invest into further development of the Funnel product beyond advertising platforms, aiming for any type of marketing data. This, Funnel hopes, will set the company up for expansion in the US and Europe.
"We provide data extraction as a service", explains Fredrik Skantze, co-founder and CEO, Funnel. "We believe there is a potential new category that can be created here that will change the way marketers work for good; and we want to be the leader of that category."
Funnel opened an office in Boston in 2016 to address the US market.
PRISA adopts server-side programmatic platform by Switch
Spanish media group PRISA wants to provide better user experiences by adopting a more transparent digital ad trading method and reducing latency. The publisher is investing in programmatic technology by Switch Concepts, providing PRISA with a unified auction operating server-side and allowing access to an unlimited number of demand partners.
"We are excited to take our programmatic infrastructure to the next level with the objective of improving user experience and increasing efficiencies", says PRISA's general manager of digital revenues, Chechu Lasheras. "We've been operating with Prebid.js and header bidders with some success", adds Matthias Mondini, director of yield management and business insights, PRISA. "The widely adopted wrapper tag technology allowed us to create a unified auction and increase yield; but we were facing growing problems with latency and data transparency, which Switch's platform will overcome.
The Switch server-side platform allows PRISA to maintain its commercial relationships with third parties, yet enables more transparent and efficient ad trading, PRISA hopes.
PRISA has been working with header-bidding technology since early 2016 in an effort to improve automation and optimisation of their digital offerings.
comScore opens global access to free viewability measurement
Back in April, comScore announced the expansion of their viewability offering via a self-service solution. Now, comScore is going for a global roll-out of their free measurement service for digital campaigns across publishers and ad networks.
The thinking behind the launch is comScore wants to push the industry from talking to action. Dan Hess, executive vice president products, comScore comments: "We're now several years into the viewability debate, yet it seems like our industry is having the same conversations while overlooking advertisers' more critical needs. By offering free viewability measurement, we're taking a stand to help marketers benefit from more meaningful metrics, such as who is truly being reached and the impact of creative and placement decisions."
How do free viewability solutions come into that? Hess adds: "If we're to achieve true cross-platform measurement, we need to be confident that impressions are being measured on the same 'opportunity to see' basis that has been a standard for decades in television. By making viewability a given, we're enabling clients to connect the dots and understand the total impact of advertising investments across both digital and TV."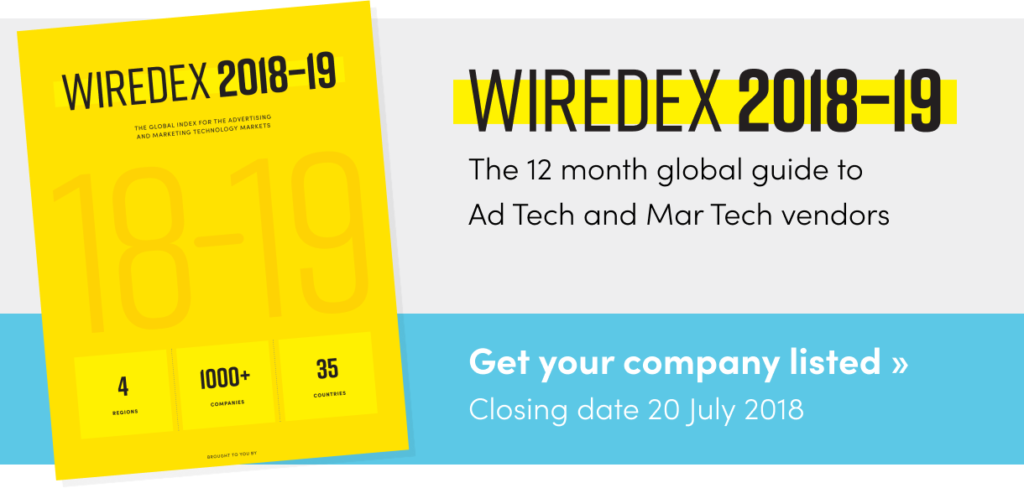 TagsEMEAProgrammatic