UK Viewability Improving; BVDW Critical of Coalition for Better Ads Initiative
by Sonja Kroll on 27th Oct 2017 in News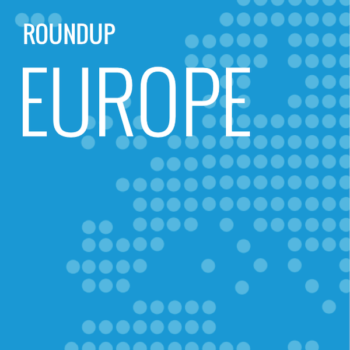 ExchangeWire rounds up some of the biggest stories in the European digital advertising space. In this week's edition: Ad viewability score in UK improves; BVDW calls for European Chapter for CfBA; S4M and IAS partner; Digital bus ads by Exterion; YOC Q3 figures; and Iotec implements ads.txt.
UK ad viewability figures are increasing
Minimum viewability standards, as defined by IAB and MRC, are increasingly reached by UK ads. In Q3 of 2017, the proportion of banner ads served which met the minimum viewability standard, has grown from 51% to 52%, according to the quarterly benchmark report from ad-verification company Meetrics. In the previous quarter, the ad-viewability score had already grown from from 47% to 51%.
Anant Joshi, country manager UK & Ireland, Meetrics, stresses that even the increase by one percent is significant: "Yes, the latest rise is small, but its directionally very significant. For the first time, there's a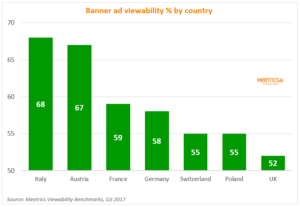 consistent positive trend, which is a sign that efforts to increase viewability are bearing fruit. A driving factor is that some agency groups are starting to demand a higher percentage of an ad's surface area to be in-view, which is making the sell side improve the quality of their ad placements."
However, viewability figures in other European markets are better than in the UK: highest viewability figures were recorded in Italy (68%) and Austria (67%). Switzerland and Poland (both 55%) also rank before the UK.
German digital industry bodies critical of latest Coalition for Better Ads initiative
Last week's open letter from US associations 4A's, ANA, and IAB US arguing for a central 'Better Ads Experience Program' has been received with criticism by the German industry bodies BVDW and OWM.
The bone of contention: The Better Ad Experience Program would act indirectly as a gatekeeper for online advertising formats worldwide. However, the Europeans object to being centrally controlled, certified, or monitored by a board based in the US, and the German industry bodies are particularly critical of any cost-based certification operated from the USA.
Instead, BVDW and OWM are proposing to establish a 'European Chapter' of the CfBA, which will pool regional expertise, implement independent decision-making processes, and establishment of an independent budget.
BVDW vice president Thomas Duhr believes that the interests and requirements of the European markets have not been taken into account by the coalition. A process that has been established by the Americans on their own, is not the right approach when trying to develop solutions that will apply in any market all over the world: "Europe's regions differ significantly from one another in terms of their cultural perception and their perception of advertising. These differences must be taken into account."
OWM chairwoman Tina Beuchler adds: "We can't allow for gatekeepers to be established, which – even if they act with the best intentions – could exploit their leading position at a later date. The common goal is too important for that."
Mobile campaign viewability measurement by S4M & IAS
A new partnership between S4M and Integral Ad Science: even though S4M is already accredited with the MRC for served impressions, clicks, landings, app opened and installs, the full stack programmatic platform Fusio is now integrated with viewability measurement by IAS. Measurement can be accessed via the FUSIO campaign dashboard.
Why does S4M need another measurement option? "Viewability is a critical concern in mobile campaigns. Despite the fragmented digital landscape, one of the biggest concerns for brands today is the need for unified and impartial metrics to evaluate their mobile campaigns. We are confident and committed to high-quality mobile campaigns for our clients. So, as a technology provider, our priority is to provide marketers visibility and flexibility in their campaign measurements. Our partnership with IAS provides brands with unbiased campaign performance insights so they can stay ahead of the competition and be sure to achieve true ROAS with S4M's technology", Christophe Collet, CEO, S4M, tells ExchangeWire.
Speaking with ExchangeWire, Nick Morley, managing director, EMEA, Integral Ad Science, agrees that reliable and validated metrics are the foundations for efficient and impactful mobile campaigns: "Viewability is becoming a must-have standard in the mobile market, as is the case for desktop campaigns today. Integrating viewability measurement is a trend where we will see other players from the mobile ecosystem follow suit. As mobile advertising is fast becoming the channel of choice with consumers and advertisers, it is essential to provide greater viewability insights for mobile advertising."
A new channel: digital bus ads
Exterion Media and Talon are launching a new digital ad channel: Digital screens on buses will display geo-targeted messages to audiences in London. Sophie Pemberton, strategy director at Talon: "Digital buses provide a brilliant opportunity to create a brand new digital channel that can deliver both broadcast and smart messaging throughout central London."
Dave King, MD, Exterion Media, believes that the new geotargeted bus ads are the way forward: "This is a huge moment for bus advertising; the product delivers stature, movement, scale, dynamism and geotargeting – offering a whole new dimension to broadcast and narrowcast through this hugely attractive channel."
With the new ads, Exterion Media is emphasising its focus on data, connectivity, and audiences in the run-up to the launch of a new ad product that will work like a full-motion digital network on the London Underground.
YOC's UK subsidiary pushes revenue growth
Not least due to YOC's UK subsidiary, the group's Q3 revenue is expected to increase by 22%. According to the preliminary figures, from the Q3 financial report, YOC generated €3.3m in this quarter. A good omen for further consolidation: "We expect a further improvement in profitability for the final quarter of the year", says Sebastian Bauermann, finance director, YOC.
Programmatic is at the heart of YOC's revenue growth: looking back at Q2, YOC's profits increased by 37.4%, a third of which came from its programmatic business. "The demand for programmatic ads in the UK has accelerated, resulting in our product sales increasing to unprecedented levels across the entire UK portfolio," says Oliver Gold, YOC's UK managing director. "The business has developed into a truly programmatic-first, mobile monetisation platform, and YOC programmatic product capabilities sit at the tip of the spear of custom innovation."
In the UK, YOC recorded a 91% growth in business, compared to 2016. YOC programmatic sales increased from 29% in 2016 to 70% in 2017 with an overall growth of 130%.
iotec implements ads.txt
After receiving certifications from JICWEBS, and proving brand-safety compliance according to IAB's Gold Standard, iotec is tackling digital ad fraud by supporting ads.txt.
The IAB-approved filing system, that includes name lists to facilitate approving publishers' inventory, prevents ad misrepresentation and unauthorised resellers. For iotec advertisers, that means the media-buying platform will only purchase inventory from ads.txt-approved resellers, where publishers support the initiative.
Paul Wright, CEO, iotec, tells ExchangeWire that the move is part of a wider plan to create a trustworthy, transparent, and safe environment for advertisers: "Our aim is to continue to be a trusted partner for our clients by doing everything we can to ensure their money works effectively. We have championed transparency in media buying since our inception, and we believe that includes transparency on whether your ad is going to appear where it was supposed to, and on whether the seller is authorised to be selling that inventory. In this way, we know that we are only buying legitimate inventory that has not been arbitraged by third parties." Wright is also urging the industry to act proactively in order to regain media buyers' trust: "Whilst the industry is working to address these trust issues with great initiatives such as the IAB UK's 'Gold Standard', we feel we should proactively protect our customers as soon as we can."