Call for Ad Quality Charter; adsquare & Adobe Join Forces
by Sonja Kroll on 10th Nov 2017 in News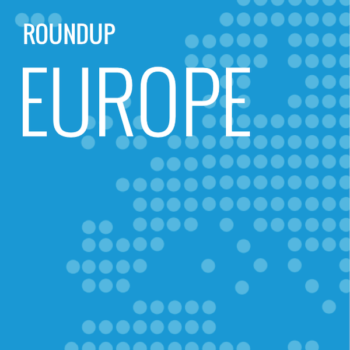 ExchangeWire rounds up some of the biggest stories in the European digital advertising space. In this week's edition: AOP's ad quality charter; adsquare partners with Adobe; iotec's Mobile Transparency Report; Ad fraud alliance between Vidstart and Forensiq; DPRI revenue decreased in Q2; and evania video and Protected Media team up to tackle ad fraud.
AOP calls for voluntary commitment to ad quality
At their recent digital publishing convention, the Association for Online Publishing launched their ad quality charter, aimed at improving the advertising ecosystem. Taking into account issues such as ad fraud, brand safety, and viewability, the charter is a voluntary self-commitment for participants in online advertising and provides benchmarks on the issues that are currently discussed in the industry.
What prompted the AOP to come up with the charter? Richard Reeves, managing director, AOP, tells ExchangeWire that the time for merely talking about the issues is over: "We are all too aware of the recent challenges that have faced the digital publishing industry, and it's time for all parties to not only assume responsibility, but to take action to fix them. Premium publishers have always been subject to regulation and delivering high-quality, engaging content to their audiences. We now need to formalise a commitment from the sell side and the buy side to seek the highest possible standards that don't just meet existing industry requirements – but that go above and beyond. Within the charter, we propose that the industry agrees to ethical trading standards and improved media verification, and suggest a number of ways to move this forward, making sure action is taken and not just talked about."
After consulting on the charter with AOP members, trade bodies, consultants, and steering groups, the AOP is now hoping to involve more industry players in making the advertising ecosystem more transparent, brand-safe, and less fraud-prone. "Following feedback and research, we are now in a position to open the discussion more widely and present a draft of the Ad Quality Charter", says Reeves. "We actively welcome input from all sides of the industry as we strive to collaborate and put in place better processes and working practices. We recommend members sign up to the various JICWEBS standards products, and we have pledged to publishers that we work concurrently with the JICWEBS board to deliver best-in-class standards, through a transparent supply chain."
adsquare teams up with Adobe Advertising Cloud
Advertisers at Adobe Advertising Cloud can soon leverage new mobile audience data thanks to a new partnership between Adobe and adsquare. The integration provides access to ad inventory across all formats and devices for multichannel campaigns and will be available to all adsquare and Adobe Advertising Cloud clients across EMEA and the US.
"With video quickly becoming the king of content consumption, relevance and flexibility become even more important for engaging mobile-first users at the right moment. To have impact, marketers need an abundance of contextual data about their target audiences", Ted Smith, adsquare's new VP sales for the US, tells ExchangeWire. "With this in mind, our integration with Adobe Advertising Cloud allows brands and advertisers to scale their digital video and display investments by improving efficiencies and delivering target audiences at scale."
Suzie Brown, senior business development manager, Adobe Advertising Cloud, adds: "Advertising on mobile is all about relevance, and data is at the very heart of this. Thanks to our partnership with adsquare, our clients receive access to rich audience data at scale, enabling them to create precise and effective campaigns."
Ad fraud biggest worry for marketers
iotec's latest Mobile Transparency Report finds that ad fraud is currently the biggest concern for marketers in the UK. In a survey of 500 UK-based marketers, 49.6% identified ad fraud as the leading concern, while 50% are "very concerned" and 41% "somewhat concerned" about fraudulent advertising. Ad viewability is the main concern for 28.7% of marketers. Paul Wright, CEO, iotec, comments: "Ad fraud continues to dominate the conversation surrounding digital advertising as we head into 2018, and I don't expect it to quiet down."
Mobile programmatic is still considered a closed book by many marketers. A third of the participants of the survey find dealing with mobile programmatic as complex as on desktop, and 41% even consider it more complicated than desktop. However, almost two-thirds (61%) of those surveyed are planning to increase spending on programmatic mobile within the next 12 months.
Transparency remains a hotly discussed issue within the industry, according to the report. The majority of marketers choosing new ad tech providers are doing so on the basis of their current or prospective ad tech provider's transparency record. Other reasons for changing ad tech providers are questions over pricing, media placement, use of data, and optimisation.
evania video & Protected Media join to fight ad fraud
German publisher-management platform evania video has just announced the integration of Protected Media's digital security technology. The partnership equips evania video with Protected Media's cyber security tools, fighting fraudulent traffic.
"Our ongoing commitment to maintain the highest standards of inventory quality has lead us to partner with Protected Media. We look forward to using their protective solutions to help us ensure that we continue to meet and exceed the highest industry quality standards", says Oded Shoham, CEO, evania video.
evania is particularly active in the DACH market. Is ad fraud as big a problem there as in the UK or the US? "The fraud rate in Germany is still relatively low, compared to the other markets", Shoham tells ExchangeWire. "However, as programmatic video ad demand and traffic in Germany is expected to increase significantly in the next few years, there will also be a higher risk of fraudsters getting more active in the German market. We believe it is in the interest of everyone in the industry to fight against fraudulent strategies, bots, and cyber crimes."
Video advertising fuels revenue growth
According to the latest Digital Publishers Revenue Index (DPRI), video advertising and paid-for content are the way forward for the monetisation strategies of digital publishers. The quarterly report finds the total DPRI revenue falling by 6.4% year-on-year. Less than one-third (32%) of publishers reported growth in Q2 2017.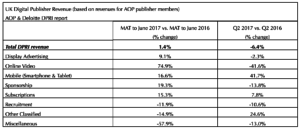 However, smartphone advertising continues to experience healthy growth numbers, says Dan Ison, lead partner for media and entertainment, Deloitte: "Despite macroeconomic uncertainty leading to a fall in confidence, the UK's publishers should be pleased with their ability to adapt to changing consumer behaviour. Smartphone digital advertising alone has seen quarterly revenue growth increase by 42% since Q2 2016, illustrating that publishers are successfully monetising from smaller screens."
Richard Reeves, managing director, AOP comments: "This research has put a spotlight on the way publishers are adapting their growth priorities to keep pace with industry innovation. Content producers are retaining a focus on key advertising areas, such as mobile and video, but also expanding their revenue-generation strategy by developing areas such as sponsorship and subscriptions."
The DPRI is based on a survey of 19 UK digital publishers, comparing revenue levels across multiple channels and platforms.
Partnership between Forensiq & Vidstart against ad fraud
Vidstart wants to reduce ad fraud by partnering with Impact Radius subsidiary Forensiq. The ad platform is integrating Forensiq's fraud-detection technology in a bid to improve quality and protect advertisers from bot traffic. "Nonhuman traffic is a serious concern for the industry. Ultimately, if an ad isn't reaching a real person, then there is zero value to that marketing spend", says Mark Wrighton, VP EMEA, Impact Radius and Forensiq.
According to Vidstart, the integration with Forensiq has already shown reductions in post-bid scores, resulting in new client wins. Maor Sason, COO and co-founder, Vidstart, attributes the successes to improved transparency: "The whole advertising trading chain should be focusing on being as transparent as possible. In a macro perspective, it's the main incentive for us all in order to make a free and safe market, without any concerns in terms of inventory quality. Transparency allows businesses to scale up properly (avoid slow pasting), minimise​ adverse selection, and save transaction costs."