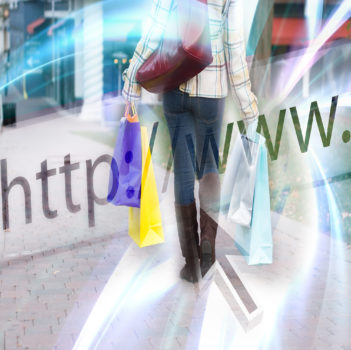 Across the globe, offline FMCG retail and e-commerce are on a collision course to create a new converged reality. Amazon's multibillion-dollar acquisition of Whole Foods is leading the charge, with Alibaba's investment in Indian grocer Bigbasket likely to be in hot pursuit. Paul Maraviglia, general manager, Europe, at MaxPoint, writing exclusively for RetailTechNews, explains why data is so important in the world of FMCG retail.
Traditional FMCG retailers are responding by investing in their online shopping services, with Walmart Grocery (a click-and-collect offering that was relatively insignificant two years ago) now accounting for over a quarter of all Walmart's US e-commerce sales. In the UK – where online grocery sales have reached 7.3% market share – even M&S is overcoming its long-held reluctance and talking to potential partners about an online grocery delivery service.
But to survive and thrive in this new converged reality, brick-and-mortar FMCG retailers need to do more than invest in online shopping. Consumers don't just want more methods to shop; they want to be better understood and to enjoy a frictionless shopping experience across all channels. Brick-and-mortar retailers must evolve to meet these expectations.
The foremost advantage held by e-commerce platforms, such as Amazon, is an unprecedented level of consumer insight. They know exactly how users behave on their sites – when they log in, what they look for, what they ultimately buy and what they choose to leave behind. This deep insight allows for personalisation of the shopping experience, offering product recommendations, special offers, and purchasing options designed to appeal to individual shoppers.
To remain competitive in a world of retail convergence, brick-and-mortar retailers need the same level of customer intelligence as their e-commerce rivals, generating insights that can be used to inform and enhance the customer experience. This means investing in emerging technologies that bridge the gap between the digital and physical worlds, and connect the online and offline touchpoints of the consumer journey.
Here are just a couple of ways brick-and-mortar FMCG retailers can utilise data to inform and improve the shopping experience:
In-store data
FMCG retailers can discover how their customers behave in-store using a combination of sensor technology and analytics. Privacy-friendly sensors detect in-store activity as it happens and allow retailers to understand the different paths customers take around the store, and the areas where they spend their time. Using the near-real-time insights generated, retailers can optimise layouts and product placement for individual stores, avoiding friction points, such as excessive queues at the checkouts or areas of the store where customers linger without buying.
In addition, by analysing visitor volume and frequency to identify busy times and determine how often customers visit, retailers can establish the optimum product and staffing levels to deliver the ideal shopping experience at individual stores – increasing customer satisfaction and loyalty.
Out-of-store data
Data relating to the neighbourhood surrounding a store can be used to give retailers an in-depth understanding of each store's customer base. Real-world data points, such as life stage and socioeconomic demographics, interests, spend levels, purchase history, and purchase intent indicators, can be gathered at household-level. These can be used to build up detailed customer profiles, allowing more relevant and personalised interactions, as well as empowering retailers to provide the optimal product mix.
Marketing measurement
In-depth consumer data helps retailers assess the impact of their marketing activities. This includes understanding how their advertising, both online and offline, drives real-world visits and sales, or identifying how in-store promotions affect conversions. Marketing measurement data that enables closed-loop shopper analysis from intent to purchase allows FMCG retailers to make smarter business decisions and increase ROI on marketing spend.
The convergence of brick-and-mortar retail and e-commerce is inevitable in the FMCG vertical. What is less certain is whether traditional retailers will survive. Only by using data to gain an in-depth understanding of the consumer, and using this to deliver a frictionless, personalised experience that matches or exceeds those delivered by e-commerce platforms, can offline FMCG retailers hope to prosper.This content was originally published in RetailTechNews.