Bull vs Bear: Is Blockchain the Future of Ad Tech?
by Lindsay Rowntree on 27th Apr 2018 in News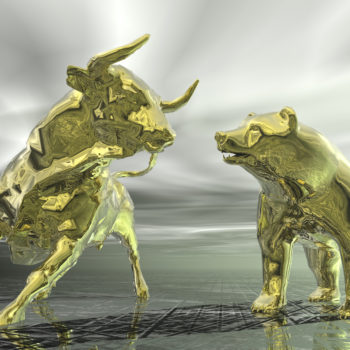 There is a lot of talk about blockchain having the potential to disrupt industries ranging from agriculture to online dating and, yes, advertising too. Johannes Heinze (pictured below), MD international, AppLovin, has even made the case that blockchain might be the future of mobile advertising. That said, there's a lot of irrational exuberance and misunderstanding about blockchain technology going around. Writing exclusively for ExchangeWire, Heinze brings two different viewpoints on what blockchain can actually do for the industry.
To help clarify the discussion, what follows is my best attempt at presenting the most credible, buzzword- and jargon-free representations of both the bull and the bear cases for the future of blockchain and ad tech.
The bull's view
Let's quickly go over how blockchain works. Blockchain is built on a distributed database rather than a central server, and each linked block of data has a unique timestamp, making it an ideal technology for peer-to-peer transactions and exchanges, such as a programmatic ad market. Because blockchain transactions are entirely digital, they are transparent, making them attractive to both the buy and the sell sides of the programmatic market.
Blockchain programmatic also involves fewer parties and settlements that are near-real-time. This is very meaningful for developers forced to wait weeks, or months, to receive ad payments and who also want the increased transparency that blockchain offers.
MadHive, EnvisionX, Ternio, and Bitcasts are a few early entrants that are finding ways to create and incentivise programmatic ad markets. Kochava launched its blockchain digital ad platform, XCHNG, with the goal of increasing transparency between buyers and sellers.
Combined with the evolution of AI, the opening of secondary data markets, the advent of new ad formats (programmatic for voice-activated assistants, programmatic for dynamic insertions into podcasts, programmatic for in-app video AR), and growing demand for ad inventory in developing markets, including India and China, it's easy to see how demand and inventory for blockchain-powered programmatic ads could soar in the coming years, if and when these new channels achieve scale.
The bear's view
Because transactions and changes must be recorded in each node of the blockchain, blocks get very big, very fast. As a result, storage demands increase proportionally, driving huge power consumption, which comes with greater expense and environmental outcomes, but this will be resolved as the technology progresses.
And, because the nodes are plentiful and so quick to grow, yet functionally separate, it takes significantly longer to process a blockchain transaction than a 'normal' programmatic ad. While traditional programmatic ads can conduct millions of transactions per second, blockchain can only achieve about 2,000 transactions in the same time, though companies are already working around this. From a broader perspective, there is concern with the potential for fraud in blockchain's most obvious application: cryptocurrency. In the last 10 years, about 20% of all bitcoins have been stolen or hacked.
Another very real concern is that less-than-reputable entities will flood the blockchain programmatic market early on. This, in turn, will create trust barriers that prevent early adopters from returning to the market, and conservative players from ever entering it. As Kai Stinchcombe, founder and CEO at True Link Financial – a staunch critic of blockchain computing methods – wrote on Medium: "Blockchain systems do not magically make the data in them accurate or the people entering the data trustworthy, they merely enable you to audit whether it has been tampered with... in fact they are the least trustworthy systems in the world."
Last but not least, there is no good existing model for marketers and developers to understand optimal KPIs in blockchain programmatic. These KPIs will be influenced by slower performance and other technological differences, compared to those in traditional programmatic advertising. Globally, very few major buyers have interest in spending big on technical solutions absent proven use cases; and that's exactly what blockchain for programmatic is.
Both sides now
With publishers and advertisers seeking to increase margins and simplify the buying and selling process, the freedom offered by blockchain methods could dovetail nicely with the broader evolution of programmatic ads, but that is far from a given.
Big questions still remain, like will blockchain-powered transactions ever go mainstream and, if so, what will the long-term impacts of that evolution be on traditional programmatic markets? Will blockchain programmatic CPM rates universally deflate in order to compete?
It's impossible to know the answers to these questions at this point but, on balance, blockchain-powered programmatic ads, which are already a reality today, seem poised to shake up traditional programmatic advertising.
Bear or bull, it's an intriguing market.