Captify & Forward Release New Research Revealing the Consumer Trends Propelling the Travel Industry Today
by ExchangeWire PressBox on 7th Apr 2022 in News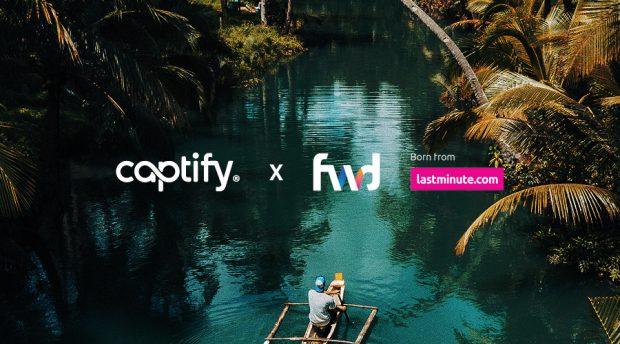 Captify, the global leader in Search Intelligence, and Forward, the media and marketing arm of lastminute.com, the European Travel-Tech leader in dynamic holiday packages, have teamed up to reveal market-changing travel trends across the UK and Europe, driven by macro-level shifts triggered by the pandemic.
Through a combination of their unique data sets of billions of onsite searches, collected across six European markets, and transactional booking data from lastminute.com's network of websites, the research illustrates changes in behaviours and emerging audiences that will shape the future of travel.
Travel brands are emerging from a volatile two years and are faced with complex challenges as they seek to re-engage consumers who have not travelled in years, and whose behaviours and preferences have undergone massive shifts. Brand marketers need to know how they should be adjusting their strategies to reach the same consumers as they did pre-pandemic. They also need to be able to uncover opportunities to communicate with new audiences that have emerged, as a result of behavioural changes. The combination of intent-driven search data, and transaction data creates the ultimate truth set for today's traveller.
Key trends and findings include:
A critical emerging audience,

Sustainable Travellers

, has grown by more than 8.3X in the UK and 3.4X in the EU. This group is actively seeking more information on eco-travel, zero waste travel, eco, and green accommodations, carbon offsetting, etc. 

Another high-growth audience,

Wellness Seekers

, has surged across both the UK and Europe—with a 10.7X and 3.2X increase, respectively—fuelled by a growing generation of travellers looking to integrate wellness into their trips

Changing restrictions and reduced flexibility triggered

last-minute trips

, between  2020 and 2021, last-minute trips surged for travellers, with flight bookings made less than up to 2 weeks in advance growing from

25%

to

42%

of total flight bookings in Europe

Extended trips

are also a major new trend, with stays of 3-4 weeks and 1-3 months increased by

25%

for European travellers and

40%

for UK travellers. 
"The travel industry has gone through a massively disruptive couple of years, and we've been dedicated to sharing what we saw happening across Europe as it unfolded with travel and leisure brands, guiding them through uncharted territory. This research is the latest example of that, empowering brands to truly see how travel behaviour has evolved and pinpoint the emerging insights and trends that are driving travel right now,' said Giacomo Giuriani, european director at Forward.
"It's key for publishers and advertisers to have access to datasets that complement their own first-party data, and Captify's dynamic search data has been an important part of our strategy. Understanding broader consumer trends happening outside of your own world, from macro-level market shifts to a granular understanding of intent-led behaviours, is critical, especially when this type of data will become increasingly rare post-cookie."
"This research comes at a pivotal moment for the travel industry, as consumer confidence is reaching pre-pandemic levels, and advertisers need to be hyper-focused on listening to consumers' signals of intent, in order to adjust to their new wants and needs, and stay ahead of competitors," said Fiona Salmon, global vice president of Partnerships.
"Forward was a natural research partner to join forces with. We share a dedication to turning our data into actionable insights for brands to navigate market challenges, create strategies that reflect true consumer demand, and deliver plans that will move their businesses forward."
Data methodology
Forward's Travel Intelligence Unit analyses the search and booking flow coming from lastminute.com's network of websites on a daily basis. Aggregating, processing, and storing first-party data information within the protected environment of our Group's Data Warehouse. This report has been generated with a focus on outbound travel from main European countries throughout 2021, across multiple online travel products and data dimensions.
Captify's onsite search data has been collected across six markets (UK, France, Germany, Spain, Italy, and the Netherlands) between January 1 2021 to January 31 2022, based on 24bn+ monthly searches across premium publishers.
Download the research in full here.

Captify
Captify is the leading Search Intelligence Platform for the open web and the largest independent holder of search data outside of the walled gardens, connecting the real-time searches from over 2 billion devices globally.
Its Search Intelligence t...
Powered by PressBox
DataHolidaysMarketingStrategyTravel