ARM is like ERP for the advertising industry: a strategic necessity in orchestrating and automating processes to cut spend and boost impact.
The advertising landscape is more complicated today than it has ever been. Advertisers have been forced to adapt to a changing world, one where they have to juggle infrastructural changes with managing their resources to reach their marketing goals – a feat made more challenging in the current economic landscape.
The need to make assets go further has given rise to a new technological solution: Advertising Resource Management (ARM). ARM is a category of marketing technology that focuses on helping organisations consolidate their resources, their processes, workflows, and information into a single system to better support their advertising operations.
MINT.AI has produced this Deep Dive in partnership with ExchangeWire. MINT, the global leader in Advertising Resource Management (ARM) Software as a Service (SaaS), operates from its offices in Milan, London, Paris, Berlin, and São Paulo. Global brands like Mastercard, Coca-Cola, Stellantis, WesternUnion, and P&G trust MINT to manage their advertising to its full potential.
In this Deep Dive, we'll outline how ARM can help agencies and brands to overcome some of today's most urgent challenges and to achieve greater transparency, governance, and efficiency in advertising.
Growing complexity challenges for advertisers
The principal challenge in advertising today is rising complexity. Mastering the increasing flood of data is clearly critical, but that data is typically spread across multiple systems or held in inaccessible external silos (such as spreadsheets, presentations, emails, dashboards, media buying platforms, search, social, and sales systems).
Data quality: according to Marketing Evolution, 54% of companies see data quality and completeness as the biggest challenge in data-driven marketing. In advertising, most professionals must hunt through a mass of spreadsheets, email threads, and other unstructured data sources to find the information they need.
Navigating cookie deprecation: Forrester reports that 99% of marketers are struggling with data deprecation caused by the demise of the third-party cookie. This 'cookie chaos' is making it even more complex for advertising professionals to plan, execute, measure, and optimise campaigns, as well as creating significant concerns about future practices.
Tighter budgets: according to Gartner, 2021 saw average marketing budgets drop to 6.4% of corporate revenues, the lowest level in modern history. Growing financial constraints require everyone in the advertising industry to boost efficiency and do more with the same resources.
The fragmentation of media
Not only has the media landscape become more complex, but it is also becoming more and more fragmented. Media planning and buying take up far more time now that the channels on offer are so numerous and diverse. And despite increasing levels of automation and process discipline in other professions, advertising execution remains highly manual.
ExchangeWire talks of "an age of extreme fragmentation" in which advertisers have more choice in media than ever before, including: retail media; ad-funded streaming options; walled gardens in audio, OOH, gaming and social; search; the open web; data-driven TV; TikTok; and the Apple and Android ecosystems.
Time for a new approach
Facing unprecedented complexity and fragmentation in both media and technology, the advertising industry finds itself at a crossroads. If the industry is to continue being able to operate and understand performance across all channels, a completely new approach is required.
Moreover, while sales and marketing teams can use integrated CRM systems to manage known prospects and clients, until now there has been no equivalent solution category to manage advertising to unknown prospects and clients. As a result, advertising professionals have been stuck doing menial, manual tasks, rather than focusing on higher-value strategic work.
With so many ways to advertise, professionals need a way to orchestrate and streamline their resources.
How does Advertising Resource Management (ARM) help?
ARM helps brands to gain more autonomy over their advertising efforts by enhancing the media buying process, specifically around governance, transparency, and efficiency. ARM can drastically improve the governance of the process by providing an end-to-end multi-channel campaign transparency while eliminating manual tasks (which are often error-prone due to the increased complexity of omnichannel campaigns). The automated nature of ARM frees up time for more strategic thinking whilst ensuring that campaign budgets are used as effectively as possible.
By streamlining and automating tedious manual tasks, ARM releases skilled professionals to focus on higher-value strategic objectives, creating significant operational efficiencies. And with real-time visibility of the entire advertising process, ARM empowers organisations to focus on raising the business value of advertising.
For decades, finance and operations teams have had Enterprise Resource Planning (ERP). Sales and marketing teams have had Customer Relationship Management (CRM). And finally, advertising teams have ARM to manage end-to-end workflows.
The benefits of using ARM:
Improved control and governance of media spend
A single source of truth for all campaign data
End-to-end visibility and transparency
Workflow management and collaboration for enhanced process efficiency
The backbone of ARM
ARM manages the entire end-to-end process of advertising, connecting all resources and information across internal and external processes. With a comprehensive set of functional components sharing the same data, its users all see the same single version of the truth and can trace activities from start to finish.
As shown in the honeycomb diagram, the universal process flow for offline advertising can be summarised in five key elements: strategy, planning, activation, insight, and administration (represented by the black hexagons in the diagram). Digital advertising typically adds two more elements: trafficking and optimisation.
To complement the core processes and allow for integrations, the ancillary processes are required (shown as white hexagons in the diagram).
The ARM process should begin with the right Strategy, where the budgets, objectives, and KPIs, across multiple media channels are set.
The next step is Planning, where media plans based on the set strategy are created. If the step is supported by AI, it will forecast outcomes and support better-informed decisions around media budget allocation. This should help brands allocate budget more adeptly and forecast ROI based on their own historical data.
Planning is followed by Activation, which should provide streamlined multi-channel campaign launch capabilities and where automation allows different ad tech and media platform configurations to be gathered within a centralised layer.
Trafficking is traditionally the most time-consuming, labour-intensive, and low added-value step, requiring a multitude of small actions that amount to significant effort. Automation through ARM takes care of this.
Once the campaign is live, Optimisation should be used to evaluate each campaign's budget adjustments and reallocations. Live campaigns need constant review and maintenance to perform better. If this step is supported by AI, in-flight optimisation would be achieved by putting all the different channels into correlation.
Next, advertisers would need to have access to real-time campaign results, which would be reflected in the Insight step of the process. This is where the dashboards and data exploration capabilities are available. Insights are all about transparency around return on ad spend (ROAS).
And the final step of ARM is Administration. Here, all financial discrepancies would be automatically detected and rectified. A campaign's life doesn't end until its related invoices have been archived and financial reconciliation has been achieved.
The ARM process criteria
There are five must-have criteria that define the process of Advertising Resource Management:
Resource management
Multi-platform integration
Media-buying neutrality
Multi-channel activation
Scope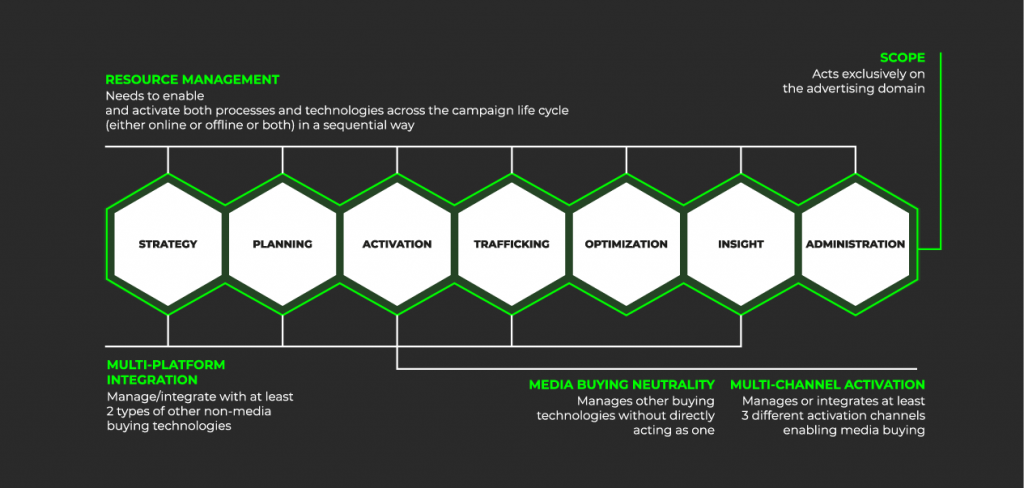 The main benefit of adopting ARM: building your advertising equity
Advertising equity is the information asset produced over time by the sum of all the data generated by the various technologies, models, processes, configurations, platforms, and media related to advertising campaigns. Today, it is scattered throughout different silos, making it impossible for companies to exploit it.
It is critical for brands to understand that without the ARM process in place, information assets remain scattered across emails, spreadsheets, presentations, sales houses, buying platforms, and beyond. The only way for a brand to build advertising equity is to have all information assets stored in one place on a software, where it gets "normalised" and processed by algorithms and automations. Furthermore, with ARM, brands can understand their past performance even after switching agencies.
There are two main advantages to this approach:
The ability to retain this information virtually forever, as it will not be 'drained' when staff leave or the company changes agency;
The exponential improvement of advertising performance and the achievement of process efficiencies thanks to the algorithm and automation that improve themselves or "learn" the more data is being fed into them.
And finally, with ARM, all participants in the advertising life cycle have the same comprehensive view of spend and performance over time, and the same access to unlimited channels and possibilities from one place.
Conclusion
Advertising Resource Management (ARM) enables the advertising workflows of the future, using aggregated and statistically approached information assets rather than data to power better decisions that increase media-buying efficiency and boost ad impact. Accurate, real-time reporting proves the value delivered by advertising, and deep-dive analytical capabilities build in-house intelligence to steer future strategy.
ARM enables organisations to assess returns from advertising more accurately even as media fragmentation increases. This is vital, because there are so many options today that it's hard to know if an agency is recommending the right mix.
Combining big data with process automation, ARM helps agencies manage more of their budget per full-time equivalent (FTE), improve the acquisition and retention of clients, and enhance their reputation. For brands, ARM helps deliver strong incremental ROI on media investments, and accelerates both execution and decision-making. And for everyone in the industry, ARM reduces time spent on low-value daily operations, which boosts efficiency.
The brand perspective
To better understand the landscape that ARM will benefit, we spoke to Giovanni Brusetti, director, digital marketing and product management at Johnson & Johnson; Sabrina Rodriguez, global head of digital marketing at Ericsson; and Rajesh Sukhwani, global in-housing media, ad-tech and data COE director at Lenovo, about how their respective brands are managing resources and the challenges they are facing. 
How do you control and de-risk your advertising strategy and media buying?
Giovanni Brusetti, Johnson & Johnson: There are two major challenges with media strategy controls: data and process. From a data perspective, a large advertiser consolidates metrics from multiple media channels to make smarter omnichannel decisions and media planning. From a process perspective, you need to be able to ensure smooth content creation and approvals internally and with agency partners to drive efficiency and speed of response.
Sabrina Rodriguez, Ericsson: Unfortunately there's no single silver bullet, however we're actively looking to evolve our Ad Verification and ownership strategy at the moment, ensuring we're maximising reach responsibly and embedding more streamlined, efficient, and consistent verification methods. Diversification of media spend across programmatic versus direct (where strategically relevant) is also worth considering.
Rajesh Sukhwani, Lenovo: At Lenovo, we invest a lot of time in strategising our advertising and media buying to make sure we're getting it right, especially in an increasingly complex and fragmented media and ad tech landscape. We continue to pilot new approaches, drive new partnerships, fine-tune, and optimise for better outcomes, and here are some of the best practices that we've learned along the way:
1. Define and set clear campaign KPIs, including figuring out which outcomes for the campaign will minimise risk.
2. Invest in thoroughly understanding your target audience and user-journey to reach the right people with your message.
3. Design a media investment strategy that is a healthy balance and spread of media partners
4. Automate with technology as much as possible.
5. Collect learnings, analyse, and compare. An example of a new approach, Lenovo partnering with a data cleanroom provider and a strategic publisher to test and learn new audiences.
What issues persist within advertising when it comes to transparency, in terms of the agency communications, campaign management/optimisation, and brand visibility?
Giovanni Brusetti, Johnson & Johnson: You want a brand manager to be consumer-obsessed and not obsessed with admin overhead. The reality is that many brand managers get drawn into admin work when it comes to building creatives, updating media planning Excel files, and emails with multiple providers (creative agency, internal product teams, media buying partners, etc). Automating and optimising the planning, content, and execution processes in media is key to unlocking amazing brand experiences.
Sabrina Rodriguez, Ericsson: The reality is the media supply chain is complex, hence the need for more 'Swiss Cheese' strategies, applying multiple layers of checks and verification methods to ensure brand safety and minimise ad fraud. That complexity makes transparency more tricky, but not insurmountable and something we're continually working on.
Rajesh Sukhwani, Lenovo: Some of the recurring and more widely persistent transparency challenges I've seen across the marketing industry include the disclosure of agency solutions; campaign-level set-up, targeting, optimisation, and insights; media supply paths; platforms and with programmatic – the loops between budget and publisher. That said, I'm optimistic that the industry as a whole is getting better at overcoming some of these with challenges. At Lenovo, our objective is to "join the dots," with all partners engaging with each other, from marketing teams to agency through to media and tech partners, promoting transparency and understanding of the ecosystem across all stakeholders.
What changes do you think need to be made to make the advertising ecosystem more efficient?
Giovanni Brusetti, Johnson & Johnson: On one hand, continuous iterations towards transparency in the auctioning, deliverability, and addressability processes is what will make programmatic preferable to cost-conscious and performance-focused advertisers versus walled gardens.
On the other hand, being able to manage its complexity is paramount. That's how Ad Servers were born, for example. To make it simple, we now need to optimise the processes that land a creative into the Ad Server via resource management to further boost how advertisers deal with this complexity end-to-end.
Sabrina Rodriguez, Ericsson: Agency partners need to ensure they are making it as easy as possible for their clients to not only understand the complexity of this ecosystem but to be able to keep track across each of those layers and checkpoints with integrated reporting and regular strategic recommendations.
Rajesh Sukhwani, Lenovo: In Lenovo marketing, we continue to pilot new things, tweak and fine-tune for better outcomes and greater efficiency all the time. Some of these things that have worked well include the standardisation of measurement and disclosure across the media supply chain, tighter collaboration across all key stakeholders, and stronger alignment on quality and content across the web.
Download Report