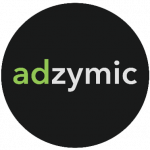 Adzymic - Dynamic Creative Platform
Categories:

Website:

Email:

Geography:

Location:

Specialism:
We can streamline our creative process and ensure our ads are constantly refreshed and personalised, thereby driving cost efficiency and ROAS.
Company description
Adzymic is an award-winning adtech company that is focused on simplifying the creative management process for brands and media agencies to deploy and optimize display campaigns on programmatic media platforms. Adzymic's next generation Dynamic Creative Management Platform transforms display advertising into high-performing interactive ad formats. Adzymic's proprietary Smart Tag technology automates the generation of personalised dynamic display ads at scale, without the need to maintain product feeds.