Adzymic Launches Smart Survey to Help Brands Rapidly Assess Campaign Effectiveness
by ExchangeWire PressBox on 29th Nov 2021 in News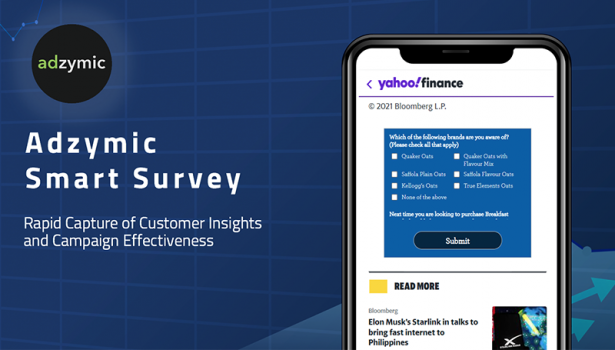 Adzymic, the ad tech company that provides AI-driven creative personalisation and innovation, have announced the launch of their Smart Survey solution. The new survey-based display ad format allows marketers to capture customer insights or take a pulse check on campaigns within a matter of days. It is easily setup on the Adzymic platform and banner ads containing the survey will run on programmatic display inventory, targeting specific audience groups. Results are tracked on the Adzymic dashboard giving insights to advertisers in real time. 
Pilot use cases of Smart Survey have included advertisers seeking to measure full-funnel campaign effectiveness, brand lift, third-party audience validation and audience insights. "As brands continue to  increase investments in programmatic media to drive awareness and purchase intent, we seek to provide a more cost-effective method to measure campaign performance beyond basic metrics like  clicks and impressions," said Travis Teo, co-founder and executive director, Adzymic. "Smart Survey offers the added advantages of allowing brands to run anonymous surveys that contain 2-3 multiple choice questions. The ads appear as native content on web pages and are relatively less intrusive." 
Mindshare India is one of the early adopters who has used the solution for their client, PepsiCo. Neha  Shrivastava, digital lead of the PepsiCo. Foods Portfolio said, "we had been looking for a cost-effective way to help our client gather audience insights and measure campaign effectiveness. Adzymic's Smart Survey offering met our requirement and the results have been very insightful. It has provided us with deeper insights for our media plans and we have rolled out the surveys across all PepsiCo brands." 
The Smart Survey solution is now available to advertisers in scalable packages, with self-serve options, creative supported packages, or managed services. Smart Surveys executed under managed services come with a guaranteed number of respondents to ensure significant results for advertisers.

Adzymic - Dynamic Creative Platform
Adzymic is an award-winning creative management platform that offers the latest innovations in rich media creatives for programmatic advertising. Our dynamic creative optimisation (DCO) solutions transform display banners into high-performing f...
Powered by PressBox
Ad TechAICampaignDisplayProgrammatic