Twitter Takes Aim At Facebook's Core App Install Business
by Ronan Shields on 17th Apr 2014 in News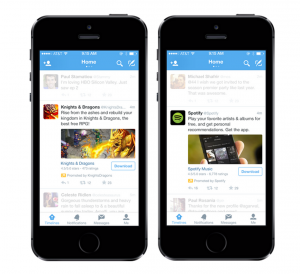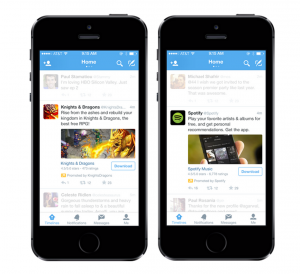 Twitter has lifted the lid on its latest mobile app install suite that aims to help advertisers drive downloads of their mobile apps both on- and off-Twitter, in a move that is set to compete with Facebook's core mobile proposition.

The announcement was made today (17 April) and means marketers will be able to marketers and developers to drive app installs and app engagements via MoPub Marketplace, with Spotify counting as one of the early beta partners for the project.

Twitter's app install suite lets advertisers run app install campaigns both on Twitter itself, while also conducting similar activity across mobile inventory available via the MoPub marketplace. Advertising campaigns that run across the Twitter Publisher Network are automatically translated into programmatic bids on the MoPub exchange,
A blog post announcing the development, by Kelton Lynn, Twitter, product manager, revenue, reads: "We have developed a full suite of targeting, creative and measurement tools to enable Twitter advertisers to effectively promote their mobile apps.
"These are being tested in a private beta, and you may have already seen some examples of these app promotions on Twitter. For marketers, this means a rich, native ad unit that combines the best of Twitter Cards and Promoted Tweets."
The suite has been tested in the US – other launch partners include Deezer, HotelKnight, GetTaxi, and Kabam – although no information was available on plans to introduce the service in Europe.
The announcement counts as the most significant announcement the social network has made with MoPub since it acquired the mobile marketplace in September last year, and will ramp up competition in the mobile advertising sector.
With over 50% of Facebook's revenues derived from mobile – and the vast majority of this coming from its mobile app install ad units – the launch is also likely to rack up interest in the 'mobile-social' sector.
Rich Pleeth, GetTaxi, VP of global marketing, said: "Twitter has jumped to be our number one acquisition channel, we couldn't be happier with the results of the Beta. The engagement rates are remarkable, not only have we seen stellar results, but we've learned some great insights."
Mobile advertising accounted for 72% of Twitter's net ad revenues worldwide in 2013, according to eMarketer, and that percentage is expected to continue to increase.
In 2013, worldwide mobile ad spending totalled $17.96bn overall, according to eMarketer, of which Twitter had 2.39% market share. This year, mobile ad spending worldwide will increase 75.1% to reach $31.45 bn, according to eMarketer, and Twitter will garner 2.65% share of global mobile advertising in 2014 on the strength of a 94.3% increase in net mobile advertising revenues, the research firm estimates.
Ad NetworkDisplayExchangeNativeProgrammaticSocial Media