AppNexus to Buy RealMedia to Step-Up LATAM Growth
by Ronan Shields on 15th Jun 2015 in News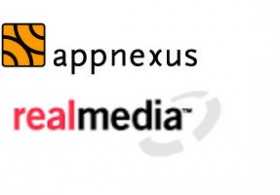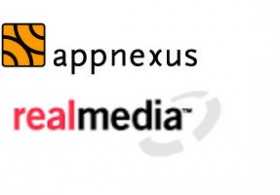 AppNexus is to purchase Brazil-based RealMedia Latin America (RMLA) for an undisclosed fee – bringing its acquisition-count to five in the last year – in a bid to further its share of the regional market; which is forecast to undergo triple-digit growth in the coming years. ExchangeWire assesses the local market's potential for growth, with original reporting by Gabriela Stripoli.

Neither party has shared the financial terms of the deal publicly, but the purchase of Sao Paolo-based RMLA will afford AppNexus the ability to accelerate its product rollout in both the Latin outfit's native Brazil, plus the region's sizeable Spanish language markets of Argentina, Mexico, and Chile.
RMLA, represents hundreds of websites, and claims to serve 150 million ad impressions per month in the region, and counts among its customer base some of the leading publishers in the region, including: Globo, Estadão, Walmart,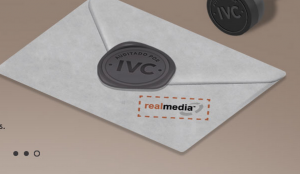 MercadoLibre, B2W, Yapo.cl, and El Universal Mexico.
Michael Rubenstein, AppNexus, president, said the move would build upon the company's already "strong commercial presence in Latin America", adding the purchase would also let it accelerate its growth in key parts of the region.
He later added: "Latin American buyers and sellers of online advertising need a state-of-the art technology platform if they're to build strong, independent businesses that can compete locally and globally. AppNexus is thrilled to join forces with RMLA and its outstanding team to bring our offerings to companies across Latin America."
Peter Gervai, RMLA, managing director, said the purchase amounts to a "major win" for the company's existing clients. He added: "This deal will enable them to access AppNexus' broad range of products, including the most advanced version of Open AdStream for Publishers and sophisticated analytics and forecasting tools like Yieldex."
AppNexus' acquisition strategy

AppNexus' latest purchase counts as its fifth in the past 12 months, with the company having also purchased viewability firm Alenty, publisher ad server Open Ad Stream, plus Yieldex during the period, with industry observers estimating its consolidation costs have amounted to hundreds of millions of dollars.
The press release announcing the latest purchase cites eMarketer numbers estimating the Latin American programmatic advertising market will be worth $8.27bn in 2017, with over 80% of the region's spend concentrated in Brazil, Argentina and Mexico.
John Barr, AppNexus VP and former COO of Yieldex, said the combined AppNexus/RMLA offering would be unique in the region, as there are "very few end-to-end ad tech platforms with global reach".
He added: "With the addition of RMLA's talented professionals, premier customer relationships, and local market expertise, AppNexus is unquestionably among that handful of major players."
Ad tech in LatAm

An eMarketer report, citing numbers published by IDC, published last year, claimed LATAM would only account for only 5% of total programmatic spend, and 4% of all spend generated through real-time bidding (RTB). (See chart below.)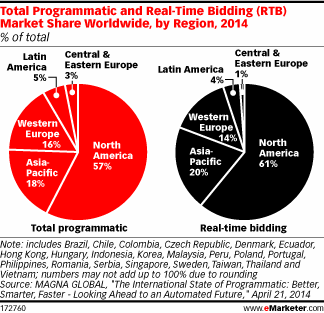 However, the same report forecasts rapid growth in the years ahead, in both Brazil (the region's leading market in terms of media spend), plus the rest of the region, with combined spend in the region forecast to near $110m by 2018 (see chart).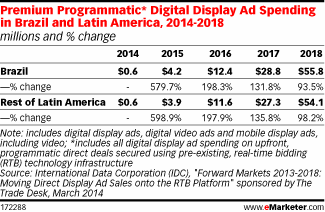 In addition, a Q1 2015 report from TubeMogul indicated that pre-roll auction prices in Brazil increased ten-fold in the previous 12 months, a vindication of its decision to open an office in the region in the last quarter of 2014, according to the firm.
AppNexus' purchase follows several high-profile moves from ad tech firms in the region, with AOL recently striking a deal with ROIx to bring its AOL One offering to the local market, plus the recent revelation from ExchangeWire.com.br that MediaMath is on the hunt for a head of marketing in the region.
This is compared to other companies in the sector that choose to headquarter their LatAm operations in Miami, such as Criteo which recently appointed Fernando Tassinari (formerly of Turn) to head-up operations out its office there.
Speaking earlier with Gabriela Stripoli, ExchangeWire, editor, LATAM, Jay Stevens, Rubicon Project, head of international (pictured), said the Brazil market was ripe for growth, despite its "local problems", such as issues around billing, and taxation.
He added: "Brazil is a case apart, with many details, as well as China, for example. In a demand-side platform (DSP), the rest of the world money flows across borders without limitation, and this is still a barrier in Brazil."
DisplayLATAMLocationMedia SpendProgrammaticPublisher