Facebook Revenue 10 Times Greater Than Twitter
by Rebecca Muir on 28th Jul 2016 in News
Facebook's average revenue per user is now USD$3.82 (£2.90); with 1.71bn monthly users, the social giant nets a cool USD$6.44bn (£4.88bn) in total revenue.
Yesterday (26 July) Facebook, Inc. (NASDAQ: FB) reported earnings for the quarter ended 30 June, 2016. Earlier this week (25 July) Twitter, Inc. (NYSE: TWTR) announced earnings for the same fiscal quarter. Facebook grew revenue by 59% year-on-year (YOY), favourable compared to Twitter, that announced its YOY revenue growth sunk to 20% from 60% a year ago. 
Facebook report that 84% of ad revenue comes from mobile, slightly behind Twitter that report 89%. The dark blue's total ad revenue was USD$6.24bn (£4.73bn), dwarfing the light blue's USD$535m (£405.80m), an increase of 18% year-on-year
Facebook
Facebook's stock price has reached an all time high of USD$123.34 (£93.55), following strong Q2 2016 earnings.
The social network reported adding 60 million monthly users this quarter to boast 1.71 billion. It also achieved another milestone: 1 billion daily mobile users.
It counted USD$6.44bn (£4.88bn) in revenue and USD$0.97 EPS (£0.74), streaking past estimates of USD$6.02bn (£4.57) and USD$0.82 EPS (£0.62).
This is the 16th out of 17 quarters that Facebook beat analysts' expectations since it went public at USD$38 per share (£28.82). Wall Street's reaction to the positive earnings was a 7.5% bump in after-hours trading to USD$132.60 (£100.58).
Highlights
– Daily active users (DAUs) – DAUs were 1.13 billion on average for June 2016, an increase of 17% year-on-year
– Mobile DAUs – Mobile DAUs were 1.03 billion on average for June 2016, an increase of 22% year-on-year
– Monthly active users (MAUs) – MAUs were 1.71 billion as of June 30, 2016, an increase of 15% year-on-year
– Mobile MAUs – Mobile MAUs were 1.57 billion as of June 30, 2016, an increase of 20% year-on-year
– Mobile advertising revenue – Mobile advertising revenue represented approximately 84% of advertising revenue for the second quarter of 2016, up from approximately 76% of advertising revenue in the second quarter of 2015
These figures tell us people aren't using Facebook less as it grows, and develops.
"Our community and business had another good quarter", said Mark Zuckerberg, Facebook founder and CEO. "We're particularly pleased with our progress in video as we move towards a world where video is at the heart of all our services."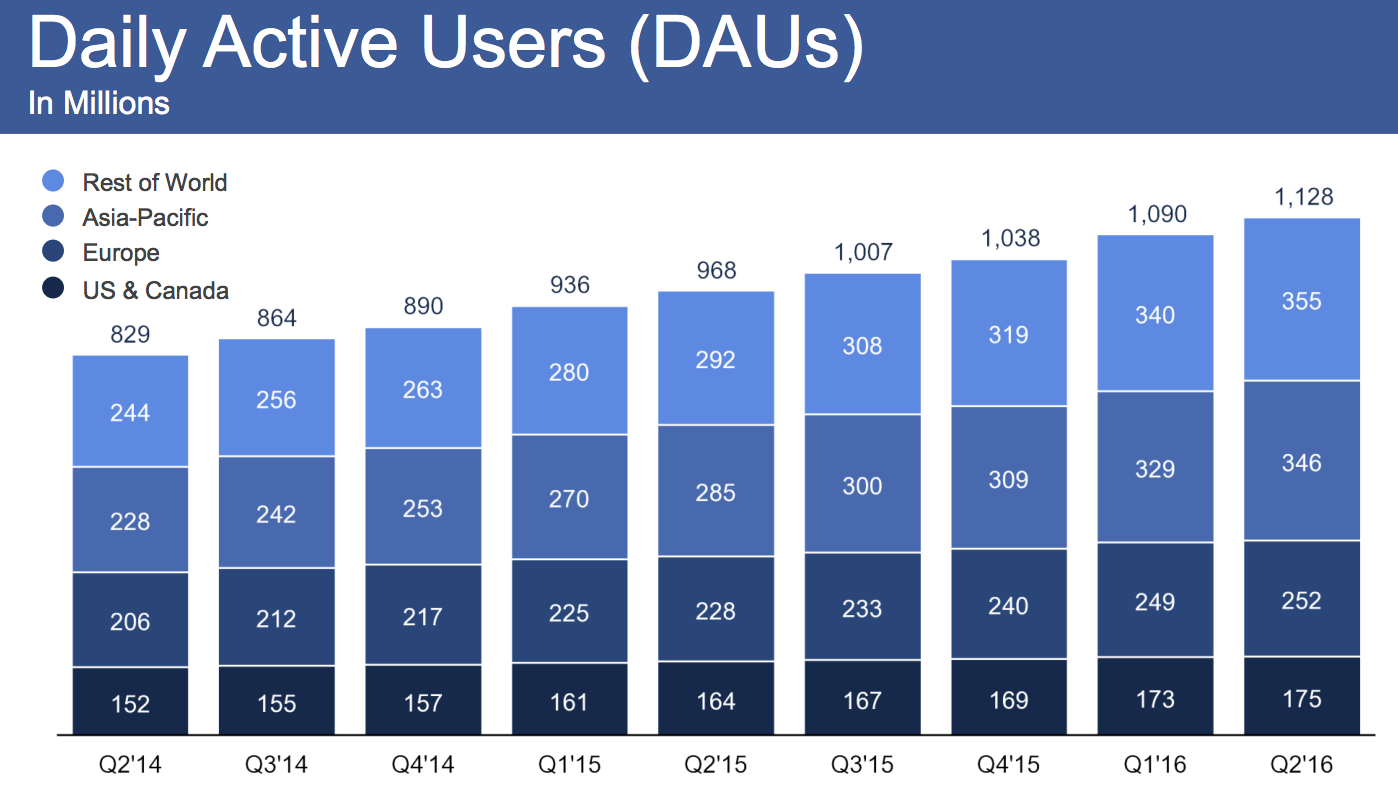 Source: Facebook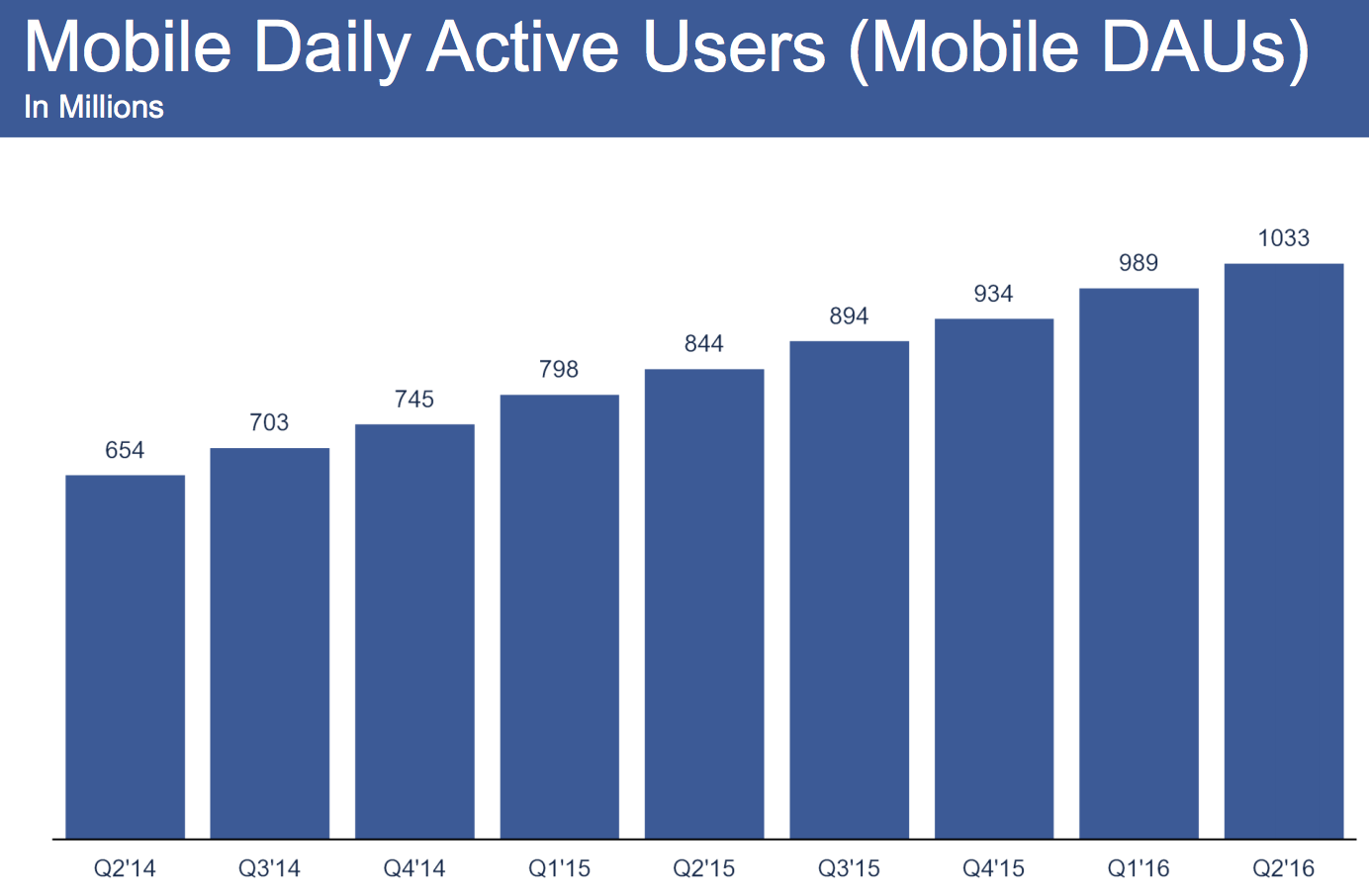 Source: Facebook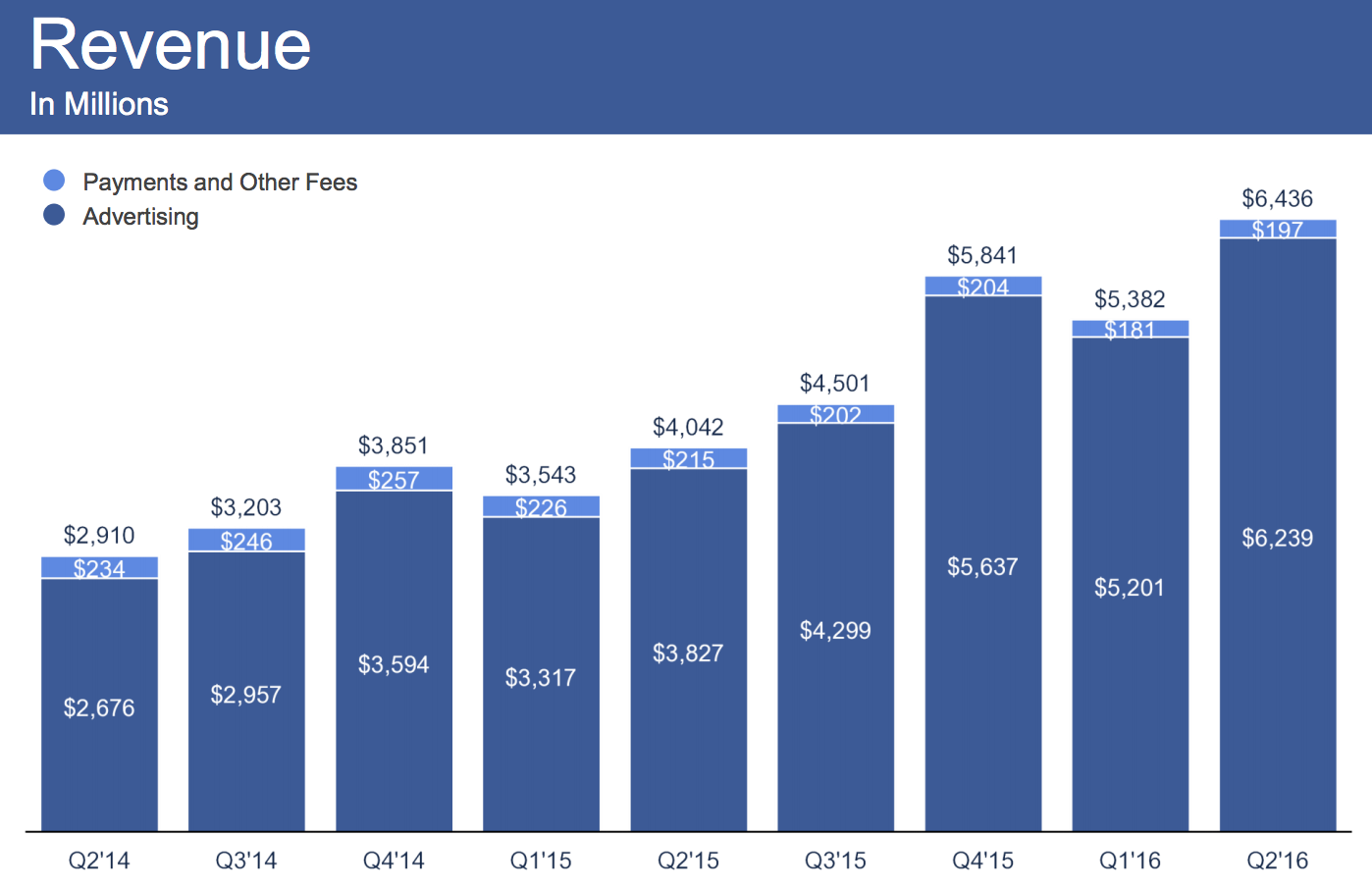 Source: Facebook
Facebook sees two billion searches per day, up one-third YOY. Zuckerberg said people searching for what others are saying about certain topics is driving growth. This highlights Facebook's ongoing war with Twitter to win public chatter.
Facebook reports USD$2.05bn (£1.55bn) in profit, compared to USD$719m (£545.37m) a year ago, while average revenue per user is now USD$3.82 (£2.90), up 15% from last quarter.
Meanwhile, Instagram reached 500 million users despite initial user resistance to the announcement that an algorithmic feed would start highlighting the most popular posts instead of showing a purely reverse chronological stream.
Should Facebook want to make any other big acquisitions, it can, thanks to a stockpile of USD$23bn (£17.45bn) in cash.
All eyes have been on Snapchat's progress in the social media network space, wondering whether the platform will gather enough of a following to disrupt the market. What we see is that Snapchat might be ruling daily life-casting, Twitter is winning the first and second screen battle via its livestream deals; however, Facebook remains the core social network and messaging product of the world.
Twitter
The picture painted by Twitter's Q2 2016 earnings was not rosy and shows that Twitter still lags behind competitors for advertising spend as revenue growth continues to slow.
Revenue rose 20% YOY, to USD$602m (£456.62m), last year the company's revenue growth was 60%. Monthly user growth also remains slow.
The company's shares plunged 11% after these results, and several Wall Street analysts recommended that investors proceed with caution.
Following Verizon's USD$5bn (£3.79bn) acquisition of Yahoo earlier this week, and Microsoft's purchase of LinkedIn in June, there's speculation that Twitter could be the next takeover target. Potential buyers would benefit from Twitter's user base, content, engagement and data – the challenge is to do what Twitter have struggled to do: monetise. However, CEO Jack Dorsey has repeatedly said the company would rather grow on its own.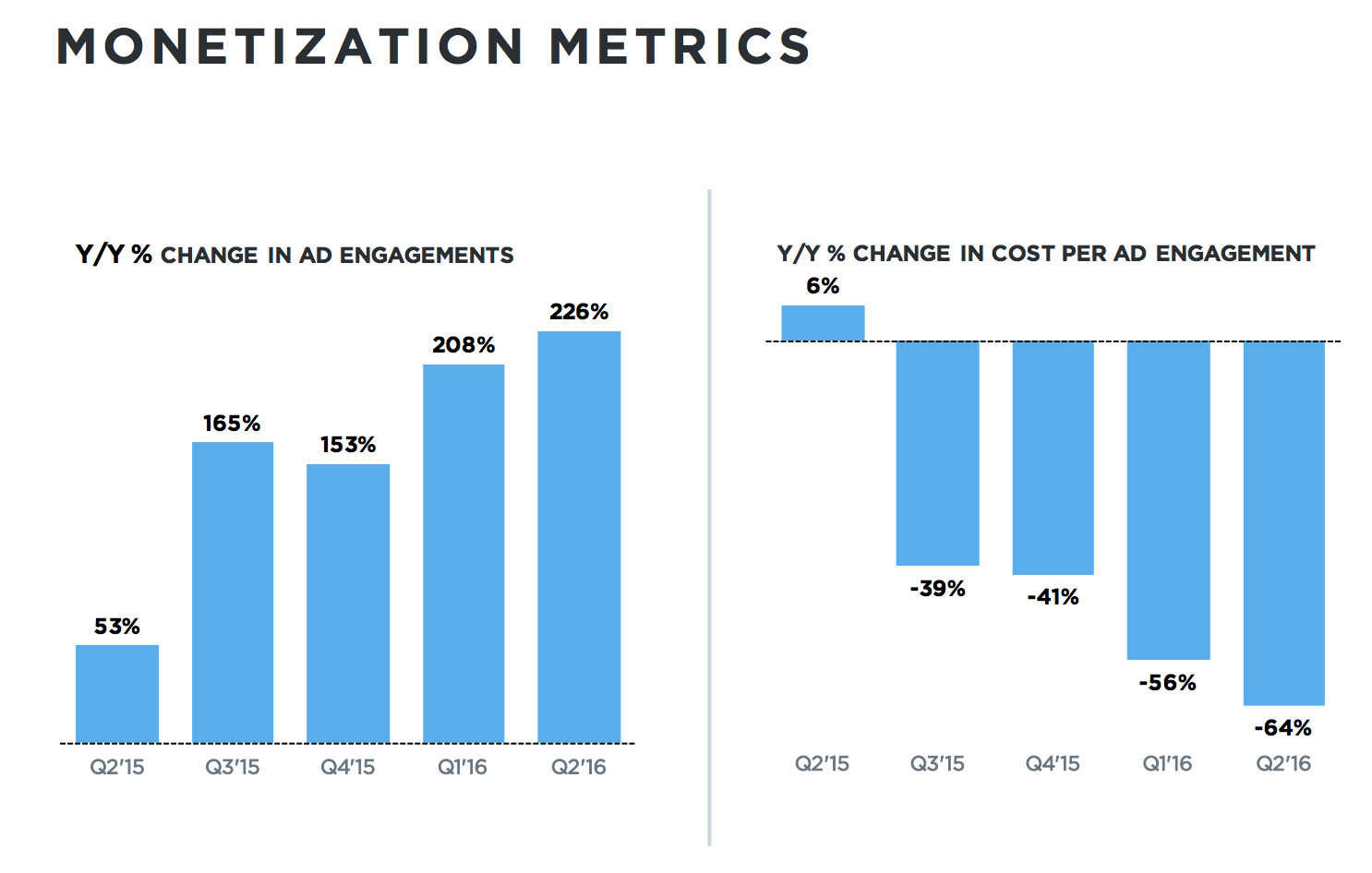 Source: Twitter
Highlights
– Revenue was USD$602m (£4.57m), up 20% year-on-year
– Average monthly active users (MAUs) were 313 million for the quarter, up 3% year-on-year
– Mobile MAUs represented approximately 82% of total MAUs
– Advertising revenue totalled USD$535m (£405.80), an increase of 18% year-on-year
– Mobile advertising revenue was 89% of total advertising revenue
"We've made a lot of progress on our priorities this quarter", said Jack Dorsey, Twitter's CEO. "We are confident in our product roadmap, and we are seeing the direct benefit of our recent product changes in increased engagement and usage. We remain focused on improving our service to make it fast, simple, and easy to use, like the ability to watch live-streaming video events unfold and the commentary around them."
"This quarter we saw year-on-year and sequential growth in both monthly active and daily active usage", said Anthony Noto, Twitter's CFO. "We continue to believe that, with disciplined execution against our priorities, we can drive sustained engagement and audience growth over time. We also have exciting momentum with live-streaming video initiatives underway. We're partnering with the providers of the world's most popular live content to bring more and more of those events onto Twitter to provide a unique and compelling consumer experience."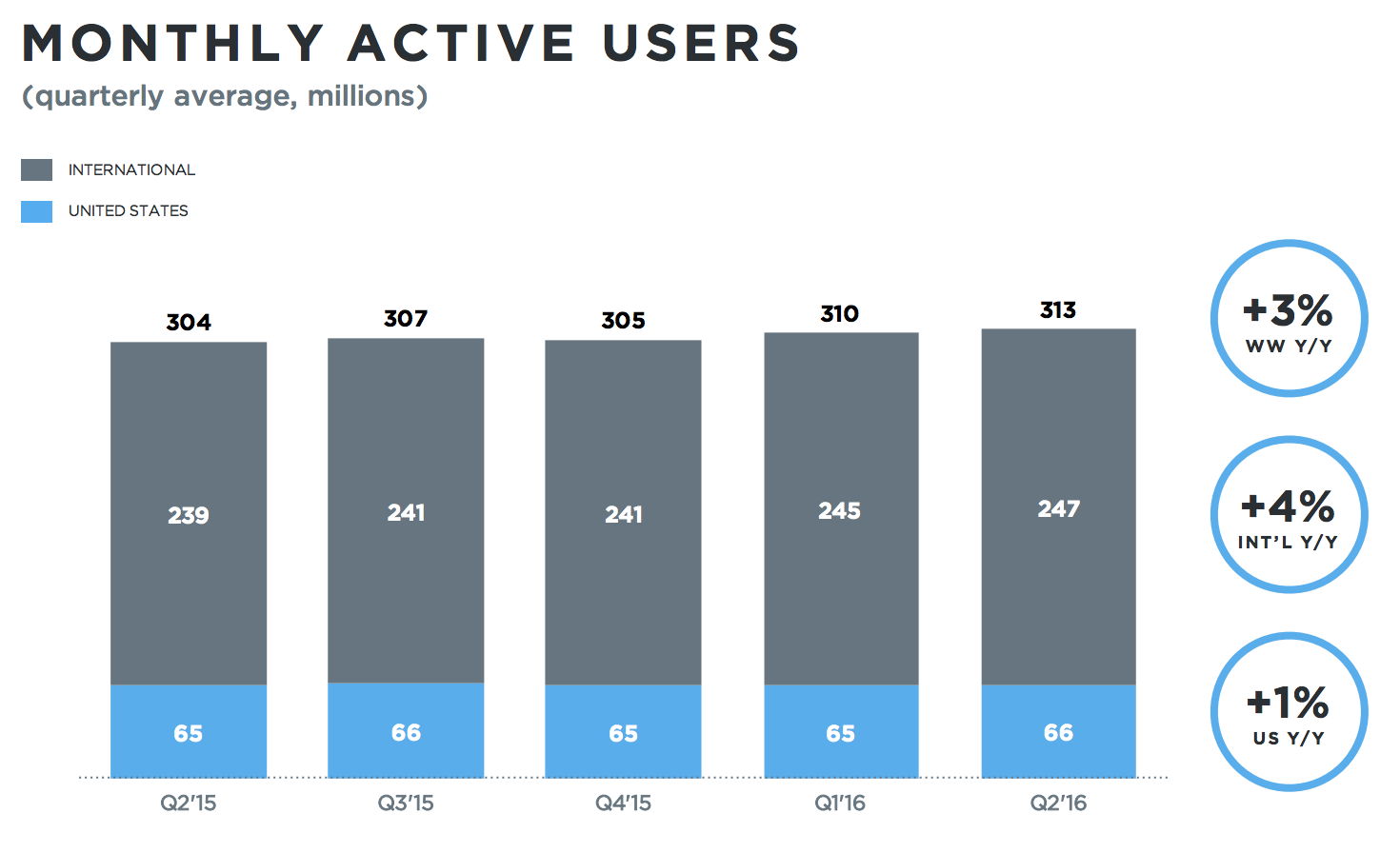 Source: Twitter
Stock Price Information

Source: Google Finance

Source: Google Finance
TagsDisplayEarningsFacebookSocial MediaTwitter