Rubicon Launch 'Project Awesome'; Integral Ad Science Open Sources SDK
by Sonja Kroll on 9th Dec 2016 in News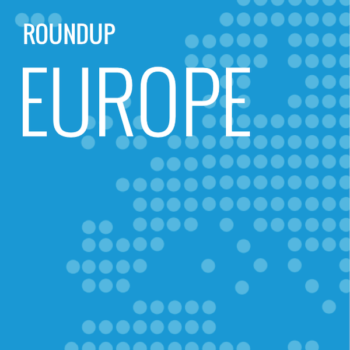 ExchangeWire round up some of the biggest stories in the European digital advertising space. In this week's edition: Rubicon Project tackle ad fraud; Integral Ad Science open source their SDK; Pixalate launch Video Seller Trust Index; S4M target travellers; New partnership between Liveramp and DoubleClick; AerServ and Mediaocean partner; Near integration with Oracle Data Cloud; and Triplelift and Adverline partnership.
Rubicon's 'Project Awesome'
Rubicon Project want to help consumers take matters into their own hands when it comes to dealing with annoying ads. The ad tech provider has come up with their enthusiastically entitled 'Project Awesome', which is intended as a way of allowing users to have an input on which ads are displayed on their screens.
Based on machine-learning, Rubicon want to gather customer feedback by displaying a user interface with each ad. Through interacting with the interface, users can block ads they do not want to see and 'like' ads that are relevant. Users can create their own 'taste profile', which helps Rubicon's automated system to identify ads that are relevant and suited to the individual user's interests.
The project is about adding extra value to advertising. "Our vision is to turn advertising into information and provide information as a service to consumers. We want to change advertising for good", explains Frank Addante, CEO and founder of Rubicon Project. "There have always been three participants involved in advertising; and for too long our industry has focused on the buyers and sellers and ignored consumers and their experience."
The customer-centric approach is a reaction to the increasing use of ad blockers – a development that Addante wants to counter by allowing users their own input in the display of ads: "The increasing adoption of ad blockers, privacy concerns, and general apathy for ads, are symptoms of this lack of focus on the consumer experience. People, recently, have been given a choice with ad blockers; but their choice has been limited to either see all ads or block all ads. That's not ideal for consumers, advertisers, or publishers and application developers. Today, we're offering a new option, the ability to choose the specific ads and interests that you want to see or don't want to see."
Project Awesome is currently in beta and open to interested users by invite only.
Integral Ad Science want to drive mobile innovation
Integral Ad Science will open source their mobile verification software development kit for media quality measurement. The SDK will allow publishers to measure their mobile inventory without the need to integrate multiple SDKs from various partners.
"The marketing and advertising industries have faced challenges around fragmentation of not only media and devices, but also a lack of standards around infrastructure", says Scott Knoll, CEO, IAS. "Following leaders, like Google and Microsoft, we are embracing an open source approach and contributing over a year of development efforts back to the industry to make it more efficient for publishers and developers to implement, integrate, and ship code."
With an open source SDK, development time can be shortened, as well as ad load time improved, making the entire process easier to manage and more mobile inventory able to be measured, Integral Ad Science says. The company cite support from industry players such as Ansible, Conversant, Google, InMobi, Lenovo, Médiamétrie, the Media Rating Council, MoPub, OpenX, and The Trade Desk that are engaging in collaboration.
"This approach cuts years off for advertisers to be able to measure viewability on 100% of their mobile campaigns, compared to the small percent they are currently able to measure."
The open source SDK is in development with a small number of partners in Q4 2016, looking to introduce this to market in early 2017.
Pixalate benchmark video advertising
Fraud-protection provider Pixalate launch a cross-platform rating system for video advertising, spanning programmatic TV, mobile, and now desktop video. The 'Video Seller Trust Index' is a new offering, expanding the already established Global Seller Trust Index and the app-centric Mobile Seller Trust Index.
The Video Seller Trust Index analyses more than 100 billion impressions to determine the reputation of a video seller. Their quality is determined using machine-learning to analyse and score sellers for overall effectiveness assessing fraud, reach, player size, and engagement in compliance with recognised industry standards.
"Video advertising, particularly programmatic TV, is rapidly becoming the next big frontier for fraudsters to exploit", says Jalal Nasir, founder and CEO, Pixalate. "Our groundbreaking new Video Seller Trust Index addresses this industry problem by identifying the safest platforms for advertisers to work with through quality scores that go beyond the one-dimensional reach metric."
The first video ratings have just come in for October 2016. Reaching from general fraud stats to specific video provider rankings, the index provides a snapshot of current quality levels within video advertising. For instance, in terms of mobile devices, highest video fraud rates were recorded for the LG Risio, ZTE Grand X3 and LG G Stylo, and small player video had ad fraud rates of more than 56%. As for sellers, the October VSTI found SpotX leading the pack with a final score of 90, followed by BrightRoll at 88, and Tremor Video at 87.
Mobile targeting at airports with S4M
Mobile advertising company S4M is taking travellers into their sights – and specifically the more than 30 million airport travellers each week who are passing through the world's 30 most frequented airports.
"Consumers tend to deviate from their usual daily behaviours when travelling, and the only constant is their smartphones. Our goal is to reach people while they're in transit, whether they're tourists or business travellers, even when they are away from their everyday routines", explains Christophe Collet, CEO, S4M. "Brands that can deliver tailored, relevant messages to their consumers, even when they are hundreds of kilometres from home, are truly transforming mobile advertising into a valuable service".
Based on geolocation data, S4M analyses mobile user profiles at airports, combining anonymous mobile device identifiers with GPS coordinates, device language settings, and online periods. This unique mix provides advertisers with more insights into their consumer behaviours and offers a new opportunity to engage with them at airports.
Airports are more than just transit areas, but places that offer potential for engaging with consumers, thanks to the mobile phone becoming an indispensable gadget for travellers, Collet summarises. "The smartphone is an extension of the individual, so it is a must-have touchpoint when creating fully integrated brand experiences."
LiveRamp & DoubleClick partner up
A new partnership between LiveRamp and Google's DoubleClick is to introduce a new conversions API to the UK. DoubleClick's Conversions API promises to be more accountable and transparent, by securely connecting online media impacts with store visits, call centre interactions, and transactions.
To that end, DoubleClick is teaming up with LiveRamp, linking online media data with real life touchpoints. This is to enable marketers to get insights into digital media viewership and real-world sales.
Richard Foster, UK managing director, LiveRamp, describes LiveRamp's role as the secure location where those datasets are linked together: "Online advertising has long struggled to fuse digital engagements with accurate attribution and measurement to offline interactions and sales. While the influence and reach of digital is undeniable, we also know that 90% of all retail transactions are still closed in the physical world – which, for big ticket purchases like cars or significant retail purchases where consumers value the tangible experience of seeing and trying a product before they buy, is set to continue. The Conversions API clarifies that critical moment where online influence and offline transactions meet."
AerServ & Mediaocean partnership
Mobile in-app SSP AerServ announce a new partnership. The company is cooperating with ad tech provider Mediaocean to enable local broadcast buyers a mobile audience to access inventory through one source.
"Primetime viewership has naturally declined, due to program content being available on multiple screens. Traditional TV, by itself, is no longer attracting huge volumes of viewers across a specific broadcast. Mobile apps have increased to the point that they now have the same reach, if not more, as mainstream TV", explains Dan Mauch, EVP, AerServ.
As a partner of Mediaocean's Connect Partner Platform, AerServ support Mediaocean in delivering the correct commercial video message when an easy-to-access, guaranteed, and verified audience is needed. Marketers are given access to purchase AerServ media electronically via Mediaocean Spectra local broadcast.
Near integrates with Oracle Data Cloud
Near, the location intelligence platform, has announced an integration with Oracle Data Cloud to make Near's global audience data available through Oracle's BlueKai Marketplace. Near's audiences are curated using real-time location and behavioural data and will be overlaid on BlueKai Marketplace's existing audience data to help marketers better reach their target audiences, understand and improve their campaigns, and optimise media spends.
Near's senior director for data partnerships, Aditi Kohli, said of the integration, "Location is a crucial data set for most brands today. Through our integration with Oracle's BlueKai Marketplace, brands will now have unique access to audience sets built from location data that will help them target these audiences and benefit from an advanced understanding of their consumers." 
According to Rich Harris, group vice president, Oracle Data Cloud, the integration will allow marketers to take advantage of robust, location-based intelligence for smarter decision making around the world.
Triplelift partner with Adverline for new site integration
Thanks to a new partnership between Triplelift and Adverline, the Triplelift technology will be integrated in Adverline's RTB marketplace, The Place to Bid, pushing the native ad format.
The Place to Bid Native will be accessible from all the major DSPs: AppNexus, Adform, Criteo, MediaMath, Sociomantic, TubeMogul, Turn, and others.
The TripleLift technology will be integrated on the French premium media sites that make up The Place to Bid: latribune.fr, societe.com, avendrealouer.fr, maison.com, ptitchef.com, aujardin.info, etc. It provides desktop and mobile access to native programmatic inventories.