Mobile on Track to Be #1 Video Screen in UK; Troubles with CRM
by Hugh Williams on 23rd Feb 2017 in News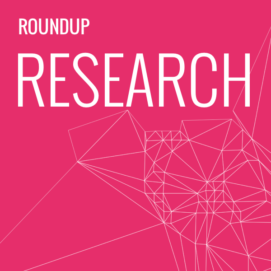 ExchangeWire Research's weekly roundup brings you up-to-date research findings from around the world, with additional insight provided by Rebecca Muir, head of research and analysis, ExchangeWire. In this week's edition: Mobile on track to be number one video screen in UK; Troubles with CRM; Cross-border trade rises despite Brexit; and Memorable premium content.
Mobile on track to be number one video screen in UK
There is set to be an explosion in video viewing on mobile devices, with mobile ad spend predicted to increase in 2017, according to a new study from AOL.
The research shows we are approaching a tipping point where mobile is set to be the number one video screen. Smartphones are rivalling desktops as the screen of choice for video, with an average of 57% of consumers globally watching videos on their mobile phones every day, compared with 58% who watch videos on their desktops or laptops.
In the UK, nearly three-quarters (71%) of consumers say they can't live without their smartphone or always have to have it within arm's reach. With dependency on smartphones on the rise, 54% of those surveyed say they are watching more online video now than a year ago, and 52% are watching these videos on their smartphones daily – the same amount as those watching video on their desktops or laptops (52%).
With so many distractions at our fingertips, the attention spans of online consumers are rapidly shrinking. While online video is growing across all lengths, consumption of short-form video is rising at an even higher rate. In the UK, 32% of consumers watch videos that are five minutes or less every day (vs. 42% globally). As videos get longer, this number decreases, with only 17% of consumers watching videos that are 10-20 minutes long on a daily basis (vs. 21% globally).
Troubles with CRM
Fewer than one-in-five (17%) CRM managers believe that their CRM work is clearly contributing to their company's revenue, according to research by Wiraya.
Almost half (47%) of respondents cited the improvement of customer satisfaction as top of their business agenda. Supporting business growth also appears to be a key consideration for employees, with 31% revealing that average profit per customer (ARPU) is their most important KPI, closely followed by return on investment (27%).
Despite this, CRM is perceived as a key business driver for over 30% of businesses – the issue is many lack the clear direction and customer insight to support their goals and create direct profitability for their business.
The report details three levels of CRM maturity;
– Traditional: most common group (34%), typically working continuously, work with CRM, but without having exact plans and processes
– Adhoc: second most common (32%), whose CRM work is mainly on an ad-hoc basis, with no direct organisational structure or appointed role
– Ambitious: only 31% considered themselves to have plans and processes in place, as well as a dedicated team or individual
Cross-border trade rises despite Brexit
Brits spent over £7.7bn (USD$9.6bn) abroad in 2016, purchasing more than ever from overseas retailers, finds research by VoucherCodes.co.uk.
Online spending from overseas retailers reached highs of 12.8% in 2016 and is predicted to increase by 8.9% this year to over £8.4bn (USD$10.4bn). However, GDP growth has developed at a slightly slower rate, slowing from 2.0% in 2016 to 1.5% predicted by the end of 2017. One-in-ten Brits now use e-wallets, such as Apple or Android Pay, as their preferred payment method of choice for online transactions.
In Europe as a whole, the overall value grew almost 20% to £32.5bn (USD$40.4bn) in 2016, showing the growing consumer appetite for cross-border trade has not been dampened by political and economic uncertainty across Europe. This is expected to climb even higher in 2017 to £37.7bn (USD$46.9bn).
However, when looking at the results of the UK's cross-border spend, the research reveals Brits are less likely to purchase from overseas retailers compared to the rest of Europe. In fact, in 2016, cross-border sales accounted for just 12.8% of total online sales; whereas countries including Germany, France, and the Netherlands saw shares as high as 25%.
Memorable premium content
Premium editorial content is more memorable and engaging than social feeds, suggests new research by Teads. For the rational/detailed-oriented (left) side of the brain, premium editorial was found to have a 19% greater impact on memory. For the emotional (right) side of the brain, premium editorial had an 8% greater impact on memory.
Video ads within premium editorial performed better than eight out of 10 online ads tested, when measured by detailed memory encoding, a key metric for ad impact. Content and video advertising have separate 'neurostates' that, when aligned, drive higher effectiveness. Premium editorial achieved a balanced 'neurostate', meaning that activity was charted equally on the left and right sides of the brain, thus allowing a broad range of video advertising creative to be effective within premium editorial.
Creative has the power to amplify the strengths seen in both premium editorial and within social feeds. Teads' study found that ads featuring individuals are star performers on premium editorial; whereas ads showing complexity and movement perform well on social. Lastly, overt branding, often thought to be a way of delivering a strong branding effect, may have the opposite impact on memory encoding.