Online Video Spend Overtakes Banner Ads for First Time
by Hugh Williams on 24th Oct 2017 in News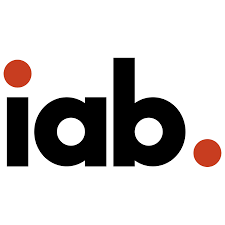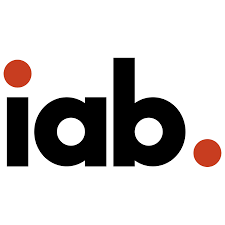 Mobile now accounts for 43% of digital advertising, finds results from the IAB's latest Digital Adspend report. Mobile's year-on-year growth was 38% and now accounts for 57% of all display ad spend, 70% of video spend, and 83% of social media spend.
Driven by the rise in popularity of people watching online video, advertisers spent more on video ads than banner ads for the first time ever. In the first half of 2017, advertisers spent £699m (USD$921m) on video ads – a 46% year-on-year rise – whilst spend on banner ads increased by just under 2% to £685m (USD$903m). Video is the fastest-growing ad format and now accounts for 35% of all spend going on display advertising.
Within video advertising, spend on outstream/social in-feed nearly doubled and is now the most popular format, accounting for 52% of video spend (£363m/USD$478m), overtaking pre-and post-roll ads, which account for 44% (£309m/USD$407m).
Display advertising as a whole grew 18% to £2bn (USD$2.6bn), whilst search grew 15% to £2.8bn (USD$3.7bn) and classifieds remained flat at £692m (USD$912m). Thus, overall digital ad spend grew 13.8% to £5.56bn (USD$7.33bn) in the first half of 2017.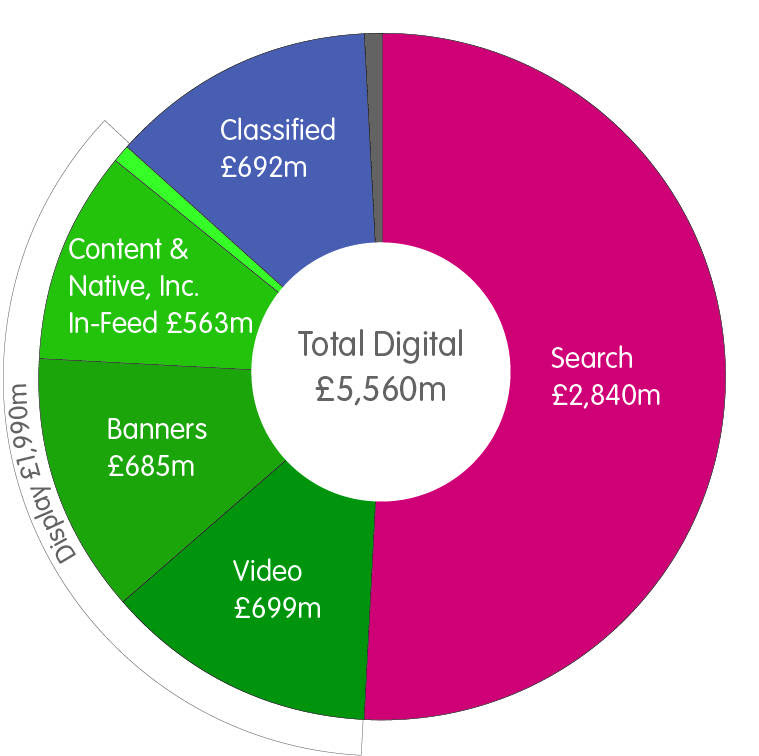 ExchangeWire spoke to some of the digital advertising industry's top thought leaders to discuss what we can read into these spending trends.
Explaining the findings, Nikolai Pietilainen, commercial director UK, Widespace, says the results are symptomatic of consumer behaviour: "People are spending more time than ever watching online video, and mobile is the hub for the consumption of this content. Mobile itself now accounts for 43% of digital advertising; and we can expect that figure to grow over the next few years as more spend is pulled away from desktop and towards where audiences spend most of their time – and, most importantly, where these audiences are engaging with ads.
"While this is a great opportunity for advertisers to engage one-to-one with mobile audiences, the prominence of video means it will be more crucial than ever to ensure user experience is at the heart of every ad served. Push formats such as pre- and mid-roll ads can damage user experience, especially those with autoplay sound, and could result in an increase in the adoption of ad-blocking. Taking care to use pull formats, such as muted outstream video, will ensure the ever-growing mobile video audience stays engaged, and we don't make the same mistakes the industry already made with desktop with annoying and invasive ads."
James Collier, co-founder and chief revenue officer, Prism, feels the results show a changing tide for marketers' spending trends: "Advertisers are catching on. With video ads beating banner ads for the first time, it's clear they've accepted that creative digital display execution needs an overhaul. And it's true, formats like banner ads have contributed to the disruption of consumer experience, especially in mobile, in effect 'pre-programming' the customer to ignore them. However, rather than throwing the baby out with the bathwater, it's important to look at why this is happening and how advertisers can provider better ads that wield a greater punch. Right now, video is the simplest path – partly because the emphasis on quality content is greater in traditional TV formats, with more effort being made to ensure the ad complies with basic quality standards. If advertisers and publishers took this approach across the board, they'd have better relationships with customers and an increased understanding of what they want."
Video's popularity
One of the areas exciting the industry most is the rise in video spend, due to the popularity of watching video online. Ben Murphy, managing director UK, Quantcast, says it's just the news the digital advertising industry needs after "coming through a difficult 2017". He explains that "the growth in video in particular is proof that digital is continuing to transition its focus away from direct-response towards brand-building.
"The format shift from banner ads to video means that there is a bigger onus on advertisers to produce advertising that resonates, rather than relying on the scattergun approach of the past.
"Brand building is also a long game and in order to gain lasting trust, brands need a deep understanding of all facets of their audiences. Up until now, they have been reliant on static, panel-based insights, but as the nature of the industry changes, granular audience data driven by live insights will be the key to unlocking this, by making advertising much more relevant for consumers."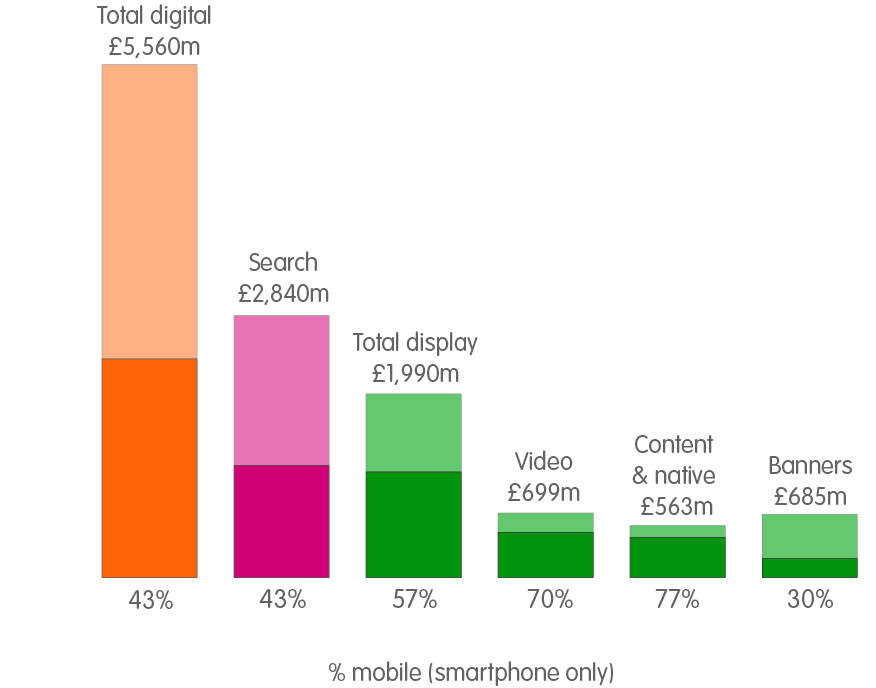 The importance of video is undeniable, and James Pringle, co-founder and CEO, Suggestv, says he is already seeing video-first strategies: "The exponential growth of video ads (46% Y-o-Y growth) indicates the growing importance of video for brands to communicate their messaging to consumers. A recent study by Tubular Insights indicated that, by 2019, 80% of the world's consumer internet traffic will be video, while Reuters predicts that video viewership will account for 70% of mobile network traffic, growing 14-times within the next five years. This provides the perfect opportunity for publishers to embrace this change in consumer behaviour and include video in more and more of their content. We have already seen a shift towards video-first strategies, yet only 20% of articles currently use a video player that is monetisable. With these impressive stats from the IAB, it's evident that the financial reward for publishers is ready for the taking."
Within video, outstream is now one of the most popular formats. Justin Taylor, UK MD, Teads, explains: "Outstream's growth is a response to the demand for 'clean advertising'. For brands and agencies, this means having transparency and verification on ad buys. For consumers, this means seeing nonintrusive, quality creative. For publishers, it's having access to high-yield video inventory and global brand advertisers. Advertisers know that video works: outstream gives them a true third force to ensure their messages are seen and heard at scale."
Emma Newman, country manager, UK, Pubmatic, says that while online video is an important area, changes need to be made as advertisers shift budgets. "Online video offers large opportunities to advertisers, so it is no surprise to see the increase in spend in this area. The biggest names in online marketplaces, including Amazon and eBay, report that adding a video ad increases the propensity to buy by up to 35%. As video advertising is more engaging and effective, for some campaigns, they naturally cost more (although the ROI can be significantly higher), allowing publishers to significantly increase their revenue streams. That said, to deliver the maximum ROI on a video ad, audiences expect it to be less intrusive and feel more 'native'. So, advertisers need to approach this opportunity more creatively, rather than just transplanting a 15-second TV ad into a pre-roll.
"Both advertisers and publishers need to be wary of video ad fraud. Where there's great demand and high value, there's also greater incentive for fraud – why fake a £5 note when you can fake a £50 note. Initiatives such as ads.txt, have been designed to address some of these fraud issues and help advertisers to spot unauthorised sellers."
Katie Field, UK MD, Viant, explains that, despite video's growth, questions still need to be answered about the format: "This year we've seen online video become truly mainstream and it's exciting to see it's now the dominant format. But with overall spend now hitting more than £5bn, as an industry, we need to be ready to answer questions about the impact of this spend on sales.
"With worries about transparency in the supply chain, it's no wonder marketers are scrutinising the ROI of digital ads and looking for better measurement to prove this. That's why we're seeing more and more advertisers move to a people-based approach, that relies on first-party data to identify real individuals, serve them relevant ads, and directly measure a campaign's impact on sales, both online and offline. By proving the impact of digital ad spend on sales, and showing its value in the broader marketing mix, we can be confident we will see budgets continue to rise next year."  
A mobile future
Christophe Collet, CEO, S4M, explains that while mobile is taking the lions share of the spend, it has issues to address when it comes to return on ad spend: "It comes as no surprise that mobile accounts for 57% of all display ad spend, we have not yet reach the peak, and I am sure this figure will continue to grow. Mobile marketers' biggest takeaway should be focusing on the need to better assess their return on ad spend (ROAS) in this channel. The most successful investments in mobile digital advertising today are those that can bridge business impacts in real-world boutiques or on e-commerce platforms. We are beyond getting excited about growth in mobile, now is really the time to focus on maturing the ecosystem and combatting ad fraud issues so we can truly make these investments count!
"We are very excited about video ad formats and think that mobile marketers should take video formats to the next level by producing authentic video content like 'Stories' on Snapchat or Instagram to deliver similar content as it would be consumed on social medial."
Meanwhile, Amit Dar, head of strategic partnerships, Taptica, says that the spending habits reported by the IAB mimic consumer behaviour: "The latest results from both the IAB and IPA Bellwether reports are a reflection of changing consumer behaviour. Consumers are using their mobile phones as their primary screen; this is not unexpected, and the latest reports show that half of time spent online in the UK is on mobile, as more people browse and shop on the go, and apps are becoming more and more important to the user experience on mobile.
"Mobile has continued to grow exponentially, despite the recent industry and political challenges, and is expected to continue to grow, despite the Bellwether report predicting a stagnation in overall spend next year. It's important to remember that, globally, there are opportunities on mobile that are there for the taking, for those who embrace the challenges."
With mobile continuing to grow, Ian James, GM, Verve, says that location can help continue this trend: "With the release of the latest IAB AdSpend results, there is no doubt that mobile is the fastest-growing area of digital spend. Location-based advertising has the potential to power this growth even further forward, bearing in mind that half of brands are already using location data to target their customers.
"Ongoing interest in, and application of, location data relies on advertisers having confidence that the location from publishers is both accurate and precise. Advertisers also need to be certain location marketing spend can be directed towards brand-safe environments. This is one of the main issues the industry has been busy addressing, and we can expect location-based marketing to account for ever-faster growth over the next 12 months."
Search takes a huge chunk of digital ad spend
Even with video growing as a platform, Tom Smith, head of biddable media, mporium, points out that: "The recent IAB AdSpend report shows that search now accounts for over half of digital ad spend as a whole, and this quarter has seen a further increase of 15%. This is a very positive sign, as such a high percentage spent on search shows that advertisers are putting their spend and confidence into this channel. With the rise in popularity of voice-activated assistants, as well as retailers like ASOS investing more in visual search, we can see that there will be a lot more potential to work with search, and we will hopefully see a growing demand for more search-based advertising in the near future."
Despite the positivity surrounding mobile and video, Anant Joshi, country manager, UK and Ireland, Meetrics, highlights that viewability is still a concern for the whole digital advertising ecosystem: "Video overtaking banners is certainly momentous in digital's ad history. Banners have been around since year dot and video is a relatively new medium, with the most tractions happening in the last three years. It shows how fast the industry latches on to new developments and platforms. It's also encouraging for advertisers, in that video tends to have better viewability rates than banners, partly because viewers tend to be more engaged with video due to its greater screen size and being less surrounded by other ads. Yet advertisers are demanding more accountability for measurement, as video CPM rates are generally higher than banner formats. New initiatives like IAB VAST 4.0 will help with scaling the process of measurement.
"However, the figures also paint a stark picture of the amount of spend going on ads falling below the '50% in-view for one second' minimum guideline. Our quarterly viewability benchmark for the first half of the year showed just over half of banner ads served weren't meeting this threshold, equivalent to roughly £350 million in wasted spend. And this is just the figure for ads served to humans, so factoring in bots and fraud means the waste figure is much higher in reality. Although things are improving on this front, the figures still highlight the large amount of work to be done."
DisplayMobileSocial MediaVideo