TAG Requires Publishers to Use Ads.txt; Eyeota Raises USD$12.5m in Series B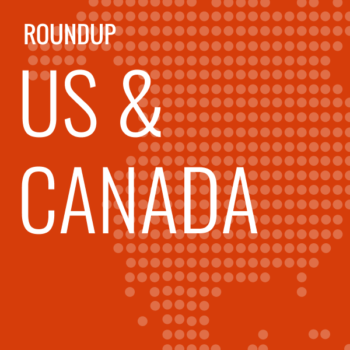 ExchangeWire rounds up some of the biggest stories in the US/Canadian digital advertising space. In this week's edition: TAG requires ads.txt use by publishers; Eyeota raises Series B funding; Taboola's self-service business grows; OpenX is already GDPR-compliant; Centro finds programmatic is coming in-house; and Impact Radius hires first CMO.
TAG Will Require Publishers to Use Ads.txt
The Trustworthy Accountability Group (TAG), an industry initiative to fight criminal activity in the digital advertising supply chain, has released updated certification guidelines for its Certified Against Fraud and Certified Against Piracy Seal programmes.
The latest changes will now require publishers to fully adopt and implement the ads.txt requirements released by the IAB Tech Lab for the Certified Against Fraud Guidelines, and direct buyers and publishers can be awarded TAG's Certified Against Piracy seal with the updated Certified Against Piracy Guidelines. TAG will also implement a new process to enforce its certification programmes and will enable individuals and entities to submit allegations of noncompliance for review and potential action by TAG.
Rachel Nyswander Thomas, SVP of operations and policy, TAG, tells ExchangeWire: "Ads.txt is an elegant and invaluable new tool in the fight to prevent ad fraud. It gives publishers a simple and secure way to communicate to buyers the companies they authorise to sell their digital inventory. Like all standards, its effectiveness is tied to its ubiquity; and hopefully including it in the requirements for TAG's Certified Against Fraud Seal will give a big push to broad industry-wide adoption."
The new requirements will go into effect and be subject to TAG enforcement on 1 July, 2018. Companies that currently hold the Certified Against Fraud and/or Certified Against Piracy Seals must come into compliance by that time, while new applicants for those certifications will be evaluated against the updated guidelines going forward.
Eyeota Raises USD$12.5m in Series B
Audience data company, Eyeota, has raised USD$12.5m (£8.9m) in Series B funding to be used for product development, expanding its team, and other initiatives. Funding was led by Jolt Capital SAS, that specialises in technology investing, and additional funding for this round also included Project A Ventures and Qualgro, that invest in B2B companies in data and SaaS.
This round of funding comes after a year of growth across all regions, accelerated by their expansion into North America, and following demand for regional online and offline data, which Eyeota has acquired through a strategy of local market development.
"We are excited to embark on a new growth phase following our funding, focusing on developing products to enhance our audience and onboarding solutions and grow our global team. By expanding our team and offerings, we're continuing on our trajectory of being the go-to data source for marketers across the globe", Kevin Tan, CEO, Eyeota, tells ExchangeWire.
Taboola Self-Service Business Grows to USD$100m
Discovery platform, Taboola, has announced that after a year of the launch of their self-service platform, which allows marketers to access consumers from Taboola's publisher partners across the web, has grown to nearly USD$100m (£71.5m).
SMBs are able to leverage premium publishers to introduce their business to users with an engaging, native ad unit, giving businesses a cost-efficient and scalable solution to reach new audiences outside of search and social.
Adam Singolda, CEO and founder, Taboola, tells ExchangeWire: "Every small business and entrepreneur has a story that needs to be discovered. I think the massive financial growth of the Taboola Self-Service business to a run rate of nearly USD$100m in just one year illustrates the need for SMBs/entrepreneurs to have a meaningful, scalable option to reach their audiences side by side to services such as Google AdWords and Facebook. Through Taboola, we enable that 'moment of discovery' by offering smaller brands to leverage the credibility of being recommended by leading publishers. I'm truly excited about our work with thousands of great businesses, and feel this is just the beginning."
Taboola plans to continue investing in the platform with new targeting and reporting capabilities, and create features that help automate the campaign management process.
OpenX is GDPR Publisher Compliant Ahead of Schedule
Advertising technology company, OpenX, has now become one of the first global advertising exchanges that is now compliant with its publisher obligations under the General Data Protection Regulation (GDPR), four month before the May deadline.
OpenX is also making available a GDPR-ready data processing agreement (DPA), and other GDPR-related resources, as free and open contributions to the ad tech community. The resources and open source DPA has been published on OpenX's website as a resource for publishers to expedite their compliance process with other technology partners that may process the publisher's EU personal data. The other resources include a guide for obtaining certification under the Privacy Shield, which is an important legal mechanism for validating the transfer of EU personal data out of the EU to the US.
"GDPR is the single most wide-sweeping regulation to affect advertising and the digital media ecosystem at large. GDPR applies to every company globally that reaches EU citizens or receives, stores, or sends personal data from them. Rather than viewing GDPR as a burdensome piece of legalese, publishers should embrace it as an opportunity to bring clarity to its partner relationships and end users – not simply because it's the law, but because GDPR adoption indicates a commitment to openness and evolution of the entire industry. At OpenX, we have also made available a data processing agreement and other resources in order to move the entire industry towards greater accountability and trust", Doug McPherson, chief administrative officer and general counsel, OpenX, tells ExchangeWire.
Centro Survey Finds Ad Spenders Bringing Programmatic In-House
Digital advertising software company, Centro, conducted a survey with research firm, Advertiser Perceptions, finding data that shows that nearly all large digital ad spenders will adopt more programmatic advertising capabilities in-house over the next 12 months. Centro's report, 'Tech, Programmatic, and Expectations', projects spending growth for private marketplaces and open RTB, although direct IO-based ad buying will remain steady for the majority of respondents, and that some of the biggest pain points identified by advertisers were reporting/insights, inconsistent measurement standards, and vendor evaluation.
Surveying 153 agency and brand marketing professionals who spend USD$5m-100m (£3.59m-7.85m) annually in digital ads, some of the other findings were:
– In 12 months, 90% of agencies and 81% of marketers will operate with some form of programmatic advertising capabilities in-house
– Advertisers employ a mix of programmatic media buying teams and models, but 78% of agencies and 59% of marketers say they will no-longer outsource to a third-party by next year
– Among media buying models, advertisers expressed the highest optimism for ad spend growth for private marketplaces (39%) and open RTB (30%), nevertheless, 62% stated that direct IO-based buying would remain the same
– Advertisers work with an average of four to five vendors in each of the 'DSP,' 'data provider & data management,' and 'other ad tech' categories.
Katie Risch, EVP of customer experience, Centro, tells ExchangeWire: "In talking with large digital media buyers through our survey, an important takeaway is the diversity of models that agencies are employing to expand their programmatic capabilities. The choice of an integrated or specialised team, or a mix of both with some outsourcing, is what media buyers need to grapple with. These choices have a consequential impact on the performance of their campaigns, their team, and their business."
Impact Radius Appoints First CMO
Digital marketing platform company, Impact Radius, has hired Scott Brazina as their first chief marketing officer. Previously VP of martech and media for Dyn, an Internet Performance Management (IPM) company acquired by Oracle in 2016, he joins Impact Radius to oversee global marketing strategy, brand-building, demand generation, communications, and public relations. The company has also appointed Adam Furness as the new managing director of Asia Pacific, to continue Impact Radius' growth globally.
"Last year was a stellar year for Impact Radius. We more than doubled our volume year-on-year, significantly added to our team, expanded our presence in major markets, including opening a new office in New York, and made major moves in bolstering our suite of products that are meeting the needs of today's modern marketer", said David Yovanno, CEO, of Impact Radius.
"Impact Radius has shown extremely impressive results. I am excited to join to help accelerate and grow the company to the next level. Impact Radius' marquee customers, existing solution portfolio, and growth put the company in a strong position to truly transform business. Through its natively integrated suite of best-in-class products for performance partnership marketing, ad fraud detection, media attribution, and analytics, IR is leading the development of a new category of marketing software providing unmatched confidence in marketing investments. I am looking forward to creating a larger discussion around the broader value that the Impact Radius platform can bring", Scott Brazina, CMO, Impact Radius, tells ExchangeWire.