Whole Foods Launches on Prime Now; Earnings Soar as Amazon Views Overseas Expansion
by Hugh Williams on 9th Feb 2018 in News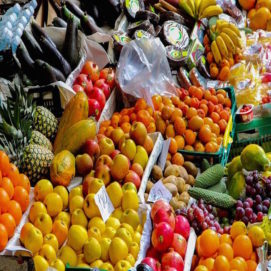 RetailTechNews' weekly Amazon Watch brings you some of the company's biggest moves from the past seven days, analysing how the giant is revolutionising the retail space. In this week's edition: Whole Foods Launches on Prime Now; Earnings Soar as Amazon Views Overseas Expansion; and Makeover for the Echo Look.
Whole Foods Launches on Prime Now
Amazon's integration with Whole Foods took a big step forward Thursday as the tech giant announced a new grocery delivery service through Prime Now.
Prime customers in Austin, Cincinnati, Dallas, and Virginia Beach can now have their Whole Foods groceries delivered by Amazon in two hours for free, or within one hour for USD$7.99, for orders of USD$35 or more.
Whole Foods employees will pick grocery orders from the shelves before sending them off to a Prime Now delivery driver. Amazon will expand its Whole Foods delivery service across the U.S. later this year.
This should be huge for Amazon's data game. Already possessing their customer's preferences across all their online categories, they will now be able to add their grocery habits to this. If Amazon can match up those ordering Whole Foods through Prime Now, with the profile they have already created on Amazon.com, then they will be able to gain an even better understanding of their customers, and engage them even more successfully.
Earnings Soar as Amazon Views Overseas Expansion
On 01 Feburary, Amazon.com said fourth-quarter net sales rose 38% to USD$60.5bn (£43.47bn), up from USD$43.7bn (£31.4bn) during the same time last year.
Within this, it is important to note that voice-assisted shopping is thriving, and is only going to grow. Amazon sold "tens of millions" of Echo devices in 2017. The lowest-priced USD$50 (£35.93) Echo Dot, sharply discounted during the holiday season, and Amazon's July Prime Day event, was its best-selling product alongside the Fire TV Stick streaming device in 2017.
The results also show that Amazon wants to continue to disrupt the brick-and-mortar retail market on an international scale, with the overseas division accounting for 30% of the company's 2017 sales. Last year, Prime membership was rolled out across markets such as the Netherlands and Singapore, with Amazon also reaching Australia.
Although most of the stories covered in this roundup see Amazon launch new schemes in various cities across the U.S., these findings show that implementing these across their global operations is still the ultimate goal.
Makeover for the Echo Look
Amazon has rolled out several new features for its Echo Look style assistant, including a new collections tool, curated content from Vogue and GQ, and voice profile support.
The Echo Look is a camera that takes full-body length photos to catalogue your outfits in a 'Look Book' and suggests fashion recommendations through machine learning. It also has a retail element that suggests fashion items from Amazon.
Under the new 'Collections' tool in the Echo Look app, users can now organise their clothing catalogue by options including colour, item, and occasion. Amazon says the feature automatically creates collections for favourites, videos, camera phone photos, seasons, and even weather.
These updates help Amazon match the in-store experience for clothes shoppers. It will be a great addition for the fashion-savvy consumer, making the most of online discounts and free returns, as will tailor the online shopping experience to their tastes. However, this is quite a niche market, and the Echo Look won't be for everyone. There are scores of online shoppers (as there are scores of in-store shoppers) who want to keep the retail experience as short as possible. For these groups, the Echo Look will not see great adoption; however, if it targets more fashion-savvy audiences, it can revolutionise their online retail experience.
This content was originally published in RetailTechNews.