In-Transit Advertising is Not Maximising its Potential: Q&A with Tim Letheren, Inadvia
by Lindsay Rowntree on 26th Feb 2018 in News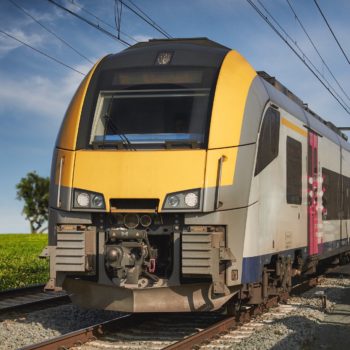 Have you ever heard of in-transit media before? If you've noticed digital advertising while travelling by air, rail, coach, or at sea, then you've probably noticed it without realising. But how is this advertising delivered and how is it targeted to be relevant to passengers? Enter Inadvia, the programmatic video advertising trading platform for in-transit media. ExchangeWire speaks with Inadvia's co-founder, Tim Letheren (pictured below), about what in-transit media is, and how Inadvia is changing the way it's monetised and delivered.
ExchangeWire: Let's start with some definitions: what is in-transit media? Can you give some examples?
Tim Letheren: Technology is changing how transport providers deliver content to their passengers and how their passengers consume it. For Inadvia, in-transit media means addressable digital advertising inflight, on train, coach, and at sea, traded programmatically and delivered to passengers' personal devices or seatback systems.
With 97% of airline passengers now taking a smart device onboard, airlines have been rolling out TV and movie streaming platforms at a furious pace. Considering 90% of all commercial aircraft is short haul and has been unable to offer inflight entertainment before now, this newly engaged audience will create an extensive source of premium video advertising opportunities.
The same is happening on trains, coaches, and cruise liners.
There are so many examples of this new wireless, inflight entertainment deployed already – from Iberia's Club Express to the Beam app and Vuer on Virgin Trains West Coast and National Express coaches, respectively. For aviation, in particular, 55% of airlines will have a bring-your-own-device, inflight entertainment system this year (up from 5% in 2015). And that will be across the whole spectrum – from low-cost carriers to flag carriers.
What's the background of Inadvia and the challenges it is looking to solve?
We think in-transit advertising is currently not maximising its potential. This is due to the rapid growth in inventory and the challenges that its traditional IO-based media sales model has in exposing that inventory and exclusive first-party data in the right marketplaces to achieve scale.
This is a real shame. Take the inflight environment, for example. It offers an incredible environment to engage with consumers via advertising: a desirable audience, premium content, 100% brand safe, and viewable. Our aim is to make this final frontier of digital media truly addressable and measurable for the advertiser. Standardisation of the data and inventory will be important to allow smoother access for media buyers; and offering a programmatic solution will be crucial to fully capitalising on the scale of the opportunity. There are, however, numerous technical challenges in connecting in-transit systems with the real-time advertising ecosystem, not least varying standards and limited, patchy, or non-existent connectivity. That's where Inadvia comes in.
Inadvia is an in-transit SSP, looking to allow the media and advertising industry the opportunity to buy audiences across airlines or operators for the first time, whilst simultaneously providing airlines and transport operators peace of mind that their environments will not be compromised.
What technology underpins Inadvia and in-transit media more broadly? How are audiences targeted?
Inadvia is the middleware that allows the disparate in-transit platforms to join the programmatic ecosystem. We use a combination of existing and established ad tech protocols with proprietary technology to create the platform that allows Inadvia to plan, trade, execute, and offer insights on campaign effectiveness, even when the inventory is isolated from a connected network.
Audience data can be gleaned from a range of sources, including the passenger log in, and usage and journey manifest data.
What types of companies are Inadvia working with and how are they using the platform – both from a demand and supply perspective?
With Immfly, a wireless inflight entertainment provider, Inadvia recently began providing advertising to Iberia Express. We will be making some announcements over the coming weeks, but expect to start to see rapid growth in our supply partners as they see the value in exposing their inventory to such a scaled marketplace.
Inadvia is integrated with BidSwitch, allowing us immediate access to a range of DSPs from the get-go; and our first campaigns were secured from the forward-thinking guys at Ve Global.
What type of inventory do advertisers have access to, and how is it traded?
We specialise in video, and specifically premium pre-roll video, adjacent to premium movies and TV shows. The inventory can be traded programmatically and we support both programmatic guaranteed or private-marketplace trading methods.
Until now, the likes of inflight advertising have been traded manually, with rudimentary targeting, and involved long lead times. Through Inadvia, the lead times are shorter and the addressability is there. For example, we will soon be able to target audiences across airlines, instead of by airline, to make it a much easier trade for the buy side.
What successes have you seen so far?
In December and January, we contextually and demographically targeted our first ads on Iberia Express on behalf of Teufel, a German audio equipment brand, which secured the inventory through Ve Global on the Inadvia platform.
Where do you see the future of in-transit media heading, and what is Inadvia's role in that?
Wireless inflight and in-transit entertainment will very swiftly be ubiquitous, whether you are taking the train from London to Liverpool, or flying from Singapore to Tokyo – and the in-transit media opportunity is very exciting. Inadvia is going to be a key facilitator between the transport operators and the programmatic ecosystem, and be the go-to programmatic solution for addressable inflight and in-transit advertising.
We see the role of Inadvia as adding value to the three parties involved: advertisers get access to unique, premium, brand-safe inventory and audiences; transport operators unlock new revenues from the entertainment platforms; and passengers benefit from more desirable advertising that's relevant to them.